Come here. Go anywhere.
Preparing students to become leading researchers in the field of Management.
The Ph.D. in Management equips our scholars with understanding the current approaches of explaining and investigating management processes and facilitating research projects aimed at contributing new insights to the Management field. Students work alongside leading faculty in a collaborative environment and are provided outstanding resources and support by the College of Business and the Department of Management.
Students choose from one of four areas of concentration:
Entrepreneurship
Human Resources
Organizational Behavior
Strategy

Ph.D. candidates develop expertise in their field of study and are prepared to contribute to the research, education and service mission of the Management discipline.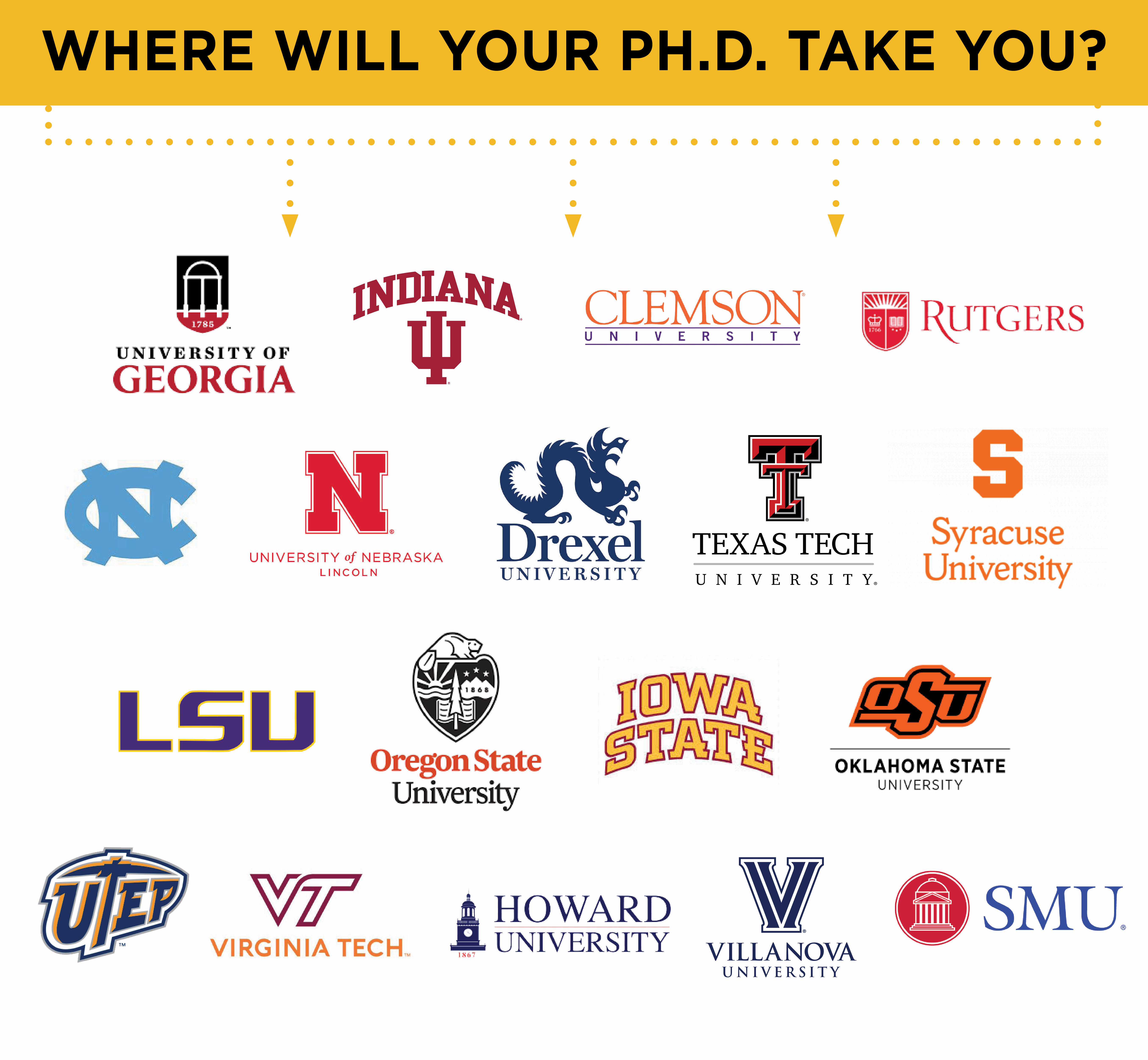 Contact Information:
Steven Whiting, Ph.D.
Ph.D. Coordinator
Steven.Whiting@ucf.edu
407-823-1714

RANKINGS
---
29
In research for the entire field of management for the last five years in the Texas A&M / University of Georgia (TAMUGA) rankings
76
In the world by Academic Ranking of World Universities (ARWU) for 2020, tying UCF with UCLA, Dartmouth, HEC Paris, Arizona, Oxford, Notre Dame, Virginia and Wisconsin
6
Overall ranking by Academic Analytics in articles per faculty, ahead of Notre Dame, Arizona State, Michigan State
5
Top five in the world for entrepreneurship research according to TCU Global University Entrepreneurship Research Productivity Rankings
At the University of Central Florida, you'll work with top tier faculty at a leading research institution located in the heart of the Sunshine State.
---
1:1
Student/Faculty Ratio
87%
Student Graduation Rate
100%
Student Placement in Tenure-Track Positions
TESTIMONIALS
---
"UCF's Management Ph.D. program very much prepared me to become a strong academic. Not only did I receive sufficient experience teaching, but I was able to work with amazing scholars/ mentors who did an excellent job teaching me the research process."
— Rebecca Greenbaum, '09
"The UCF Ph.D. program was extremely challenging and intellectually engaging. The faculty go to great lengths to balance rigor with a highly supportive culture."
– Marie Mitchell, '06
"The UCF Faculty have built an exceptional Ph.D. program that prepares students to become world class researchers. The department is interdisciplinary and collaborative which made it a great place to learn various methods and theories that remain valuable to this day for studying the micro-side of entrepreneurship. The UCF faculty care deeply about doctoral students, both as emerging scholars and as people. I highly recommend the Ph.D. program for students interested in studying entrepreneurship."
— Regan Stevenson '16

Dr. Marshall Schminke, BB&T Professor of Business Ethics, is a 2021 Pegasus Professor, the highest honor that can be awarded to faculty at UCF. He is a first generation-college student who has left an impact on the world of business ethics.
OUR FACULTY AND PROGRAM
---
Our faculty rank among the most productive in the country and are actively involved in the leadership of the field's premier professional associations and journals.
TOP 2%
---
Faculty members—Rob Folger & Jim Combs—listed in top 2% of scientists in their discipline in the world
Our organizational behavior and human resources faculty examine:
Abusive Supervision
Ethics
Gratitude/Appreciation
Leadership
Organizational Citizenship Behavior
Organizational Fairness/Justice
Performance Evaluation
Trust
Voice Behavior
Workplace Deviance
Our strategy and entrepreneurship faculty examine:
Corporate Governance
Creativity
Crowdfunding
Executive Compensation
Family Business
Franchising
Innovation
Social Entrepreneurship
Curriculum
The Management track of the Business Administration PhD program requires 72 credit hours beyond the bachelor's degree. Students must meet prerequisite requirements of 18 credit hours, and then complete 18 credit hours of management core courses, 6 credit hours of a minor/support area, 12 credit hours of research methods/tools courses, 3 credit hours of electives, and 15 credit hours of dissertation.
Please note: The Ph.D. in Management accepts applications every other year.