Mutually beneficial partnerships between corporations and universities are on the rise.
The Office of Outreach & Engagement at UCF College of Business can show you how your organization can benefit from a relationship with the college. Our team works with business and community leaders to develop unique collaborations and mutually beneficial partnerships that raise the value and reputation of UCF, the College of Business and our partners.
Your key to the College of Business
The Office of Outreach & Engagement matches campus experts, world-class faculty and business opportunities with companies and corporations to develop and enhance relationships with the College. The team facilitates, simplifies and accelerates access to College resources including:
Student Recruiting & Engagement
Research Collaboration
Engaging College Centers
Graduate, Executive Education & Professional Development
Stewardship & Tours
Corporate Partnership Program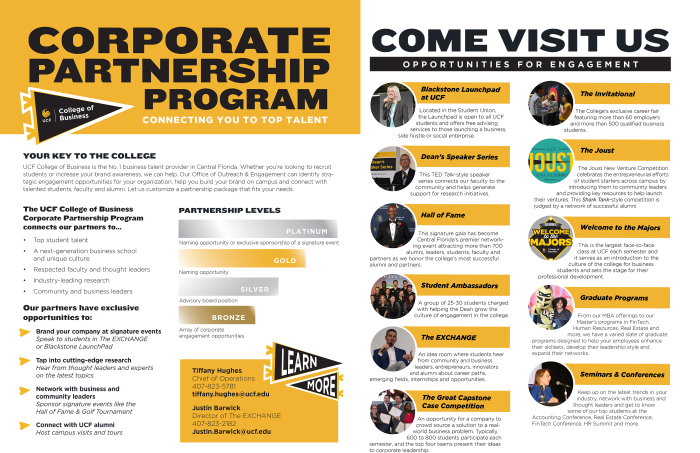 Through the UCF College of Business Corporate Partnership Program, we can help you customize a partnership package to fit your needs. With four partnership levels to choose from, there is a partnership package to fit your budget.
Sponsorship Levels
Platinum: Naming opportunity or exclusive sponsorship of a signature event, such as our annual Hall of Fame*
Gold: Naming opportunity*
Silver: Advisory board position*
Bronze: *Select from an array of corporate engagement opportunities
Signature Events
Each semester the College of Business hosts an array of events to engage our partners, students, faculty, alumni and friends. Below are a few of our keystone events and opportunities:
Blackstone Launchpad at UCF: Located in the Student Union, the Launchpad is open to all UCF students and offers free advising services to those launching a business, side hustle or social enterprise. It is the gateway to a wide variety of entrepreneurship services and resources on campus.
Dean's Speaker Series: This TED-style speaker series connects our faculty to the community and helps generate support for research initiatives. The Dean's Speaker Series is presented by Additional Financial.
Hall of Fame: The college's annual signature gala has become Central Florida's premier networking event attracting more than 700 alumni, leaders, students, faculty and partners as we honor the college's most successful alumni and partners.
Student Ambassadors: A group of 25-30 students who are charged with helping the Dean manage and grow the culture of engagement in the college. The Student Ambassadors are sponsored by FAIRWINDS.
The EXCHANGE: An idea room where almost every day, students speak with someone from the community, the world of business, the college or campus about something important to their future. These talks focus on topics that include the skills and experiences employers value, how to land internships, non-traditional career paths, careers in financial technology, the business of space, diversity and inclusion issues in the workplace and more. The EXCHANGE is presented by FAIRWINDS.
The Great Capstone Case Competition: An opportunity for a company to crowd source a solution to a real-world business problem. Typically, 600 to 800 students participate each semester in the competition, and the top four teams present their ideas to corporate leadership.
The Invitational — An Event for Internships, Externships & Jobs: Held in both the fall and spring semesters, The Invitational is the College's exclusive career fair featuring more than 60 employers and more than 500 business students. Participating students must qualify to attend by meeting with a career coach, attending a prep session or earning a golden ticket from their faculty member.
The Joust: The Joust New Venture Competition celebrates the entrepreneurial efforts of student starters across campus by introducing them to community leaders and providing key resources to help launch their ventures. This Shark Tank-style competition is judged by a network of successful alumni.
Welcome to the Majors: Welcome to the Majors is the largest face-to-face class at UCF each semester and it serves as an introduction to the culture of the college for business students and sets the stage for their professional development. The event features speakers like the Dean, faculty, partners and alumni, as well as tabling activities where students can meet registered student organizations, corporate partners, faculty, campus organizations and the Student Ambassadors. Welcome to the Majors is presented by Wells Fargo.