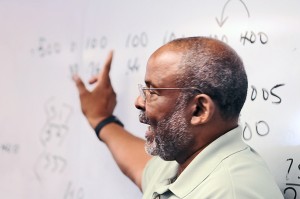 The UCF Master of Business Administration is an AACSB accredited 39-credit hour program with classes offered in a lock-step format. The UCF MBA is considered a general MBA, offering a combination of course-work, both quantitative and qualitative, which provides the student with an application-based curriculum that can be immediately applied in the workplace. UCF offers three MBA tracks: Executive, Professional, and Evening. Candidates should select the track that fits their work experience and career goals, as well as their professional and personal schedules.
Download UCF MBA Comparison Sheet
The UCF Executive MBA is a 19-month, cohort program designed for mid to senior-level professionals. The UCF EMBA offers an applicable curriculum and international residency in a rigorus, leadership focused program. Classes are held three Saturdays and one Friday per month starting each fall at the UCF Executive Development Center's state-of-the-art downtown facility.
The UCF Professional MBA is a 24-month cohort program designed for emerging professionals. The UCF PMBA offers students the ability to complete an MBA program while maintaining their career path. Classes are held two evening per week starting at the UCF Executive Development Center each summer or at a regional campus each fall.
The UCF Evening MBA is designed to accommodate working professionals who want to pursue an MBA at their own pace. Offered each fall, this MBA program is part-time with evening, weekday classes held at the UCF Main Campus.