The Office of Professional Development (OPD) provides academic advising, career coaching services and study abroad resources to students in the College of Business. Staffed by experienced Human Resource professionals, our Career Coaches help students develop their career plans from the day they start classes in the college. The College of Business focuses on supporting our students' academic and professional careers through our expert Advising Team (A-Team), Career Coaches and Study Abroad Advisors who can help set students up for success after graduation.
Find Jobs & Internships Here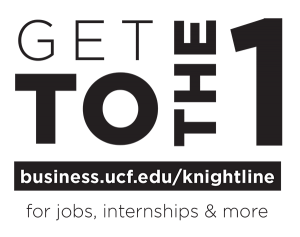 Our goal is to help students Get to the One — the one who gets the internship, the job or promotion. Dean Paul Jarley's latest initiative — an online community exclusively for UCF business students and employers — is designed to connect our students with the businesses they want to work for. Business students can activate their free Knightline account today to:
Search jobs & internships
Post your resume
Apply for open positions
Find networking events
---
Academic Advising Team (A-Team)
The College of Business' Academic Advising Team is dedicated to providing a welcoming and supportive environment for College of Business students. The team works with internal and external partners to provide academic and college engagement resources and is the primary academic advising team for business students. Students will receive information and guidance through individual academic advising appointments, classes, workshops, seminars and collaborative partnerships with other student support teams and offices throughout the college and campus community. Students are able to take advantage of these opportunities as early as their new student orientation.
Academic Advisors are available to review General Education Program and major requirements, to explain UCF policies and procedures, to assist with course registration, to refer to other campus offices and much more. We provide these opportunities through scheduled appointments, group advising, probation appointments and technology-based advising. The team actively encourages business students to take advantage of critical career exploration and professional development programming provided by the college and our Career Coaches.
Our goals are to:
Help students make informed decisions about their major selection
Assist students to successfully navigate the curriculum associated with their chosen major
Aid students in the pursuit of internships and other professional development opportunities
Encourage students to take advantage of engagement-related programming in the college
Support students with their goal of graduation in a timely manner
Assist students with post-graduation employment and/or other career enhancement opportunities
Advising Team (A-Team) members are high caliber students with a deep understanding of the curriculum for all of the College of Business majors. They provide students with insider tips on creating an ideal schedule based on the major and their specific needs. The A-Team members will help you plan your class schedule and successfully navigate through the administrative processes required to earn your degree. They are available to assist walk-in students, but are primarily available by appointment.
See an A-Team Member for
Schedule Planning
Registration Errors
Graduation Checks
Academic Guidance
Make an Appointment*
Advising
Advising is by appointment only, outside of posted walk-in dates. Check OPD Resource Course for walk-in times and availability.
Meet the Academic Advising Team
Professional Advising Staff
Advising Team (A-team)
Peer Advising Staff
Career Coaches
Career Coaches are dedicated to helping business students "get to the one" — academically and professionally.
Focusing on professional development, Career Coaches work with students to help them formulate a plan for building a successful career. We also have specialized coaches who act as a liaison between employers and business students for networking opportunities, internships and potential jobs. Utilizing their previous human resources and recruiting experience, the coaches ultimately assist students with search strategies and ways to obtain employment upon graduation.
Each major has an assigned Career Coach. Students can attend a Career Cluster Session and make one-on-one appointments with their designated Career Coach.
See a Career Coach for
Resume Reviews
Mock Interviews
Major Exploration
Career Exploration
Types of Appointments
Career Cluster Sessions
Group sessions focused on foundational material related to:
Interviewing*
Resume Review (part I)*
Networking
Professional Etiquette
CPA/MSA/MBA
*Attendance at these sessions is required to schedule one-on-one mock interview and/or resume review appointments.
One-on-One Appointments
30-minute individualized coaching sessions:
Resume Review (part II): A deeper dive into resume improvements.
Mock Interview: An individualized interview session for a specific position or company.
Major Exploration: This non-academic appointment to help students identify the right major for their career goals. Does not include schedule planning.
To schedule a One-on-One Appointment with your Career Coach, click below:
Make a One-on-One Appointment*
To sign up for a Career Cluster Session, go to Office of Professional Development Resource Course in Webcourses. Through Webcourses, College of Business students have exclusive access to the Office of Professional Development Resource Course, which aids in their academic success and career search.
Meet the Coaches
Employer Relations Team
Help BUSINESS students obtain internship and full-time positions. This involves a variety of things such as: providing students with job search strategy and support, seeking out new opportunities to promote to students, developing key relationships with students and employers to build a strong network in the business community, helping align students' skills and career goals with open positions, performing company site visits, and more.
Types of Appointments
One-on-One Appointments (30 mins)
For students who:
Have been admitted to their major (required to attend)
Have a polished resume (required to attend)
Are ready to seek internship or career opportunities
What we provide:
A status check to gauge your level of readiness in regards to internship/job placement
An opportunity to share your career interests
An opportunity to showcase your skill sets and personal attributes that are desirable to employers. Your professional demeanor matters.
Time to establish an ongoing relationship with the ER team so we can better target and recommend you for future opportunities
A chance to learn about current openings and upcoming recruitment needs for a select group of employers
What we don't offer:
Guaranteed internship/job placement
A personal recruiter who solely works to provide you with opportunities
Contact information for companies of interest
Career exploration or a deep resume review
To meet with a member of the Employer Relations team, click below:
Make an Appointment*
Meet the Employer Relations Team
Study Abroad Advisors
The college offers Study Abroad experiences at every step of your academic career. Whether you plan to work for a large international firm or a bank in your hometown, studying abroad can help prepare you for your career in our global economy.
International Program Exploration
Internships Abroad
International Business minor
Make an Appointment*
** Study Abroad Advisors are available by appointment only.

Signature Events
The Invitational: An Event for Internships, Externships & Jobs
The Invitational is the exclusive career and internship fair for the College of Business that is held each Fall and Spring semester. Business students can earn an invitation to the event from a faculty member or by completing certain activities, such as meeting with a Career Coach, attending a Career Cluster, etc. The Invitational features 30-50 employers with open internships and jobs specifically for business students. It is a great way to connect with employers and gain valuable real world experience in industry. Learn More
---