The College of Business Employer Relations Team goal is to help students "Get to the One" — the one who gets the internship, the job or promotion. Dean Paul Jarley's latest initiative — called Knightline — is an online community exclusively for UCF business students and employers. It was designed to connect our students with the businesses they want to work for. Through Knightline, Business students can:
Search jobs & internships
Show resume in employer search results
Apply for open positions
Find networking events
Students — New to Knightline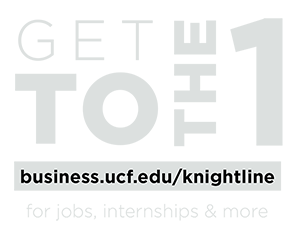 Activate your account now!
Visit Knightline and choose "not a member" to begin.
Enter your Legal First Name, Last Name and Knights email and select "Submit".
If the system recognizes your information, you will be permitted
access into the portal.
If you are new to the College of Business, there may be an additional approval step. During this time, be sure to keep an eye on your Knights email. Once your access is approved, you will get an email to complete the registration process.
Employer Relations Team
Our team helps BUSINESS students obtain internships and full-time positions. We provide students with job search strategies and support and seek opportunities to promote positions to students. We develop key relationships with students and employers to build a strong network in the business community, helping align students' skills and career goals with open positions, performing company site visits and more.
Meet the Team
All About Internships
When you apply for your first professional job, prospective employers will want to know about your work experience and skills. There isn't a better way to learn valuable skills related to your major than obtaining an internship. An internship is an official program offered by an employer to potential employees. Internships provide on-the-job training in a field that the student wants to learn more about or plans to pursue after graduation. An internship can also help you discover what career path is right or wrong for you. Students who obtain internships during their academic tenure increase their chances of getting hired into a professional full-time position upon graduation.
Let's get started!
Begin your search on Knightline using the Internship filter options on the "Find a Job" tab. If you are a new to Knightline, activate your account today
Attend an Information Session
Polish resume.
Search for an internship: explore Knightline, LinkedIn and get familiar with desired employers.
Attend events: The Invitational, Career Fairs, Finance & Accounting 'Meet the Firms.'
Schedule a meeting with the Employer Relations Team to get recommended to your top positions.
Get Involved!
It is the student's responsibility to reach out to their academic advisor through myKnight STAR to determine if course credit is needed for their degree.
Questions? Email cbainternships@ucf.edu.
Must be in your major
Have taken (1) major related course
Must be in good academic standing
Deadlines to Submit for Credit:
Please note, all students must be signed up for credit 2 weeks prior to that semester starting. Due to this, we recommend that employers post their positions 2-3 months in advance. Go to the UCF Academic Calendar.