GET TO THE "ONE"…GLOBALLY!
"International experience is one of the most important components of a 21st century resume."
Launch Your International Career Through Study Abroad
Start planning your study abroad adventure today! Out of the 8,000 business students, how are you going to differentiate yourself? How are you going to give yourself an edge in an ever increasing competitive job market? Whether you plan to work for a large international firm or for a bank in your hometown, a semester abroad will help prepare you for your career in our global economy.
---
​"Studying abroad will not only demonstrate to potential employers your willingness to get out of your comfort zone and embrace new experiences, it will teach you more about yourself and the place you call home than you can imagine. Seeing how other people live, work, and solve familiar problems in unfamiliar ways will give you greater perspective about human behavior and greater vision to devise solutions to get people where you want them to be. Employers love that skill set… It's what they call leadership potential."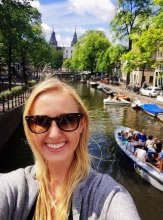 "Studying abroad is truly a once in a lifetime experience. I got to visit so many cool places, made friends with people all over the world, and furthered my passion for international business. The ICN Business School has so much to offer for students looking to launch their careers in international business and fulfill their wanderlust."
Want to Know More?
The College of Business offers unique study abroad experiences at every step of your academic career. Browse our options below to find out how you can become an internationally-engaged student.

Global Advantage Program (GAP)
International Business Minor (Semester Abroad)
Summer Abroad or International Internship
---
Can I Obtain UCF Credit for Studying Abroad?
Yes! For all of the COBA-approved programs, we have asked the faculty to review the coursework and determine the UCF equivalencies. Many of the courses abroad can count towards your major or minor. Browse our database of course equivalencies.
---
Is it Affordable?
​Yes! Many of our programs are exchange programs, in which you pay the regular UCF tuition and you can use your financial aid, including Bright Futures, to fund the program. There are also many study abroad scholarships, like the Gilman Scholarship, which can help offset the extra costs. You will find that that the global career skills that you gain from studying abroad are well worth the investment!