Integrated Business Program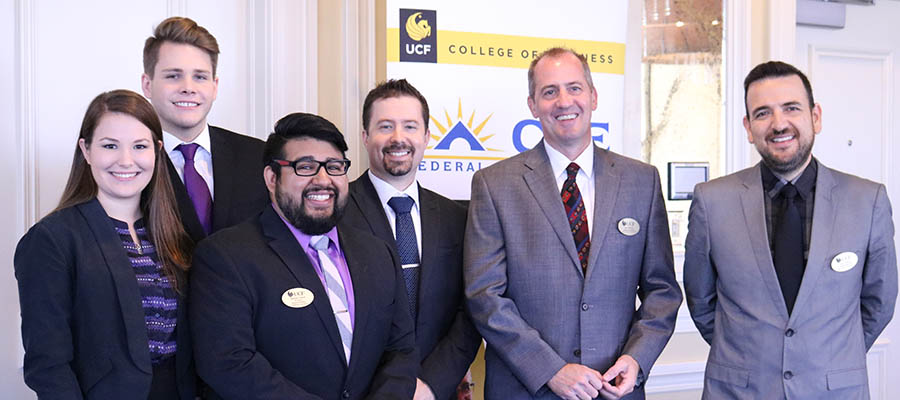 What is Integrated Business?
The Integrated Business Degree program is the newest of the seven BSBA degrees offered by UCF's College of Business. IB represents a new approach to undergraduate business education and the cutting edge of undergraduate business education.
Why You Should be an Integrated Business Major
Many of today's students will go on to careers that comprise as many as six to nine jobs. They will work in several organizations and be required to manage a wide variety of programs across the business enterprise. With most job creation in medium and small firms, there is a good chance you will work in a company where the skills of a business "integrator" will be necessary and highly valued. As such, you need a more robust and varied educational experience than most specialty degrees can offer.
There have been numerous articles written regarding the strength of business graduates with a wider range of knowledge and experience to serve a more diverse role in companies and organizations. UCF College of Business Dean Paul Jarley has shared some perspectives from UCF alumni and other business leaders regarding this issue in his blog.
A Different Learning Experience
As an Integrated Business student, you will have an experience that stresses the links between business disciplines and functions. All classes are face-to-face, stress applied learning and skill development and make use of free, up-to-date resources rather than just textbooks. You can expect to hear from local speakers and work on real-world projects. You will graduate with both a broad understanding of business and strong financial, analytic and communication skills. Your learned experience in the major will not only help you land your first job after graduation, it will help prepare you for your next job and the one to follow.
---
Integrated Business Skills
An Integrated Business student will demonstrate the ability to:
identify, evaluate, and recommend modern technological solutions for contemporary business problems.
analyze and evaluate the selling approaches for small and medium size companies in B2C and B2B markets.
identify a business problem, gather data needed to analyze it, select the appropriate analytical tool, perform the analysis, and use the results to recommend an action or solution.
contribute to the development and implementation of effective human resource management policies and procedures.
identify and apply the principled negotiation process to reach a win-win solution when dealing with conflict.
identify the goals of their organization, acquire and analyze useful data, and determine the most competitive strategy to meet those goals.
describe and measure the flow of funds to and from a company and transaction flow within the company, determine the impact of such flows on profitability, and use this information to make effective decisions.
create a detailed project management plan.
Graduates of this program will have a unique understanding of the structure and challenges facing small- and medium-sized companies.
Roughly 50% of our alums stay in Orlando and 40% of employees in Central Florida work for firms with less than 500 employees. Add in the fact that most job growth (and loss) nationwide is in "small and medium size enterprises" (SME). It seems likely that many UCF grads will go to work for such companies.
Is this good or bad? The answer depends on what you want most out of your first job. Big companies tend to pay more initially, have better fringe benefits, and can devote more resources to formal employee training and development. SMEs tend to offer a more varied work day with greater responsibility coming earlier. This means more interesting work that offers more chances to be innovative and create something. You are less likely to be just "a cog in the wheel". It is easier to get your voice heard, have greater access to top management and have responsibility over budgets. SMEs are also more likely to have you participate on, or have responsibility for, projects from start to finish.
In many ways there is a short-term versus long-term trade off in the choice between big and small. Big firms will pay more out of the gate and probably offer more job security, but if you are a high performer you may get promoted faster and learn the entire business quicker by working for a smaller company.
If you want to run a company someday, working for a SME is likely to get you there faster. In addition, the more varied experiences gained at SMEs are likely to give you greater long term "career security" by providing you with a broader range of skills, some of which are likely to be always in demand.
---
Likely First Jobs for Integrated Business Majors
You can expect to find entry level jobs in a variety of settings, including some large firms. Common first-jobs in Central Florida include:
Project Coordinators
384 postings in Central Florida according to Indeed.com
Median Starting Salary in Orlando with no experience from Payscale.com $41,000 – Jan 2015
The purpose of the Project Manager's job is to ensure predictable, consistent, and successful project delivery. The Project Manager plans, coordinates, and monitors small to medium sized scope and budget projects, and partners with key business stakeholders to ensure a successful start-up and completion of projects.
Sales Coordinator/Associate
241 postings in Central Florida according to Indeed.com
Median Starting Salary in Orlando with no experience from Payscale.com $40,000 – Jan 2015
To develop, maintain and grow XXXX account volume and gross profit within an assigned territory. This person will be responsible for account development and retention, new account acquisition and face-to-face order taking within the confined geography. They will have the ability to alter distribution, frequency and order taking procedures, to better meet the customers' needs. The position may cross multiple facility boundaries.
Operations Support/Specialist
321 postings in Central according to Indeed.com
Median Starting Salary with no experience $45,000 – Jan 2015
Oversees and directs all operational and facility-related functions including: distribution centers, logistics, inventory management, distribution, maintenance of buildings and fleet. Obtains optimum performance of the team and maximum utilization of all resources. Develops facility and equipment upgrade and replacement strategy.
Account Coordinator/ Customer Service
159 new postings in Central Florida according to Indeed.com
Median Starting Salary with no experience $42,000 – Jan 2015
Sample Description: Coordinates the engagement with clients or customers and problem-solving processes so that the team meets it required level of service or production.
---
How Do I Become an Integrated Business major?
All aspiring UCF College of Business Administration students, including transfer students must:
Complete the General Education Program
Complete the Gordon Rule requirements
Complete the Business Common Program Prerequisites with a grade of "C" or better

MAC 1105: College Algebra
ACG 2021: Financial Accounting
ACG 2071: Managerial Accounting
ECO 2013: Macroeconomics
ECO 2023: Microeconomics
ECO 3401: Quantitative Business Tools I, or STA 2023 Statistics and MAC 2233 Concepts of Calculus
CGS 2100: Computer Fundamentals for Business

Complete the Primary Business Core at UCF with a minimum GPA of 2.0

MAN 3025: Management of Organizations
MAR 3023: Marketing
FIN 3403: Finance
ECO 3411: Quantitative Business Tools II
ACG 3173: Accounting for Decision Makers

Complete the GEB 3003 Career Research and Planning
These courses must be completed before beginning the Integrated Business major.
---
Required Courses

All College of Business Administration degree programs, including the IB degree, require 27 credit hours of advanced coursework in the major. The required courses are:


| | | |
| --- | --- | --- |
| GEB 4522 | Data Driven Decision Making | Using public and private data to inform and drive business decision making and includes issue identification, feasible solution generation, optimal decision selection, performance tracking, and persuasive writing. |
| GEB 4513 | Applied Business Technologies | Focuses on a firm's ability to recognize, evaluate and integrate technological developments in an advancing tech-driven business environment. |
| MAN 3302 | Essentials of Human Resources Management | Provides Integrated Business majors with a review of basic human resource management practices and policies and the organizational role of HRM function. |
| GEB 3031 | Integrated Business Foundations | Provides opportunity to utilize core competencies of team work, communication, and creative decision making through a hands on, small business consulting or problem solving engagement. |
| MAR 3407 | Contemporary Selling | Study of the professional selling process. Focus is primarily on Business-to-Consumers and Business-to-Business markets. |
| ENT 4412 | Managing Small Business Finance | Overview of the financial issues faced by small- and medium-sized businesses, including cash flow and working capital management and how to obtain financing. |
| ECP 4703 | Managerial Economics | The uses of economic analysis in economic decision-making and business policy formulation. |
| MAN 4583 | Project Management | Foundations of project management in assorted business organizations (large/small; manufacturing/service; for profit/not for profit): Covers all project phases from initiation to termination. |
---
Restricted Elective Courses

Students are also required to choose one elective from among the following list:


| | | |
| --- | --- | --- |
| GEB 4941 | Internship | 3 hrs |
| ENT 3613 | Creativity and Entrepreneurship | 3 hrs |
| GEB 4104 | Small Business Development | 3 hrs |
| GEB 4941 | Internship | One-term of major related work experience in a pre-approved sponsoring organization, structured for learning with reflection, supervision and evaluation. Requires department consent. |
After approval is received for admission to the major, students will begin completing the Secondary Business Core and the remaining three (3) courses in the Career Professionalism Series. This coursework is to be taken concurrently with the 27 credit hours of major coursework.
---
Secondary Business Core

The Secondary Business Core courses are designed to ensure that students have a solid understanding of the various functions of business and the environment in which the enterprise operates. The Secondary Business Core classes are:


| | | |
| --- | --- | --- |
| GEB 3375 | Introduction to International Business | Understanding the interdependence of globalized world economy and similarities between domestic and international business domains. |
| BUL 3130 | The Legal and Ethical Environment of Business | Analysis of the law as a dynamic social and political institution in the business environment, including contract law, torts, and ethical consideration. |
| MAR 3203 | Supply Chain Management | Study of the planning and management of all activities involved in processes, assets, and flows of materials and information to meet customers' needs. |
| MAN 4720 | Strategic Management/Capstone | Students assume a strategic view of organizations and integrate and apply material learned in their business courses to modern organizational problems and opportunities. |
---
The Career Professionalism Series

| | | |
| --- | --- | --- |
| GEB 3003 | Career Research and Planning (taken prior to admission to the major) | Designed to provide a basic understanding of the importance of career professionalism in today's competitive business environment. The course focuses on self-awareness and career research and planning. |
| GEB 3005 | Career Search Strategies | Provides a basic understanding of the importance of career professionalism in today's competitive business environment. The course focuses on personal branding/marketing and career search strategies. |
| GEB 4223 | Business Interviewing Techniques | Develops each student's ability to make a persuasive one-on-one or small group presentation, that is designed to invoke action by either the individual or small group. |
| GEB 4004 | Executing Your Career Plan | Coaches provide recommendations throughout the career search process, and help implement the career plan developed during the previous three career development courses. |
Learn More