Build your network and find your passion at The Invitational
Designed to connect top business students with employers and recruiters, The Invitational: An Event for Internships, Externships & Jobs is the perfect place to discuss your career interests and passions with companies who want to hire YOU! The guide below contains five of the best reasons to attend The Invitational this semester.
Fall 2023 Event
Friday, Sept. 22
9 a.m. – 2 p.m.
The Venue, UCF Main Campus

Spring 2024 Event
TBD
10 a.m.-2 p.m.
The Venue, UCF Main Campus

Students, want to attend The Invitational?
Attend a Qualifier Session/Career Cluster
1. Grow Your Network
Going to The Invitational will allow you to meet both employers and students within your industry. You can utilize your LinkedIn profile to stay in contact with those connections. Building a network on LinkedIn allows you to stay connected and reach out if you find open opportunities within their field. You can also reach out for informational interviews about their role and company to learn more about your industry. Sometimes it's not about what you know, but who you know.
2. Connect with Your Industry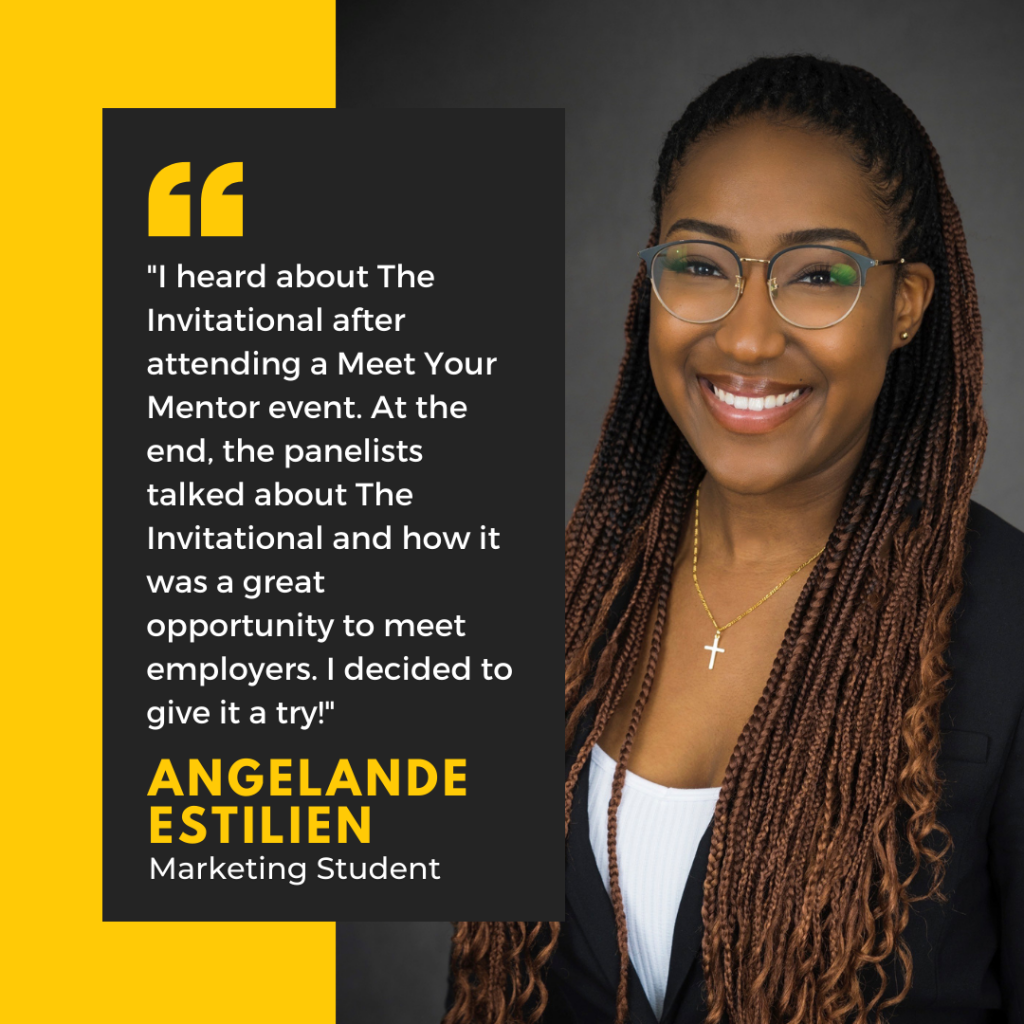 When attending The Invitational, you're able to learn about your options. You can learn about the different career paths in your field and become more familiar with companies that have open opportunities. You can also ask people about their journey and create a career development plan if you want to follow in their footsteps. Remember, each and every person's path is different! Angelande Estilien, a marketing student, utilized her network to diversify her options later on.
"I talked to my list of targeted employers and ones who were not on my list," said Estilien. "I made sure to be personable so that I was memorable and to get the names of the recruiters I talked to. I sent thank you emails within 24 hours. While I wasn't hired right away, months later when I was in need of a job, I emailed all the employers I spoke with and reminded them of our conversations during The Invitational. Then, I asked if they were hiring and attached my resume. One of them answered and I got hired as an intern."
3. Prepare for the Real World
When preparing for an event like The Invitational, you're also preparing yourself for future networking events, professional settings and interviews. You'll learn how to carry yourself and dress for the event, present yourself with an elevator pitch and resume and grow your network. Take notes and research the roles and companies you want to work for so you're able to create a career development plan to get there. At the very least, you'll have the tools and professional network when you're ready. Kali Bennett, an integrated business student, prepared to meet with employers by looking up background information on each company she was interested in.
"I stood out to employers by researching the company, the position and even the recruiter who would be interviewing me," said Bennett. "Preparing questions around the recruiter's experience shows them that you've researched the company and show an interest in the position."
4. Secure an Internship
If you are able to secure an internship, that's a huge accomplishment! Internships are stepping stones to obtaining a job after college. Even if you don't receive a job offer from where you interned, employers love to see students taking initiative and getting involved in their industry. While organizations benefit from having interns, it is crucial to make sure they are also providing you with a valuable experience. Pick an internship that both parties can thrive in. Rebecca Lubelski, a marketing student, used her internship as a chance to learn on the job.
"The biggest takeaway from my internships is to treat every experience as a learning opportunity," Lubelski said.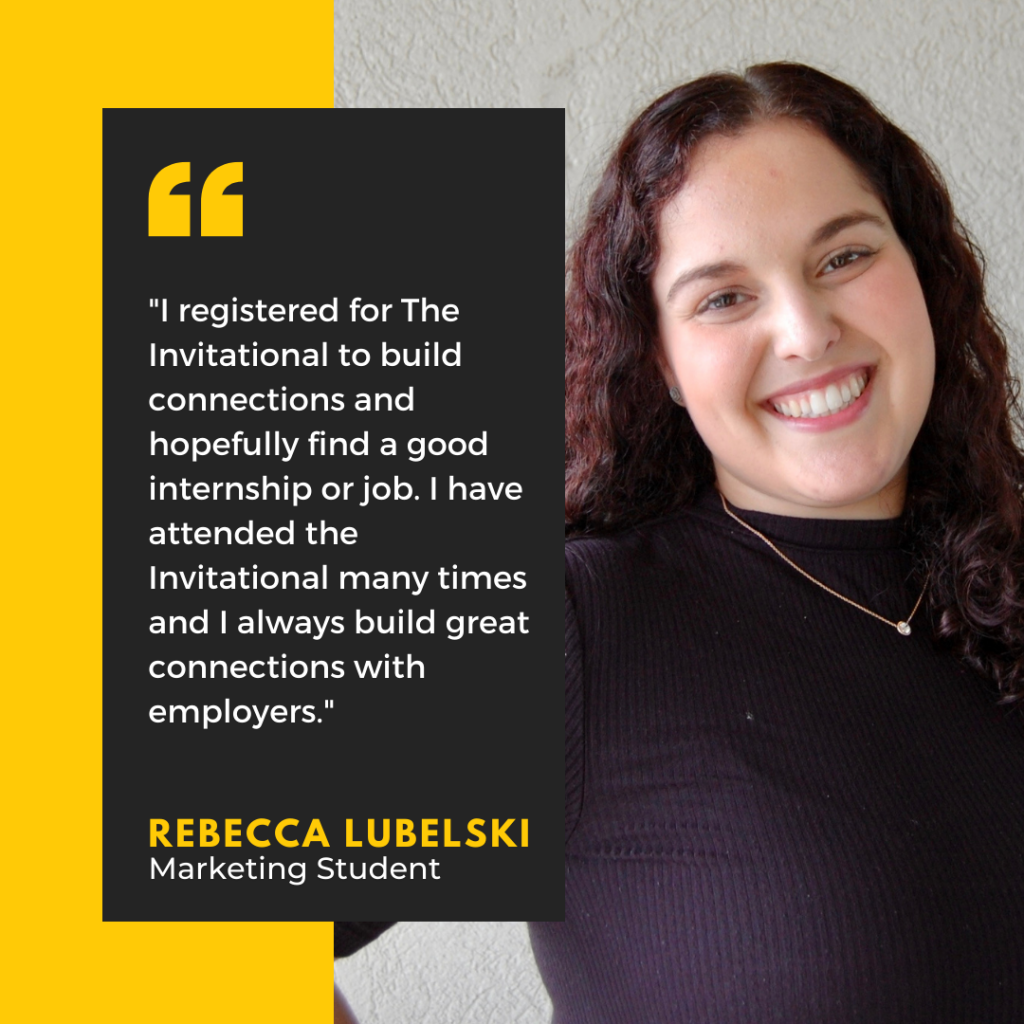 5. Get to the One!
UCF College of Business wants to help students "Get to the One!" Once you've completed an internship and made an impact at your company, you'll be on your way to finding a job that's the best fit for you! For Kali Bennett, The Invitational was all about opening doors to new opportunities and learning more about herself.
"It really is important to take advantage of every opportunity. When a company offers a mentorship program or networking socials, definitely attend and make the most of it to learn more and network with new people," said Bennett.
Ready to Sign Up?
To earn your ticket to The Invitational, register for a Qualifier Session/Career Cluster or schedule an appointment with a Career Coach. Visit our Office of Professional Development's website to get started!