Advance your career with the UCF Part-Time PMBA – Ranked among the nation's top part-time MBA programs by U.S. News & World Report!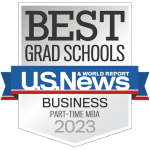 The UCF Part-Time Professional MBA is ideal for working professionals who wish to pursue an accredited MBA without interrupting their careers. This program features convenient evening classes at the UCF Downtown campus each summer term and at UCF regional campus locations on a rotational basis. Its applicable content and outstanding networking opportunities make it our most popular MBA.
Program Overview
The UCF Part-Time PMBA is a cohort-based, limited enrollment program that allows professionals from a variety of organizations and industries to come together and challenge their intellect, enhance their capabilities and broaden their perspectives while growing their professional network.
The program's innovative curriculum equips program participants with the analytical tools, latest business techniques and effective problem-solving and decision-making skills needed to succeed in today's competitive marketplace. The UCF Part-Time PMBA seamlessly integrates the students' professional experience allowing them to immediately apply newly-acquired skills and knowledge to their job. The PMBA faculty share their expertise and provide insights on real-world business issues use consultative teaching approaches combining lecture, case studies, discussion forums and presentations to maximize learning.

Features:
AACSB accredited
Top ranked part-time MBA by U.S. News & World Report
Face-to-face, part-time program
Cohort format
Multiple locations
---
Bloomberg Financial Markets Lab
In-depth financial markets research and analysis is incorporated into the UCF PMBA curriculum through the use of its state-of-the-art Bloomberg Financial Markets Lab. Students access real-time financial markets data, news and analytics through the Bloomberg Professional service (Bloomberg terminals). Use of the Bloomberg Financial Markets Lab is available to the student while enrolled in the PMBA program. Students are also able to capitalize on the use of the Bloomberg Professional service by completing Bloomberg's self-administered Bloomberg Essentials Online Training Program and earn an Acknowledgement of Completion.

Who Should Apply
The UCF Part-Time PMBA is designed for individuals with three or more years professional work experience, who bring unique insight to the classroom learning environment and team experience.

Class Profile
Average Age = 31
Gender = 35% female
Average GPA = 3.3
Average work experience = 8 years
Undergraduate major = 47% business, 18% STEM, 35% social science/other
Top industries = Financial services, healthcare, consumer products, entertainment/leisure
Program Details
PROGRAM LENGTH & CURRICULUM
24 months
13 courses/39 credit hours
PROGRAM FORMAT
Cohort of 36 (maximum class size)
Face-to-face instruction
PROGRAM SCHEDULE
UCF Downtown, Summer 2024
Tuesday & Thursday evenings, 6 – 9:50 p.m.
College of Business at UCF Downtown
528 W. Livingston St.
Orlando, FL 32801
UCF Valencia West, Fall 2024
Monday & Thursday evenings, 6 – 9:50 p.m.
Valencia West
1800 S. Kirkman Rd.
Orlando, FL 32811