UCF's Best Value MBA
Ranked a top part-time MBA by U.S. News & World Report, the Evening MBA is a part-time program providing the flexibility to continue a career while attending weekday evening classes on UCF's main campus. The Evening MBA curriculum combines core theoretical knowledge, current business techniques and advanced analytical methods to provide students with a deep understanding of the key function areas of business.
---
Program Highlights
Accredited by AACSB-International
Part-time program with flexibility to continue a career while attending weekday evening classes
Three electives providing opportunity to focus on a specific business function area
Face-to-face classes on UCF's Main Campus
Tuition less than $15,000
Highly accomplished faculty incorporate both industry and academic experience to a consultancy approach to learning.
Through the utilization of team work, case studies, and real workplace scenarios, students are able to immediately apply concepts and tactics they learn in the classroom to their workplace.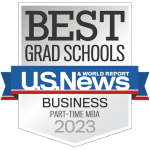 Class Profile
---

Profile:
Avg. Age 30/47% Female

GPA:
3.1 GPA

Work Exp:
7 Years

UCF Alumni
47%

Who Should Apply
The Evening MBA offers a part-time schedule and is designed for junior to mid-level professionals who wish to pursue an accredited MBA at their own pace while continuing their career.

With the program's hands-on learning approach and real-world application, students can directly apply what is practiced in the classroom to their work, generating immediate and long-term value for their organization.
Career Paths
Analyst
Project Manager
Marketing Manager
Sales Manager
Account Executive
Project Engineer
Grow Your Professional Network
One of the most valuable assets of an MBA program is expanding your professional network through the connections you make with your fellow MBA students. The Evening MBA is comprised of a diverse group of professionals from a variety of academic and industry backgrounds who come together and broaden their perspectives. The program's classroom setting and team assignments provide a culture of networking and collaboration.

"Treat going to class like a job and NETWORK. College is fun, but it's very important to take it seriously and make as many professional contacts as you possibly can. UCF has so many resources, take advantage of it."
Doug Meyer, '14, '16MBA
Read more…
---
Explore Our Program
Program Details
PROGRAM LENGTH
13 courses/39 credit hours
PROGRAM FORMAT
Face-to-face instruction, classroom setting
PROGRAM SCHEDULE
Weekday evenings, 6 – 9 p.m.
PROGRAM LOCATION
College of Business
University of Central Florida
12744 Pegasus Drive
Orlando, FL 32816