International Residency Programs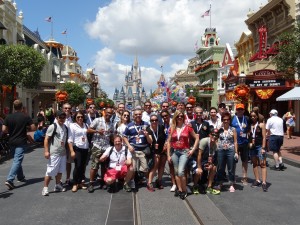 The UCF Executive Development Center is the leading educational partner for business in Central Florida, placing us at the forefront of professional development, executive education, and management training. Over the past four years, one of the most sought-after programs is the EDC's International Residency. Working with our nationally-recognized faculty and prominent leading practitioners, we can design and facilitate programs that allow participants to explore diverse perspectives and master new abilities essential in today's rapidly changing business environment.
The goal of the program is to use Orlando as a vehicle for participants to practice the concepts learned through their academic programs or business careers. Through various site visits, activities, and presentations, the International Residency provides a perspective on doing business in and with Central Florida. Upon completion, participants can then synthesize the learning into knowledge that they will be able to use in their personal and professional careers.
Our highly-interactive programs are tailored to our customers' wishes based on their interests and learning objectives. They typically include various site visits to some of Orlando's major attractions and corporations, including Walt Disney World, Universal Studios, NASA/Kennedy Space Center, Daytona International Speedway, Lockheed Martin Corporation, Orlando Magic, Electronic Arts, and the Mall at Millenia, as well as daily presentations on such topics as:
Executive Leadership
Effective Negotiation
Marketing and Branding
Effects of Globalization on our Economy
Strategic Management
Entrepreneurship
Growth and Diversification of Central Florida
Development of Business and Industry in Central Florida
Who Should Attend
Mid-level managers through executives, in every functional area of responsibility, in all industry types
Executive and Professional MBA Students (International & Domestic)
Consultants
Managers and Directors
Small Business Owners/Entrepreneurs
What our Program Participants Are Saying
"WOW! UCF more than met my overall expectations. I have so many new ideas in my head to take back to Madrid."
"I'll never forget UCF. It exceeded my expectations on many levels. I will remember it for all my life."
"Before the study trip I had a lot of expectations for this experience. But I couldn't imagine it was going to be so interesting for me in a personal and academic/professional way."
"It was a great pleasure to participate in the program at UCF. The structure and content were fantastic and the staff was really nice and helpful. the new knowledge helped be grow both professionally and as a person."
Download International Residency Brochure
Please contact us for more information:
mireya.cortes@ucf.edu or 407-235-3917