Professional MS in Real Estate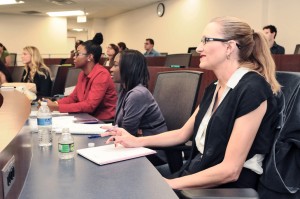 UCF's Professional Master of Science in Real Estate (PMRE) was designed by the Dr. P. Phillips School of Real Estate as a flagship graduate program that will prepare students for senior level positions in real estate and related industries. The PMRE program is 20 months long with classes held two evenings a week, allowing students to continue their full-time careers while earning an AACSB-International accredited Master's degree.
Contact Info:
Robin Hofler
407-235-3913
Program Start:
August 2015
Application Deadline:
July 15, 2015
PMRE Lunch & Learn
Wed., May 27, 12:00 p.m., UCF Executive Development Center
---
Curriculum
The UCF PMRE is a 20-month program and provides the perfect foundation for a career with increasing responsibilities in various organizations and industries.PMRE classes meet two evenings per week, 6:00-9:50 p.m., at the Executive Development Center's state-of-the-art downtown facility.
The 30-credit hour curriculum combines a professional business core with courses in accounting, finance, and marketing and advanced coursework in residential and commercial real estate. The program provides graduates with the flexibility to pursue careers in commercial real estate brokerage and appraisal, real estate development, mortgage brokerage, institutional real estate investment management, capital markets, and asset management.
Students earn Argus Software certification, and are eligible to take the fast track to the CCIM designation upon graduation. Students graduate well-prepared for Florida real estate brokerage and appraisal licenses.
See Course Catalog
Tuition
The UCF PMRE is an all-inclusive, market-rate program. Tuition includes 30 credit hours, all textbooks and course materials, laptop computer, financial calculator, parking, and lifetime UCF Alumni membership. Program tuition = $29,500
UCF PMRE, Early Application Deadline = April 15, 2015. PMRE applications received on or prior to the early application deadline will receive a $1,000 tuition discount.
Admissions Criteria
Follow these steps to apply:
Request official transcripts: If you are not a UCF graduate, official transcripts from each college or university attended must be sent directly to the University of Central Florida, College of Graduate Studies, P.O. Box 160112, Orlando, FL 32816.
Online application: Complete the online application at www.graduate.ucf.edu, and remit the $30 application fee.
Current resume: Upload your current resume into your application before submitting.
Goal statement: Write a goal statement of no more than 1,000 words addressing the following: Explain why you want to earn a PMRE; why you believe this is the right time for you to pursue a PMRE; and why you selected UCF. Upload your goal statement into your application before submitting.
Recommendations: Provide three email addresses of recommenders in your application from professional sources.
Interview: As soon as your application is complete, you will be contacted by the Executive Development Center to schedule an interview.