If you are looking to remodel your home – you can save big by skipping out on these 4 real estate projects.

Remodeling is an important factor when adding value to your home and it's a great way to incorporate a fresh, new style into your daily life. Whether you are remodeling to prepare your home for the real estate market or just looking to change up your everyday view, it's important to assess the value a renovation project can add to your home—and some projects that will cost you more than you'll make back if you go to market. If you want to add the most value to your property and breathe life back into your home with worth-while investments, you may want to avoid these 4 projects that will produce some of the worst return on investment (ROI) value.
Think about when you are searching for a new home and what those conversations are like with your realtor. You can then begin to create a list of the most important rooms or sections of your home that need renovation. And by upgrading their look, you can watch the value of your property skyrocket. So naturally, it is important to take on projects that result in the highest Return On Investment possible. According to Remodeling's 2019 South Atlantic Cost vs. Value report , these 4 home improvement projects do not result in a profitable ROI. And let's be real, in the real estate world—ROI is the name of the game.
1. Backyard Patio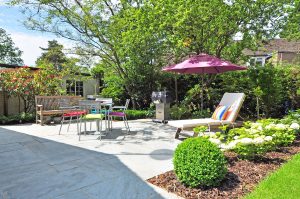 The average cost to renovate a Midrange Backyard Patio is $54,161, increasing the resale value by $29,445 and leaving the cost recouped by about 54%. Just by looking at these numbers we can conclude that remodeling the backyard patio shouldn't be top priority. Sure, it's a great addition for children to play and guests to enjoy but is it really going to be a deciding factor on whether someone buys your home or not? The answer is something to think about.
2. Bathroom Addition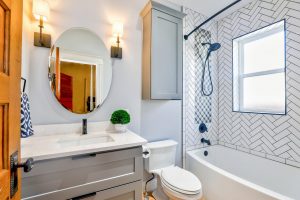 The average cost of a Midrange Bathroom Addition is $43,817, increasing the resale value by $27,149 and leaving the percentage of cost recouped at 62%. Bathroom additions might have to be strategically planned and executed in order to maximize on ROI. Something that could be more worth-while would be upgrading an existing bathroom as there are many budget-friendly and DIY stores that can assist in making this a tangible reality.
3. Deck Addition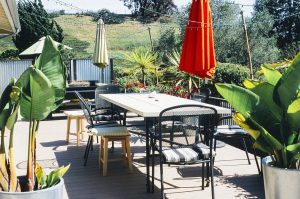 The average cost of a deck addition is $18,060, increasing the resale value by $11,793 and leaving the percentage of cost recouped at 65%. It is interesting to note that outside additions to the home are more expensive, yet don't provide a solid ROI. Like any part of a home, backyard aesthetic preferences all depends on buyer discretion. Take this info with a grain of salt.
4. Upscale Master Suite Addition
The average cost of an upscale master suite addition is $253, 821, increasing the resale value by $131,035 but leaving the cost recouped at 51%. When looking at this particular renovation with such a large contribution to buyer decisions, losing about half of your money invested might not be the best option if you are restructuring your home for sale.
These 4 projects are renovations that can still be accomplished if planned and budgeted properly. But by taking this list into consideration, you can shift your focus away from those projects that will not yield to a profitable ROI and focus on those that will.
Better Options
A perfect example of a renovation that is more valuable would be a midrange manufactured stone veneer. According to the South Atlantic Cost vs Value Report, the average cost is $8,524, increasing the resale value by $7,789 and leaving the cost recouped at 91%. You can note a major difference in ROI; it increases the value of your property by almost the full amount of money invested. That is a smart move. Another great example would be a minor kitchen remodel; the average cost is $21,440, increasing the resale value by $17,754 and leaving the cost recouped at over 82%. Reiterating that you can remodel parts of your home, perhaps on a smaller scale but recuperate the money that was invested. Sometimes less is more!
Learning how to maximize profits in the world of real estate can sometimes be tough in an ever evolving market. Luckily, there are resources to help pave the way for those who want to enter the real estate world, for those who are already active participants or for those who simply enjoy remodeling their property for their own personal gain.
Learn More
If you are interested in learning more about Central Florida's real estate market or connecting with real estate professionals in the Central Florida area, the UCF Dr. P. Phillips School of Real Estate will be hosting a Real Estate Conference on May 1, 2019.
"With the UCF Downtown campus opening later this year and the Orlando Magic entertainment complex in the planning stages, significant changes are ahead for the downtown landscape," said Paul Jarley, Dean, UCF College of Business, who will be recording an episode of his podcast, Is This Really a Thing?, live at the conference. "Our world-class faculty will join a host of industry experts and community leaders to discuss what's ahead for Orlando and Central Florida's real estate market."
More than 300 real estate professionals and industry experts are expected to attend the half-day conference, which runs from 11 a.m. – 4:30 p.m., followed by a networking reception.
Presented by Addition Financial, formerly known as CFE Federal Credit Union, the UCF real estate conference will provide insight from industry and community leaders on how this continued growth is driving momentum in Central Florida's real estate market. The Dunhill Companies, a regional leader in commercial real estate services, will join the event as a supporting sponsor.
Including keynote speakers:
Buddy Dyer– Mayor, City of Orlando
Paul Jarley, Ph.D. – Dean, UCF College of Business
Bill Moss – Director, Dr. P. Phillips Institute for Research and Education in Real Estate at UCF
Thad Seymour, Jr. – Interim President, University of Central Florida
Sandy Shugart, Ph.D. – President, Valencia College
Sean Snaith, Ph.D. – Director, UCF Institute for Economic Forecasting
To register today, click here.