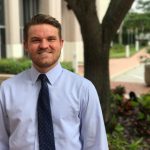 ORLANDO, Fla. – While studying for tests and attending class at UCF, Joe Sleppy dreamed up an idea with research scientist Jayan Thomas, Ph.D. to reduce the size of batteries worn by American soldiers. The idea won the UCF Joust New Venture Competition in 2016, but Sleppy's latest application of the technology could one day make electronics like computers and air conditioning units much more affordable.
Sleppy, the co-founder and CEO of Capacitech Energy, is pitching a one-size-fits-all solution to reduce the size and production cost of electronics. According to the full-time engineering student and entrepreneur, his company could dramatically cut costs for manufacturers by simplifying circuit boards used in virtually every electronic device. By simplifying powered circuit boards with a single wire, Sleppy is confident he will revolutionize the electronics manufacturing process.
"Capacitech builds a capacitor on the surface of a wire," Sleppy said. "In doing this, electronics manufacturers can cut our wire at different lengths to replace many different types of capacitors they were using. This reduces logistical and inventory costs."
While Sleppy's idea to reduce the size of batteries carried by soldiers initially piqued the interest of the U.S. Department of Defense, the lengthy research and development process required to produce a military-grade product concerned him. So he decided to pivot his focus to the renewable energy sector with applications including hybrid vehicles, clean energy and wearable electronics that can charge portable devices.
"The barrier to entry and the time to market for all of this would likely be a decade and a whole lot of money," Sleppy said. "My investors aren't going to want to wait a whole decade for their return."
With help from the university's I-CORPS program, Sleppy created a path-to-market strategy for Thomas' invention. I-CORPS helps entrepreneurs find a way to make an idea or technology more attractive to investors. After completing the program, Sleppy shifted his focus once again to form partnerships with electronics manufacturing companies.
The new business model does not mean Sleppy is giving up his dream to work with the Department of Defense. From his perspective, Capacitech Energy is mitigating risk by co-developing products with electronics manufacturers first.
"Going straight there is a huge risk," Sleppy said. "We're going to earn revenue by selling our capacitor to powered electronics companies, co-developing products with them and launching new products. Then we have proof that we're not just a science experiment."
About UCF College of Business
Established in 1968, the UCF College of Business offers degrees at the bachelor's, master's, doctoral and executive levels. All programs, as well as the Kenneth G. Dixon School of Accounting are accredited by AACSB International – the Association to Advance Collegiate Schools of Business. The college provides high-quality academic programs designed to give students a competitive advantage in the world of business now and in the future. The college promotes a unique culture of engagement, risk-taking, cross-disciplinary collaboration and data driven decision making in an effort to ensure students are well prepared to enter a dynamic marketplace. Learn more at business.ucf.edu.