Years of hard work and dedication paid off for Kristen Stahl, who received the first-ever FNAME endowed scholarship for the Professional Selling Program (PSP). A marketing major in her senior year, Stahl received the scholarship Thursday, July 11 at the annual Florida Media Conference in St. Petersburg, Florida.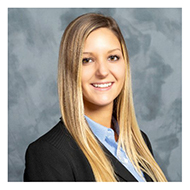 Stahl has worked two full-time jobs to support herself during college. She is currently a sales intern for TaylorWorks IT in Longwood, where she made her first sale by week six and was recognized as employee of the month for June. Stahl is also an independent consultant for Rodan+Fields, a manufacturer of premium skincare products. She has also been on the College of Business Dean's list for the past four semesters.
"Kristen is a deserving recipient of the inaugural FNAME endowed PSP scholarship. She is driven to succeed as a business person who truly embodies all the values that we embrace as UCF Knights and PSP members," says Bill Steiger, DBA, Professional Selling Program Coordinator.
Established in the 1920's, Florida Newspaper Advertising & Marketing Executives (FNAME) is an active industry association of newspaper advertising executives throughout the state of Florida. FNAME provides a network to exchange creative ideas, learn new selling techniques, implement innovative sales programs, and so much more. This year, FNAME created an endowed scholarship for UCF's PSP students; the scholarship award is $1,000 per academic year.

The Professional Selling Program is designed to prepare an exclusive group of students to become future sales leaders for any selling arena such as consumer goods, services, technology, medical supplies, advertising, and many more. The competitive program accepts no more than 35 exceptional students each year that show potential and promise in the fascinating and lucrative field of sales.

"The Professional Selling Program has provided me with countless opportunities and has helped me to grow and develop personally and professionally," says Stahl.
Last spring, Stahl and three other PSP students had the opportunity to participate in the USF Selling with the Bulls Competition in Tampa. Their team earned 4th place out of 16 teams. The event, hosted by the Center for Marketing and Sales Innovation at the Muma College of Business, University of South Florida, combines employer networking with multiple sales and marketing student competitions.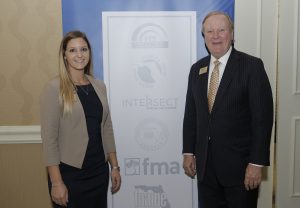 "I am dedicated and determined to make the most of my time at UCF and put forth my best effort in all my classes. I have had to sacrifice many academic opportunities due to my financial independence and need to support myself through college. Receiving this scholarship relieves me of some financial burdens and allows me to be a student more and take advantage of more academic opportunities." says Stahl during her acceptance speech.