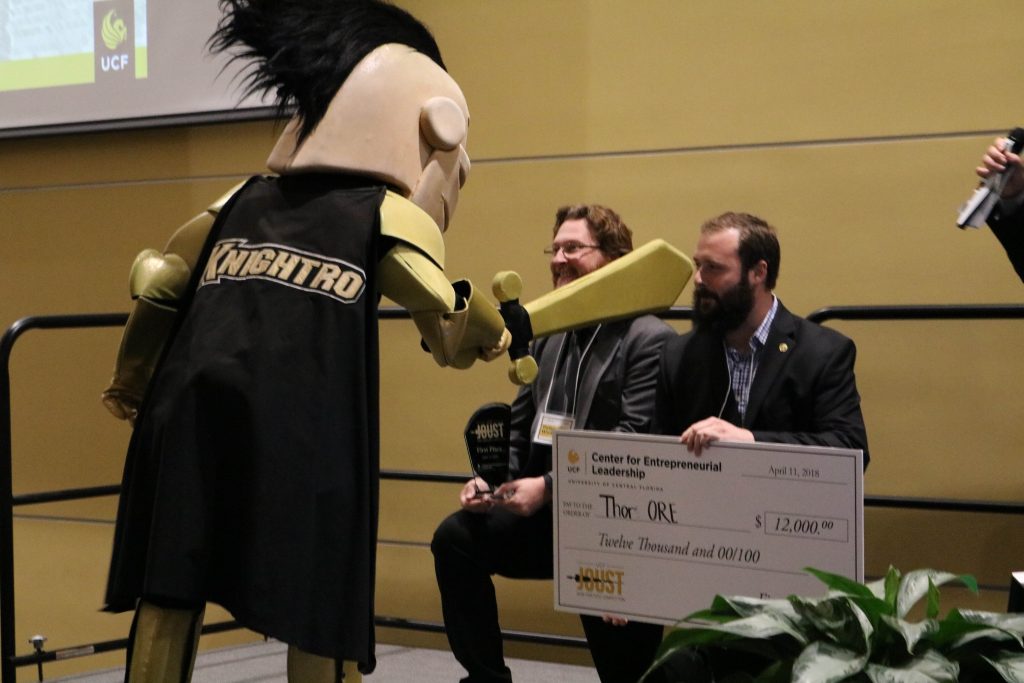 ORLANDO, Fla. – For Dylan Weitzman and Brandon Carpenter's company, Thor ORE, the third time was the charm. After three years of applying for the UCF Joust New Venture Competition and failing to reach the final round, Thor ORE beat out the competition Wednesday to take home first place, a $12,000 check and more than $50,000 in essential business services.
On a Shark Tank-style stage replete with a tough panel of professional judges and in front of a live audience of more than 200 people, UCF senior Weitzman pitched his plan to mine and recover precious metals from contaminated lands and waste. The two co-founders have collectively competed in dozens of entrepreneurship competitions and their relentless persistence is what they believe sold the panel of expert judges on Thor ORE's business model.
"We have plenty of experience in rejection and getting yelled at," said Weitzman, a physics major. "We've been, basically, laughed at before on stage. So now we know how to present ourselves."
Weitzman and Carpenter plan to use the competition winnings to expand Thor ORE's mining operation in Alabama. The company's appeal, according to Carpenter, lies in its proprietary extraction technology, which allows for eco-friendly mining of smaller, previously inaccessible amounts of gold.
"Eighty percent of gold exists at the atomic level," said Carpenter, Thor ORE's vice president of production. "Our competitors are going after the twenty percent they can see. We're going after the eighty percent they are leaving behind."
The Joust is UCF's premier startup showcase event, hosted by the UCF College of Business's Center for Entrepreneurial Leadership and featuring students of all majors. This year's event was held at the Morgridge International Reading Center on campus. Competitors present their models for a viable business venture and compete to win money and other vital resources to pursue their venture.
"I'm really proud of the Joust contestants this year," said Cameron Ford, Ph.D., director of the UCF Center for Entrepreneurial Leadership. "I'm especially proud of Dylan, our grand champion. He has coached students at the Blackstone LaunchPad for three years and it's really exciting to see him take what he has learned from coaching others and apply those lessons to his own venture."
Ford said the judges pointed out how viable each of the competing venture proposals could be and commented on the excellent level of preparation by every student involved.
The Joust runners-up and fan-favorite competitors were Mason Mincey, Derek Saltzman, Gerardo Diaz-Silva, Garrett Hausman and Matthew Jaeger with SOAR Aerospace, a company that produces sleek, stylish, customizable and quality high-speed drone frames. They took home $7,000.
Shane Singh, Shi Hao Zhang, Akash Gajjar and Shivkumar Kaushik Murthy earned third place and $4,000 for their company S Star Technologies and its state-of-the-art respirator. Miracle Care Responders and the team of Jean Saint Jean and Ladeen Taylor ranked fourth for their idea to train, license and find jobs for Certified Nursing Assistants. They took home $2,000.
The students' new-business-venture proposals were assessed by a panel of expert professionals representing a wide range of corporate partners, local businesses and alumni. This year's judges were Carrie Callahan, '94, Managing Partner at Galliard Capital Management; Sean Hayes, '95, Vice President of Business Development at Voloridge Investment Management; Mathy Hogan, '87, Executive Vice President of Administration at FAIRWINDS Credit Union; Charles Jorge, '89, President and CEO of Premier Assurance Group; Patrick Vaughn, '80, Co-Founder of Trivium Asset Partners and Vince Virga, '95, Co-Founder and CEO of SkillStorm.
This year's presenting sponsors were Steve Felkowitz '79; Jim Balaschak '86 '92 and Debbie Balaschak, '88. Additional sponsors included Burr+Foreman, DigiThinkIT, Anidea Engineering Inc., BDO, Nperspective LLC and Volo Foundation.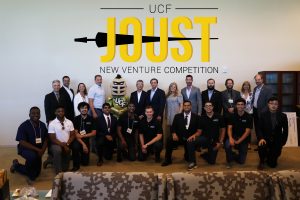 About UCF College of Business
Established in 1968, the UCF College of Business offers degrees at the bachelor's, master's, doctoral and executive levels. All programs, as well as the Kenneth G. Dixon School of Accounting are accredited by AACSB International – the Association to Advance Collegiate Schools of Business. The college provides high-quality academic programs designed to give students a competitive advantage in the world of business now and in the future. The college promotes a unique culture of engagement, risk-taking, cross-disciplinary collaboration and data driven decision making in an effort to ensure students are well prepared to enter a dynamic marketplace. Learn more at business.ucf.edu.
About Center for Entrepreneurial Leadership
The Center for Entrepreneurial Leadership strives to make entrepreneurship an essential part of the UCF experience. The center's primary goal is to make entrepreneurship a viable career option for UCF students. All initiatives are available to all UCF students from all academic disciplines and programs. The CEL encourages students to visit a class, advising session, meetup, workshop, competition, or other events to learn more about how entrepreneurial leadership skills can contribute to future success.