BY JOSH MIRANDA | APRIL 24, 2020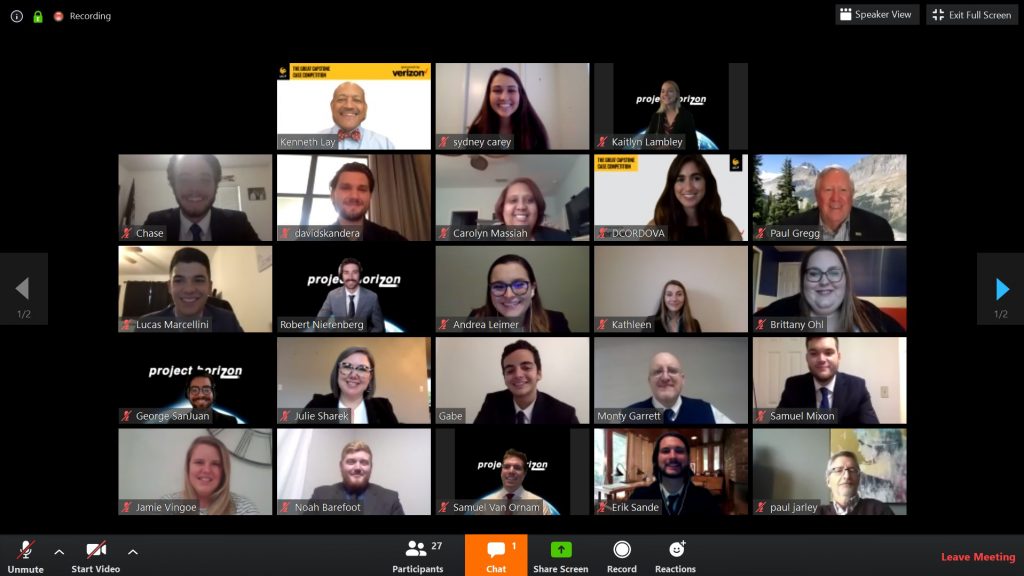 UCF's transition to distance learning did not stand in the way of five students winning top honors at the Spring 2020 Great Capstone Case Competition on Friday, April 24. Among the field of 700+ students enrolled in the Capstone course, students Kaitlyn Lambley, Robert Nierenberg, Sam Van Ornam, George SanJuan and Kathleen Shiflett advanced to the final round of the competition and presented an extensive plan for Verizon to extract precious metals from electronic waste like discarded smartphones, computers and similar devices. Nicknamed Team "Capital-ISM," their idea to establish a processing facility to harvest the valuable materials impressed the judges – Verizon executives and UCF Business faculty – to take home first place in the business plan competition.
Fifty five students representing 11 teams competed for a chance to advance to the final round of the Great Capstone Case Competition. Competitors delivered their pitches to a panel of judges via Zoom video conference breakout rooms – a first for the Capstone Competition. Despite the obvious lack of in-person presentations, the judges commented on the students' preparedness and subject matter expertise throughout the competition. Monty Garrett, Senior Vice President of Finance at Verizon, served as a judge and praised the winning students' strategic recommendation.

"I have been judging Capstone for five years now, and this is the strongest group of finalists I have ever seen in the competition," Garrett said. "I was really impressed with the students' professionalism and how they adapted to the use of technology to prepare and deliver their presentations online."
The Great Capstone Case Competition challenges business students to develop strategic recommendations for real-world business issues as part of their coursework. Throughout the semester, students are given the opportunity to work as a team, strengthen their analytic, communication and teamwork skills and present a plan to faculty members who select the teams that will compete in the competition.
Student Sydney Carey and teammates Andrea Leimer, Gabriel Fourari, Brittany Ohl and Erik Sande of "GABE's Co." took second place with their idea to offer virtual doctor's appointments through a partnership with healthcare company Teladoc. Team "5G" of Sam Mixon, Chase Lott, Noah Barefoot, Lucas Marcellini and Caleb Greek placed third with an idea to install solar panels on the rooftops of Verizon's commercial buildings. Kenneth Lay, Adjunct Instructor in the Department of Management, taught this semester's Capstone course and guided students during the development of their presentations.
"These students were able to embrace the concepts of strategic management delivered during the semester and integrate those with their own creative ideas to deliver solid proposals for Verizon," Lay said.
About the UCF College of Business
Established in 1968, the UCF College of Business offers degrees at the bachelor's, master's, doctoral and executive levels. All programs, as well as the Kenneth G. Dixon School of Accounting are accredited by AACSB International – the Association to Advance Collegiate Schools of Business. The college provides high-quality academic programs designed to give students a competitive advantage in the world of business now and in the future. Learn more at business.ucf.edu.