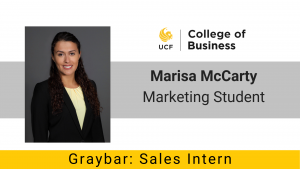 Being involved around campus is crucial, but Marisa McCarty has gone above and beyond to diversify her involvement on campus. Four years ago, McCarty began assisting UCF professors as an undergraduate assistant, which helped shape her into the leader she is today. Since August 2018, McCarty has been a UCF College of Business Ambassadors, holding three different potions, growing from an ambassador to her current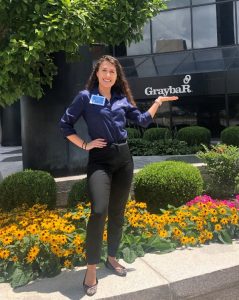 position as Business Leadership Council Chair. McCarty is also involved with UCF's President's Leadership Council and holds a committee chair for Alumni Relations. Marisa is a current senior in the College of Business studying marketing and is also a member of the Professional Selling Program.
Marisa's  goal is to work in sales, and her current Internship with Graybar is setting her up for success.
What is your role with Graybar?
Graybar is a Fortune 500 wholesaler and B2B distributor for large scale electrical and communications/data products. I intern in the sales department but am rotated around the entire company for a holistic view of the processes inside. An average day can consist of riding on sales calls to customers like Walt Disney World Resorts or UCF, shadowing professionals in the office and working on my individual assignments. My overall projects include video marketing and a research proposal to suggest an improvement or implementation that can improve our supply chain processes. Graybar has sent me to Tampa to meet executive district management and flew me to St. Louis, MO to meet the CEO, senior executives and participate in the annual intern summit. Overall, this internship serves as an in depth and active learning experience to understand electrical distribution.
How did you find this internship? Have you gone to any networking events?
I found this internship at the Invitational an invite-only internship and externship fair put on by the College of Business and the Office of Professional Development. I met with the HR manager, secured an interview online and went through an extensive interview process.
What steps did you take in preparing for this internship?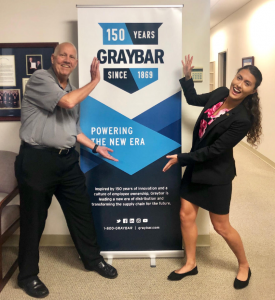 I prepared for this internship by doing a significant amount of research on the company and setting up meetings with management to discuss the goals and outcomes expected of me.
What is one thing you've taken away from being an intern?

As an intern, it is important to remember that, no matter what, there will be obstacles you have to overcome to achieve your goals. Whether this is stubborn traditionalism, lack of freedom, lack of direction, or more, you will have to motivate yourself intrinsically to truly get what you envision as an outcome.
One piece of advice for other students looking for internships:
It is important for you to be extremely motivated to find a company that resonates with your goals and will help you grow. You will fall 15 times before finding the opportunity that will make a difference – and start looking at least three months in advance!