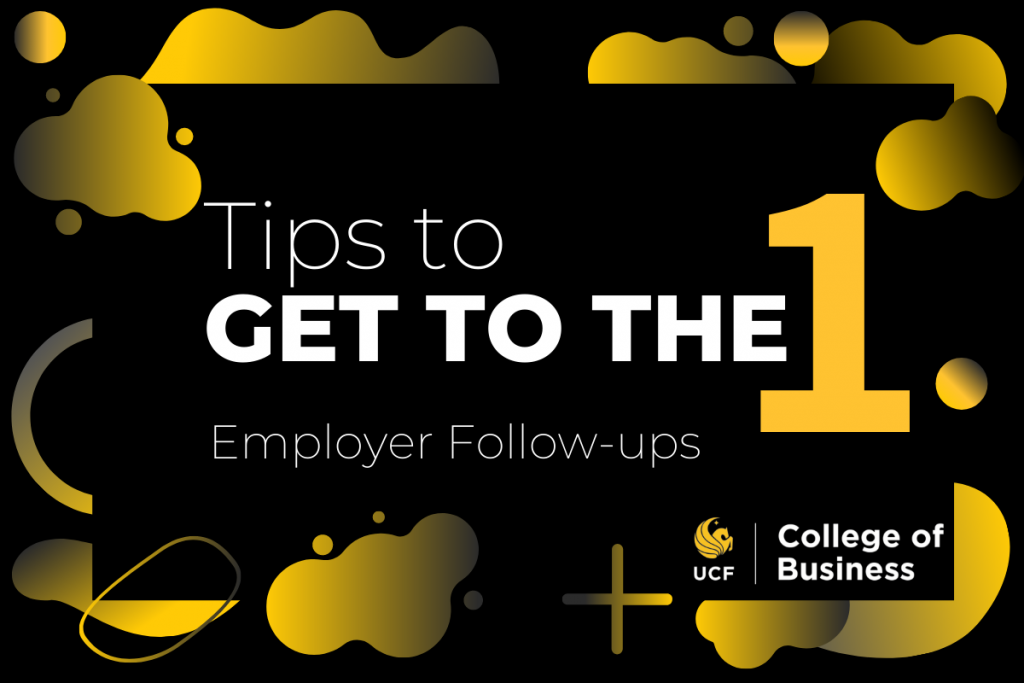 You submitted your resume. You nailed the phone interview. You just finished the in-person interview. You're waiting for a response back from the employer but have heard nothing so far. Now what?
Well, now is the ideal time to follow up with the interviewer! Whether you submitted your resume online or on Knightline, met an employer at a career fair or in The EXCHANGE or connected with an industry leader on LinkedIn, you want to follow up! You want to be professional in your follow up, but you want to show your appreciation for the interview opportunity as well. Here are 5 ways for you to properly follow up with an employer.
Follow Up within Two Weeks
General practice is after meeting with someone, you should follow up within two weeks of meeting them. Usually the sooner the better! People live busy lives, and by following up in a timely manner, you can remain relevant in their minds and won't be as easily forgotten. However, when it comes to actual interviews, you want to respond within 24 hours to really improve your chances!
One important factor to consider is that if you promised to respond within a certain time period, that you make due on your promise! You wouldn't want to forget about them as much you'd want them not to forget about you!
Send a Personalized Letter
We often think that the interview is the best opportunity to differentiate ourselves from other applicants. However, your follow up is another opportunity to make yourself unique – especially if you send a physical letter thanking them for the opportunity to interview.
When it comes to the letter's content, include a detail that stood out during your conversation with the employer. Chances are, the inclusion of this detail will improve your chances of being recognized. The fact that you followed up alone will improve your likelihood of getting the job, but how you follow up is equally important!
Keep it Succinct
As previously mentioned, people live busy lives. This is especially true for hiring managers, as they have to sift through dozens of applications each day. Therefore, when sending your personalized follow-up, be sure to keep it brief and to the point.
Make sure to address the company and hiring manager by name in your follow up! Remind them of your application and the job you specifically applied for, re-state your interest in working with the company and include that personalized detail to make yourself stand out. Don't forget to include your contact information if they want to follow up right away.
Tips for Following Up with a Phone Call
A more direct approach can be to follow up with a phone call with the employer. Be wary though, as again, business professionals can be quite busy with their day-to-day lives, and you don't want to catch them at a bad time.
However, if you do have their contact information, it could be an opportunity to re-state your interest in the company, personally thank them for the opportunity and ask any further questions about the application process or the position itself. One practical piece of advice is to stand up while calling them, as you will feel more confident when speaking while standing than while sitting.
Get Advice from our Office of Professional Development
If all else fails, feel free to speak with our helpful staff at the Office of Professional Development and discover more ways to differentiate yourself after the interview process! Our staff can provide help with targeting companies that match your skill set and career interests. Learn more by visiting their website here.
Now that you know how to properly follow up with an employer or connection, you're one step closer to making yourself stand out and being able to Get to the One!