Associate Professor, Department of Finance
Posted on November 21, 2023
Dr. Cuneyt Akcora is new to UCF but brings an impressive background to the Department of Finance. He learns languages, was a Fullbright Scholar and studies Blockchains and graph machine learning despite not touching a computer until the age of 19. Learn more about Dr. Akcora below:
How long have you been a Knight? Two months only, but I really liked seeing the campus full of people over the weekend.
What is your area of research? Graph machine learning and Blockchains.
What is a little known fact about you? Coming from a rural background, I touched a computer for the first time when I was 19.
What do you find most rewarding about your field of study? I work on topology, which deals with shapes of data. The visualizations can reveal quite novel insights. For example, in a 2020 article we looked at ransomware payments on the Bitcoin blockchain, and we could identify ransom payments automatically. These payments are typically unreported because companies pay the ransom and avoid bad publicity.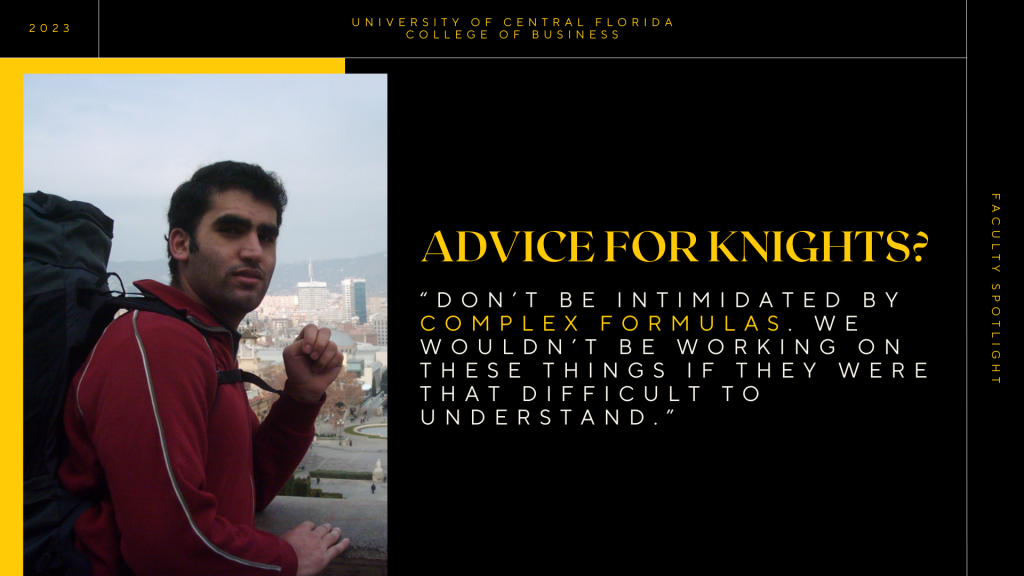 Any professional awards or honors you're proud of? I was a Fullbright Scholar during my Ms. Degree in Buffalo, N.Y.
What do you love about what you do? Our contributions (algorithms, equations, data structures) may survive forever. In a sense, computer science is still a novel field and much remains to be explored.
When you're not in the classroom where can you be found? I learn languages. I speak Italian, Turkish and Chinese (at HSK 4 level, which helps me navigate Beijing on my own). I am currently learning Russian.
What's your advice for Business Knights? Do not be intimidated by complex looking formulas. We are not Newtons, and we would not be working on these things if those formulas were that difficult to understand.