Associate Lecturer, Marketing Department
Dr. Johnson is a Air Force Veteran, has been with UCF for six years and is researching supply chain management, demand planning, and transportation management. Learn more about him below!
How long have you been a Knight? Six years.
What is your area of research? I work in Supply Chain Management, Demand Planning (Inventory Management and Forecasting), and Transportation Management.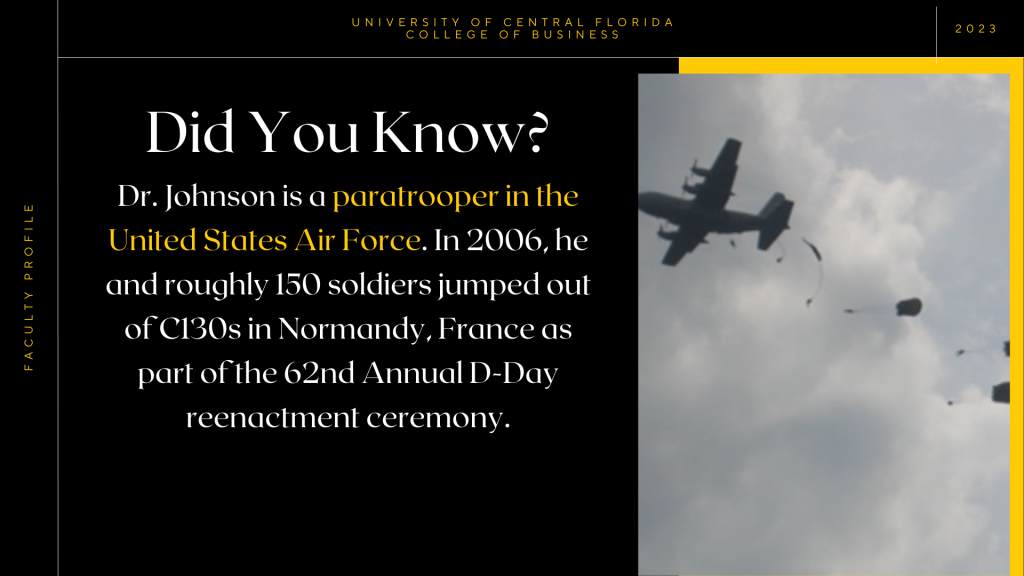 Is there an award you're proud of receiving? Yes, the Teaching Incentive Program Award this year!
What do you love about what you do at UCF? I enjoy providing students with the business tools needed to help them in their professional journey.
What's most exciting and rewarding about your field of study? The daily challenges and opportunities for improvement in the various supply chain management channels provide a rewarding environment for teaching, training and research.
When you're not in the classroom, where can you be found? You'll find me enjoying spending time with family, golfing, and reading.
What is something most people don't know about you? In 2006, as a paratrooper in the United States Air Force, I participated in the 62nd Annual D-Day reenactment ceremony. Approximately 150 Americans, British, Canadians, French and German soldiers jumped out of C130s on to Iron Mike drop zone in Normandy, France.
What is your advice for Business Knights? Supply chain management involves a lot of data analysis. Strengthen your analytical skills, including proficiency in tools like Excel and data visualization software. Familiarity with data analytics can set you apart in this field. Develop your interpersonal sills, as communication and teamwork are crucial. Stay committed to continuous learning.