Podcast: Play in new window | Download
Subscribe: Apple Podcasts | Google Podcasts | Spotify | Stitcher | TuneIn | RSS | More
Are the Excel Championships just another bit of content for ESPN? Could it keep the Pac 12 alive? More importantly, is it an eSport and can we gamble on it? Listen in!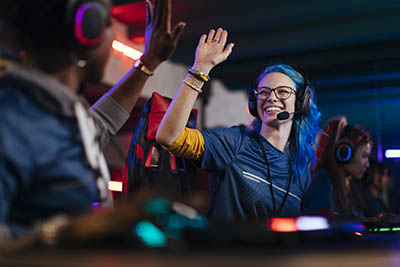 Featured Guests
Episode Transcription
Announcer from the movie "Dodgeball: A True Underdog Story": Live from Las Vegas, It's the Las Vegas International Dodge Ball Open here on ESPN 8: The Ocho, bringing you the finest in seldom scene sports from around the globe since 1999. If it's almost a sport, we've got it here.
Paul Jarley: But I have to admit I did not see this coming.
This show is all about separating hype from fundamental change. I'm Paul Jarley, Dean of the College of Business here at UCF. I've got lots of questions. To get answers, I'm talking to people with interesting insights into the future of business. Have you ever wondered, is this really a thing? Onto our show.
Paul Jarley: While, it most certainly isn't "Dodgeball," and we aren't breaking down Average Joe's, we are talking about the Excel Championships that just aired on ESPN, and will be heading to Las Vegas in December. Are the Excel Championships even close to an eSport? I really need help understanding why Excel is on ESPN. To form an opinion on this, I've assembled the following panel of experts.
Andrew Grigolyunovich is the Founder and CEO of the Financial Modeling World Cup and joins us all the way from Latvia. David Clayton Brown is an Associate Professor of Finance at the Eller College of Business at the University of Arizona. Bill Jelen goes by the moniker Mr. Excel. He has authored several books on Excel and is the competition's play-by-play guy. Adrian Bouchet is the DeVos Endowed Chair of Sports Management and Chair of the Sports Business Management Program here in the College of Business. Finally, Sean Dennis is an Associate Professor in our Dixon School of Accounting. Listen in.
Paul Jarley: So one of the very first podcasts I did was on eSports and the premise of it was whether eSports was going to be a thing or not. I came down on the side that I thought it was going to be a big thing that I thought it wouldn't just be a big thing in the professional ranks, that it would be a big thing in the college ranks as well. And one of the reasons I thought that that would be true is it would be a way for universities to promote a group of geeky students with a unique offering, but I have to admit, I did not see this coming. When I saw the ESPN promotion on The Ocho for this event, I thought, wow, this is one I just wouldn't have imagined. I'm going to start with David and Andrew here. Where did the idea for these kinds of competitions come from? Andrew?
Andrew Grigolyunovich: It all started, I think that was back in 2012, the first competition of a similar kind that was called ModelOff that was created by two guys in Australia and they were doing that on an annual basis and that was devoted to financial modeling. That was called the Financial Modeling World Championship. They had a name brand named ModelOff. I was one of the players, David was one of the players there. We were good players, we made it to the finals a couple of times and in 2016 we were among the top 16 players in London. So the difference between what you saw on ESPN, first of all, that was annual, not regular. Second, it was more player oriented, less show oriented. That was basically targeting finance professionals, giving them very interesting cases to solve, but there was not too much value for spectators. When they sold this to new owners back in 2019 and the competition discontinued by 2020.
So I saw an opportunity to create the Financial Modeling World Cup and that was the tournament for professionals from the very beginning. We were aiming to increase the production value and also increase the spectator value there. We've tried a couple of formats. Some of these initially were not too successful, but eventually that has evolved into the format you actually saw on ESPN and that's how Excel eSports was born. I think the first game we could probably get it to back to 2021 and meanwhile David continued to play in his ideas about the student tournaments because he's a professor. We are more like professionals and David, maybe you can tell more about that aspect.
David Clayton Brown: My whole entry into this was 2014. I started here at the University of Arizona as a professor and I started teaching financial modeling and I wanted a way for my students to get a little bit more than what we had in class, get some M&A models, some private equity type models as well, and I found ModelOff was a great place to do that. You got these professional models, professional modelers were completing them and it gave the students a chance to see what they were doing. They also provided answers, which was great for student learning. You could try the challenge, you're going to struggle through it, which is fine, but then you're going to learn from it afterward. And I had a few students that really engaged with this. They would finish in the rankings at least for this, for the ModelOff competitions.
And then in 2016 I took my hand at it and made it to the finals with Andrew. We got to meet for the first time and then like he said, in 2019, things changed hands with ModelOff started to wrap up and at that point I initiated a conversation with the ModelOff team like, Hey, can we start a college version of this? We start working on it, the pandemic hits, it kind of derails everything, but then I actually was able to get tenure. To me that gives me kind of a license to create value in the world and I see this as a huge source of value. We see industry people saying students need more Excel, they need it sooner, so how do we deliver it to them? At U of A, we've started to do more courses earlier in the curriculum, but broadly we just want to get more Excel opportunities to students. This is a hard thing for professors to bring to the classroom, so we're hoping this is a way to make it easy for professors to give their students a little something extra to do to get their feet wet and then the students that are really interested are going to run with it because of this format Andrew's developed.
Paul Jarley: So where did most of the contestants come from, Andrew?
Andrew Grigolyunovich: Basically, investment banking, audits, financial consulting. If we talk about finance people, we have actuaries, we have engineers maybe a little bit less than we would hope for. We have a couple of mathematicians. The reason is that our company name is the Financial Modeling World Cup. The word financial might be a little bit encouraging for finance professionals, a little bit less encouraging for other professionals.
Paul Jarley: Where do the problems come from? Do companies submit problems for you all?
Andrew Grigolyunovich: You know what, that's a very special discipline in writing those types of cases. If a company comes with a problem, it could be the case. We'll have actually a real life company initiated problem in September, but again, these have to be adapted to a format that's solvable within thirty minutes or maybe an hour. So we try to see some real life problem. The whole tournament that's been studied by my company, which is doing financial consulting and financial modeling consulting, quite often what we do, we just look into some interesting real life examples, the real life models we were doing and create some generic case out of that. Initially most of the cases were written by myself, especially in the first season. And then after a while, the players have started to contribute their cases. So right now, it's also probably two thirds, maybe even more. That's contributed by the community and the other is being written internally at the Financial Modeling World Cup.
Paul Jarley: One last question and I'll jump to David. Andrew, do you use it to identify talent for people who you want to hire into your company? Have you ever hired anyone who won the competition?
Andrew Grigolyunovich: Actually, yes. We've hired two guys from a team who were doing the student competition last year.
David Clayton Brown: Yeah, for our cases I'd say it's a mix because we actually want students to get an idea of what real life work is, and a lot of that has been more finance oriented so far just because that's where my connections are, but we want to expand that even more as we go. For example, we're actually talking to a professor across the university here that studies bee populations. And so building cases that relate to things people study, I think is a real good way to engage the students and it doesn't just have to be in the business school. And that's why we're starting to look across campus for more of these collaborations, to bring interesting data problems to the students and then teach them some Excel skills along the way and have fun competing.
Paul Jarley: Has it developed into a student club yet? David? Is there a registered student organization on campus?
David Clayton Brown: So I started the financial modeling club a couple of years ago, kind of an offshoot of that that focuses on this competition. I actually for the first time later today, will be teaching an Excel eSports class here at the University of Arizona. Basically, I'm training them on what the recent case competitions have been. I pick a recent Excel eSports case that has been part of the pro competition and let's break it down, let's work through, let's talk about different ways to approach it and how to get as fast as possible. I think two or three other universities at least have these Excel clubs. So I see this growing. Hopefully the MECC creates some momentum behind it.
Paul Jarley: How did ESPN get involved in this? Are they that desperate for programming? What's going on?
Andrew Grigolyunovich: I think that's an interesting niche they could be looking into because imagine the potential interest from potential market there. Hundreds of millions of people around the world use Excel, right? This is definitely something that could evolve into something very, very, very big. It's not just the competition, we use the word competition, but essentially that's a very nice, interesting, fun way to train. And as soon as people realize that that's going to be a massive increase in the number of followers and number of participants, there's a huge market I see there and a huge growth. For ESPN, it turned out that we were actually acquainted with the right person there by Microsoft. The story was that they had some contacts there. They are one of the sponsors for our competition, very much interested in their product being used in these very unusual ways, so to say, that's how it started. So basically we were producing these Excel eSport games that were shown on our YouTube channel, but that was the right content for them and that's where they were showing our world championship in 2021, the All-Star game, 2021, '23 as well, and that's how it started. So once in a while, that's a nice content for them. We're not able to move basketball or American football yet from the prime time. There is a long way to go at this point.
Adrian Bouchet: If you want ESPN to take it to the next level. The question nowadays is can you gamble on it? Can I place a wager on a certain Excel team? And is Las Vegas iterested? That seems to be the future.
Andrew Grigolyunovich: There is some interest, there is some initial, let's say, work on that. We might see that after some time.
Paul Jarley: One of my original reactions was that ESPN might be the wrong place to host the competition, in the sense that your viewers, and I'm going to engage in overgeneralizing here, but my hunch was that your prime consumers or watchers may not be people who really watch ESPN that much. What do you think? Have they helped you guys promote this, do you think or not?
Andrew Grigolyunovich: They definitely have helped to promote just the fact that Excel is on ESPN already made a lot of news across the world. That's probably one of the reasons we're meeting today.
Paul Jarley: Right? Yeah.
Andrew Grigolyunovich: Whether other channels could be more suitable? There might be. Essentially, even internally, we're discussing, it could be also positioned or very easily transformed into some sort of like a quiz show or very similar to a quiz show. And that's basically a content for less sport channels, like more general TV channels with general audience. It could be, we will be reviewing these. At this point, there is no exclusive contract or something. So we definitely have options there to look for other ways to promote. But yes, initially ESPN helped a lot, very thankful to them. Hopefully they liked us to be there as part of The Ocho.
Paul Jarley: Do you have any sense of what viewership is like?
Andrew Grigolyunovich: We do have some ratings. What we can share is that our viewership on YouTube for the last year's All-Star Battle, it's 800,000 views and of these, I think probably half a million was within a couple of days after ESPN has shown the game. So the interest is there, that's for sure.
Paul Jarley: Bill, you had the lofty title of Mr. Excel and as I understand it, you're the play-by-play guy for this. So how did you get this gig?
Bill Jelen: It goes all the way back to the first live event in 2012. I was invited to come and be a judge and I was very happy. I always say I was smart enough to be a judge and not to be one of the competitors because although I teach Excel and I know a lot about Excel, the people who reach the finals are just incredibly good at Excel and to watch them work live, I was there the first three years, 2012, '13 and '14 in New York City. It was just surreal to see how fast everyone was and I knew I was in the right spot as a judge instead of trying to compete because the people that are using Excel 50, 60, 70 hours a week are incredibly fast Excel. I'm very happy to be a judge and I was very happy when they invited me back to do some of the play by play for the FMWC before the two ESPN shows, it was on ESPN 3, three sets of two hours that were on ESPN 3. So there was good history there being on those networks.
Paul Jarley: So what's your day job Bill?
Bill Jelen: I write books about Microsoft Excel, and before that I worked in accounting and finance using Excel 40, 50, 60 hours a week and I'm good at Excel, but I'm not finals good at Excel.
Paul Jarley: So how do you approach the play by play?
Bill Jelen: We get the case a few days before the competition and it's really important to try and work through that case and there's maybe seven stages that you're trying to earn points for, so you have to actually go through and try and solve those. So I know how I solved it and I recognize that there's other ways that other people might solve it. So then as you're watching people start to dive in, you'll be able to see their screen and say, "Oh, look at this. They're doing something completely different than I did." And ideally, say there's 15 questions in section one. If you get the logic for the first one, if you did the logic correct, you'll get all of those points at once. So 15 times five points, let's say. So if you see someone get 75 points, oh, they just solved section one, but if they get less than that, then that means that there's a logic error there and they're not catching some cases and that problem will then snowball. So it's just kind of interesting to see who gets the complete section done, which section they're working on and the leaderboard changing they have. Then we go take a look at that particular.
Paul Jarley: So Bill, what do you think makes a great Excel competitor?
Bill Jelen: Being able to multitask. One of my favorite competitors is someone who looks at the seven problems and tries to figure out a general function that will be useful in sections five, six and seven. So they're solving case one, but not just solving case one. They're trying to create an overall model and an approach that will work through those deep cases out of a thousand points. Maybe people want to get to 540 points, but the difference at the end is going to be the people who get up into the 200 point sections.
Paul Jarley: So Bill, I think you've probably seen David compete a couple of times. Can you break down his skills? What are his strengths and weaknesses?
Bill Jelen:In all of the that I've been in, David does not make it to the final three or four. I know he is very good.
Paul Jarley: I'm trying to help him out.
Bill Jelen: Some people that I remember from 2013, Michael Jarman. Michael Jarman was incredible back in 2013, but Michael's been promoted and he's the manager's, manager's manager and I don't think he's using Excel 80 hours a week anymore. And so you'll see Michael in a competition and fall out pretty quick. And now Michael has moved on to be a judge and write cases, so it sounds trite, but it is a young person's game. The people who are actually using Excel just continuously, they would never be at a computer without Excel turned on. Those are the people who are going to.
David Clayton Brown: I think there are three big areas that makes a good Excel competitor. So the first one is just raw horsepower. How smart are you at solving puzzles? So that's a very general skillset. Two is Excel, how much Excel, do you know? How practiced are you in it? Are you doing it 60 hours a week or are you doing it a few hours here and there? How deep is your knowledge of the functions, the tricks? I mean they just announced Python in Excel, so do you have that tool set ready to go? I think the third area that's going to become increasingly important kind of in this new world of ChatGPT and prebuilt tools is just how prepared you, how much research have you done into past cases? How many LAMBDAs have you built ahead of time? That way when you see something and you're like, "Oh, that's like what I saw three seasons ago in this case," and I can pull that out in 10 seconds rather than having to model it, which might take you two or three minutes now, you've really just saved valuable time. My strength, I think, is number one is I just have good horsepower. I just don't have enough time to practice Excel and to build those tools. Although that's partly why I want to coach and why I'm teaching my students is it is what keeps me engaged, otherwise I just can't devote the time to it. So it's kind of my mechanism to keep myself in and try to stay relevant on the professional side.
Paul Jarley: And what makes for a good competition? Is it the puzzle? Is it the complexity? What makes for a good competition?
Bill Jelen: You definitely want one where people are getting up into levels five, six and seven, but not solving it too fast if the whole thing gets solved. If someone gets their thousand points in half the time, then it wasn't hard enough, but if you get down to only two minutes left and they're only on section two, then it was way too hard. So you're looking for at least a few of the competitors to get deep into section five, six and seven where they're trying to get close to that thousand points and kind of neck and neck, those are the ones that I think are the most interesting.
Paul Jarley: Well, I think you've had an innovation in the competition in that people drop out if they're not quick enough.
Bill Jelen:Bill Jelen: Right, yeah, this time, every five minutes, the lowest scores were knocked out. It actually helps trying to talk about eight people and give time to everyone makes it tough. So having those people drop out makes it easier for us to talk about the people who are left.
Paul Jarley: Go ahead David.
David Clayton Brown: Yeah, one thing I'd add is a good competition is also one that's relatable for the audience. A lot of times these are not necessarily financial model cases, but they're games that we all know like rock, paper, scissors, or when you asked about how do these cases come from, some of my cases come from playing little board games with my daughters. Kids' games are a great way to adapt into this. People understand them and so then when you watch it, you have a conceptual framework for how I would solve this, and then you're just kind of in awe at how the competitors are solving it way faster than you could imagine.
Paul Jarley: Adrian, what's the definition of an eSport?
Adrian Bouchet: It seems to be like all electronic games try to be an eSport, but I reached out to a former colleague of mine when I worked for Major League Baseball who now works for Red Bull and he oversees Red Bull's eSports division, which is pretty prominent, and he said that it comes down to three things. Number one, what he called playability. It's got to be fun to play. Number two, it's got to be a compelling viewing experience, and number three, it has to have support of either the developer or the publisher, which in this case I guess would be Microsoft. And it certainly seems like, I mean there's already the ecosystem built, so that's what he said that takes to become a successful eSport and it has to have a good mix of all three of those components.
Paul Jarley: So there are really famous eSport athletes. I know the South Koreans in particular are dominant in a number of eSports. Have any of the competitors in these competitions gone on to be influencers or do they have fan clubs?
Andrew Grigolyunovich: We definitely do have stars of the competition. We definitely have people who are admired by the field, by the industry, by those people who are engaging with Excel eSports. I wouldn't say they are influencers, but they definitely use this as their marketing too because for most of them they are consultants. They are doing financial modeling consulting or other types of consulting, and that's a great added value for them in the eyes of their clients. I believe they can make much more there rather than through let's say influence revenue, which is especially tough if you just starting.
Adrian Bouchet: So I would ask that question a little bit differently. I would say has Microsoft allowed you to leverage their ecosystem for sponsorship purposes? What companies have sponsored the Excel championship? I mean because if you have ESPN and you have Microsoft, those are two pretty big brands, have they allowed you to sort of leverage their market share to go out and get other companies interested in sponsoring either the competition or the athletes that take part in it?
Andrew Grigolyunovich: We do have other companies sponsoring the events for Excel eSports at this point. There are companies like SoftwareOne, software license retailer. Order.co, a procurement company, like very creative in terms of thinking of different events next to us and basically there are lots of other companies coming with inquiries there. It's not really prohibited or something like that. Basically, the more sponsorships we're able to get, the better is the value we can provide and the higher the prize money.
David Clayton Brown: A lot of our sponsors are coming from employers that are interested in our students. The students that are engaging in the collegiate challenge are ones that are typically driven. They want to solve puzzles. It really is about critical thinking and developing those skills alongside Excel, and those are two things all employers seem to want right now. We have a couple sponsors that are basically trying to tap into that network of students, make them aware like, "Hey, we've got jobs that leverage these skills, come talk to us."
Paul Jarley: I'm going to turn to Sean, Sean's in our accounting department. Sean, are there any accounting firms that are doing kind of quasi competitions to identify talent? I mean, this goes all the way back to Google, right? With some open source things they do and challenges to identify really high end talent?
Sean Dennis: Not that I'm aware of. I did look into this a little bit at the big four and I couldn't find anything specific to Excel. I could easily see this becoming part of a summer leadership program.
Paul Jarley: Yeah, Andrew, I could see you reaching out to them. There might be some interest there.
Sean Dennis: I think this is more than just a resume builder for firms that this is a way for students to signal, put their money where their mouth is, look, I love this stuff. While not everybody that goes to work for an accounting firm needs to be an eSport level expert at Excel. They do need some and they're always looking for students to bring in new tricks. And I'll be honest with you, I considered myself pretty proficient in Excel, but when I've watched these competitions on ESPN, I understand that the game that they're trying to play and it's kind of cool, Bill does a great job of announcing it and generating interest, but I have no idea what kinds of functions they're using behind the scenes and firms would love to get their hands on students who know those types of functions.
Paul Jarley: Yeah, that's my sense of it as well, Sean.
David Clayton Brown: So much has been changing in Excel the last few years that it really is an amazing way to learn. Just trying these challenges and then watching the live stream with Bill where you get to see what the competitors are doing or a number of competitors post YouTube videos and walk through how they did it. I personally have learned so much by doing that, that it's just hard to find otherwise. So to me, this is one of the best ways to train and to develop those modern skills in Excel.
Bill Jelen: I'll echo that. The post-competition walkthrough where they'll turn on the clock and in 30 minutes solve the problem, and it's not the same as the competition, because in the competition, you just saw the case five minutes ago. To watch someone actually go through and explain step by step by step, and for me, maybe in my 30 minute I got halfway through or something like that, but just to see, oh, that was brilliant. I never considered that or seeing the tools that they're using. I know a lot about Excel, but I learned from those walkthroughs every time.
David Clayton Brown: And there's a small slice of people that post speed runs where they'll take this case that in 30 minutes no one was able to finish, and they show you a way that they just did it in two and a half minutes. It's kind of mind blowing the care that they put into it and the creative tricks they come up with to make that happen.
Paul Jarley: I'm also surprised some accounting firms, Sean, aren't using miniature versions of that as part of their selection process.
Sean Dennis: I think it's probably coming. I know internally when students land at firms, there are incentives for them to learn and develop new tools within, maybe not Excel, but Alteryx, Tableau, Power BI, those types of tools.
Paul Jarley: What do you think students should learn from these competitions?
Sean Dennis: I think firms have been emphasizing Excel for a while. Teachers emphasize it all the time. Students are kind of bombarded with messages about how important Excel is. And for those students who really like Excel, I think shows them that, "Hey, if you like what you're seeing, like what you're doing, there's more out there." I know I work with a lot of students in office hours. I'll show them some cute tricks that I've learned through the years, but at the end of the day, until this comes along, there's really not much more you can do with it, not much further to go. And this gives students who want to this extra way to keep going and for lack of a better word, pursue their passion. A lot of accountants really geek out on this stuff and this gives people an outlet for it.
Andrew Grigolyunovich: What do people learn? Imagine you have hundreds of millions of people across the world working in Excel every day. This is something where you can show them what's the best available, what do the stars do, how do they work? When you're playing basketball, you're watching Michael Jordan, LeBron James, other players, you see how they do and you try to replicate that. If you're playing soccer, you're watching Messi or Christiano Ronaldo and you go to your playgrounds and play other kids similar like that. Here, it's more or less the same, but this is the way for people who are working Excel every day to see what the pros do and get some tricks from there. And it's much easier for them to learn these tricks and apply to their job rather than for a kid to learn dribbling like LeBron or shooting like Stephen Curry. And that's really the reason that would drive viewership, and this is what's going to make this huge, in my opinion.
Bill Jelen: Let me talk about relatability. I played baseball, I played basketball, and now as an adult, the number of hours that I get paid to play baseball and basketball is zero. You have 300 million people who are getting paid 48 hours a week to play Excel and then to see Excel on ESPN. I mean all of a sudden there's a lot of people who are saying, oh, wait, I could do this. I should enter this. I'm using Excel 40 hours a week. I think there's a huge opportunity there of getting more people to enter the competitions that lead to the ESPN finals just because there's a good chance that you're good enough at Excel at your company. Every company has those stars who are the Excel people. I think the competition on ESPN will encourage more of those people to answer in the future.
Paul Jarley: Final question, 10 years from now, are Excel competition still going to be on ESPN? Will they be rivaling other eSports?
Sean Dennis: When I watched the competition, I loved it. One of the thoughts I had is that I didn't really know what I was watching. I didn't understand what was going on behind the scenes in Excel, and I think for this to get to the next level, they'll have to continue to evolve. I think the evolution of going from a tournament down to a survival of the fittest where you kick somebody out every five minutes, I think that's a good evolution. I think the more that this starts to appeal to the masses, the stronger the chances are that it stays on ESPN.
Adrian Bouchet: You look at the sports that survive on ESPN, they're the sports that have a sort of an ecosystem, right? I always tell my class, we didn't just follow Michael Jordan when he got to the Bulls. We knew who he was at college. Nowadays we even know who these players are at high school. So my question would be, can you make Excel relevant at the high school level so people follow it kind of up through the value chain? But I would say yes, as ESPN gets more segmented and certainly there's only so many SECs and NFLs and MBAs they have to have programming. So I would say, sure.
Paul Jarley: Live content is king these days. Bill, what do you think?
Bill Jelen: I think there'll be some competition somewhere, whether it'll be on ESPN or not. I've had a long running joke for 20 years that someday Excel would be in the Olympics. This half hour gig on ESPN is just the first step to that. I think eventually, whether it is just on, just on ESPN The Ocho, that's the day of seldom scene sports. We're up against Corgi racing and other kind of things that …
Paul Jarley: Wet stair climbing.
Bill Jelen: Yeah, slippery stair climbing, which makes primetime. For me, the first year we were at a 4 a.m. slot in New York and then got moved up to a 7:00 a.m. slot, which is a huge increase because the people who were using Excel 40 hours a week are getting ready for work. I thought that 7 a.m. spot was really good. So I think it'll evolve. I would love to see Excel not just on The Ocho, but just, "Hey, here's an Excel competition once a month or whatever." That would be amazing.
David Clayton Brown: I think we're going to have collegiate competitions. The Collegiate National Championship, World Championship are going to be where the big airtime comes in. Last year we had Ohio State was the team that won here, and one of their students held up a sign that says, "Michigan fans use Google Sheets." We're going to see more good rivalries like that building up. Hopefully we see college competitions, schools scrimmaging each other. Maybe even we have the PAC 12 can survive through Excel eSports perhaps in the future.
Paul Jarley: Andrew, you've probably thought the most about the future of this. What do you think?
Andrew Grigolyunovich: My vision is that there are crowds cheering in events where we'll have Las Vegas finals in personal finals prize money of millions dollars to the winners just like it should be so that it drives the players so that the players will be able to live off the prize money and live off the tournaments. I mean the main stars of the competition. It's going to be huge and it's going to be on ESPN and hopefully not on The Ocho.
Paul Jarley: It's my podcast, so I get to go last. I am all in on the student competition version of this event. Gamification is a thing in education. It's a great way to motivate learning, feature student skills and give the top contestants the kind of bragging rights that can land them great jobs. It can also bring visibility to the school. I'm so in that we're going to join David's competition and win it. Is Excel in eSport? I don't think so.
Using Adrian's three criteria, a fair number of geeks probably see it as easy to play and the organizers have the support of Microsoft. But as Sean noted, I don't think it passes the compelling viewing test. I wasn't really sure what I was watching and how contestants were winning. That said, the pandemic gave the Excel competition its first window on ESPN and the Hollywood Strike provides another opportunity for Excel competitions to improve their watchability and earn a place on network tv. After all, the E and ESPN stands for entertainment. My staff tells me pickleball is going to be the next big thing, not Excel competitions. But I wouldn't be surprised if Excel finds a home on the financial channel or some other similar niche business oriented network complete with betting odds.
So what's your take? Check us out online and share your thoughts at business.ucf.edu/podcast. You can also find extended interviews with our guests and notes from the show. Special thanks to my new producer, Brent Meske, and the whole team at the Office of Outreach and Engagement here at the UCF College of Business. And thank you for listening. Until next time, charge on.
Listen to all episodes of "Is This Really a Thing?" at business.ucf.edu/podcast.