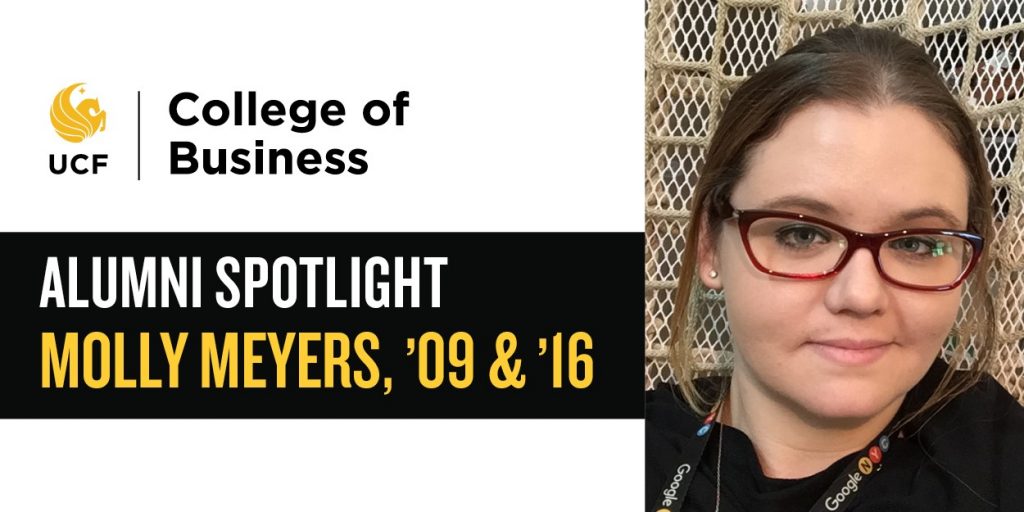 As a program manager for Google in New York City, Molly Meyers says she uses the skills she learned in the UCF College of Business Evening MBA program every day. The two-time UCF alumna who earned her MBA in 2016 is our UCF Alumni Spotlight.
Meyers first graduated from UCF with a B.S. in Anthropology in 2009 and spent two summers working in field school for Shumla Archaeological Research and Education Center. She wanted to teach in a museum or work in education for a non-profit. After spending time volunteering in the middle schools, she realized it was not for her. Not sure of her next step, she took a job doing administrative work for Macy's and was quickly promoted to executive assistant to the VP of Macy's for North and Central Florida. Her boss showed her how successful retail businesses are run and inspired her to go back to school to earn an MBA.
She said choosing UCF was a no brainer. She already had an undergraduate degree from there and knew the business program was nationally recognized and fit her needs with her work schedule and life in general.
Learn more about Molly's experience in the Evening MBA program:
What was the class culture like?
I saw a lot of the same people in my classes so that gave me a chance to get to know them. All of my classmates were always so helpful. Everyone I had the pleasure of interacting with was always willing to answer a question, give their thoughts, and chip in on group projects…. Everyone contributed, had their voice heard, and produced the best work we could.
How do you use what you learned in the Evening MBA program in your current position?
I do a lot of stakeholder management, particularly executive sponsors. As an undergraduate, I did not like presentations and group work. I really appreciated that professors in my graduate program were transparent on why both were part of their syllabi: to be successful in the workplace, you need to be able to work in a team and present and defend your ideas in front of a group. The professors made the classroom a safe space to build up public speaking and presentation skills. I use those skills daily! My accounting and statistics classes helped me in identifying and tracking success metrics and managing budgets for programs I have run. Classes in employment law and organizational psychology helped as I have started to manage people.
Molly not only worked full-time during the day and went to school at night, but she also planned a wedding, got married, bought a condo, moved, and got a new puppy while working on her MBA. She showed you CAN do it all! Molly is an outstanding alumnus and we wish her continued success in the future. Go Knights!