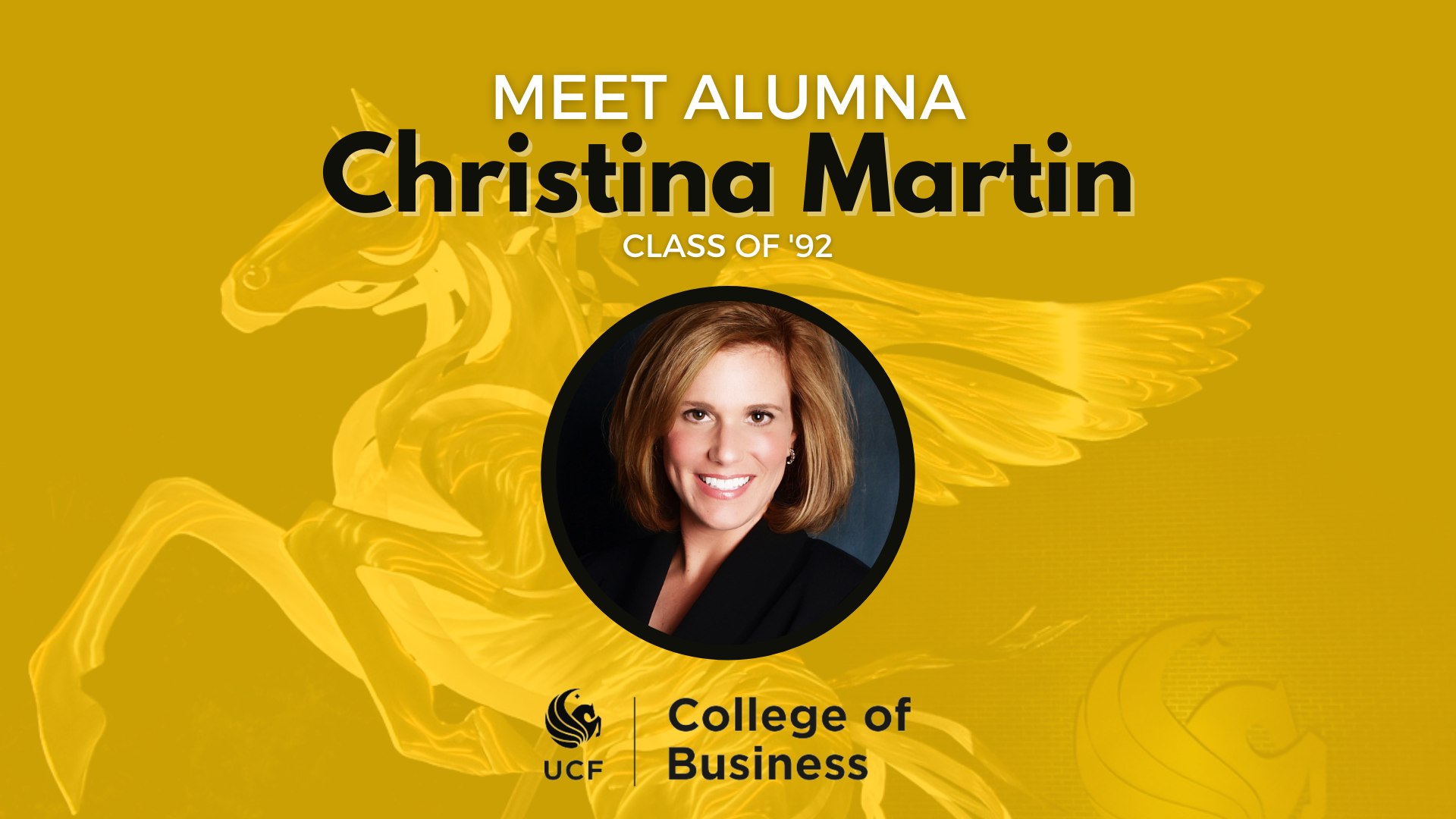 Christina Martin, a 1992 UCF alumna, is passionate about the Knights and paying it forward. Now as the Executive Director of Marketing at USAA Bank, she is still grateful for the scholarship she received while studying marketing as an undergrad in the College of Business. In fact, it inspired her and her husband, Bill, to create The Christina (Bordonaro) '92 and Bill Martin Endowed Marketing Scholarship. Designed to help marketing students who demonstrate financial need, this endowment will fund scholarships for generations to come.
Martin's marketing career has led her to work in high level roles for Fortune 500 brands such as HP, MoneyGram, Goldman Sachs and now USAA. Her responsibilities at USAA focus on crafting national marketing strategies and go-to-market plans for USAA Bank's lending products, such as residential home loans, auto loans and personal loans.
We connected with Christina to discuss her time at UCF, how her marketing degree has shaped her career and why she chooses to give back to UCF.
How has your UCF degree helped further your career?
From an early age I knew that I wanted to pursue a degree in business, though I had no idea which specific discipline. The creative aspect of advertising aligned with my personal interests but was not part of the business curriculum.
Then, during my first marketing class (MAR 3023), the professor proclaimed, "Marketing is the creative arm of business," and I knew I'd found my calling.
I can say, without hesitation, that my UCF experience and education has provided a great return on investment! I also met my husband, Bill, through marketing, and we just celebrated our 25th anniversary.
What advice would you give current students?
Always be curious! Use this time at UCF to explore new people, disciplines and ideas. Take some classes outside your major, participate in extracurricular activities, attend a variety of campus events and give back by volunteering when opportunities present themselves. You will never have such a prime opportunity to engage with new people, make lifelong friends and establish a network of business connections that will pay dividends throughout your career.
Why do you do what you do?
USAA is a mission-driven brand that serves the U.S. military and their families, so I'm honored to be able to give back in my professional capacity, as well as personally, and extend that return on investment in my marketing education!
What do you like most about what you do?
I've been fortunate to work in many aspects of marketing – sales enablement, market research, product marketing, digital marketing, and services marketing – and this role with USAA provides an opportunity to leverage all those disciplines while serving the military community's financial service needs.
Why do you give to UCF?
UCF provided a foundation and framework for every success I achieved in my life. Bill and I are fortunate to have UCF friends who established a pathway for giving and we have followed in their footsteps.
Both Bill and I have been guided by this quote by management consultant Peter Drucker, "Because the purpose of business is to create a customer, the business enterprise has two—and only two—basic functions: marketing and innovation. Marketing and innovation produce results; all the rest are costs. Marketing is the distinguishing, unique function of the business."
We felt it was important to create an endowed scholarship specifically to recognize the importance of marketing, financially support the next generation of marketers, and in my case, pay it forward as I was fortunate to be awarded the J.C. Aspley Marketing Scholarship as an undergraduate.
About the UCF College of Business
Established in 1968, the UCF College of Business offers degrees at the bachelor's, master's, doctoral and executive levels. All programs, as well as the Kenneth G. Dixon School of Accounting are accredited by AACSB International – the Association to Advance Collegiate Schools of Business. The college provides high-quality academic programs designed to give students a competitive advantage in the world of business now and in the future. Learn more at business.ucf.edu.