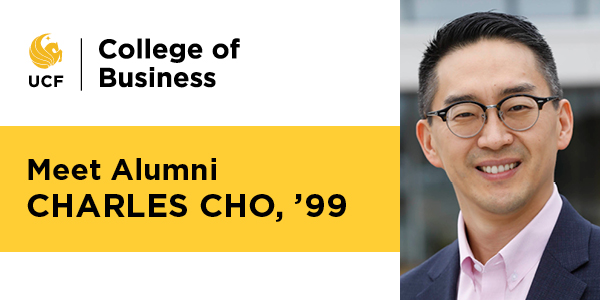 A triple alumnus of the UCF College of Business, Charles Cho '99 is Professor of Accounting and the Erivan K. Haub Chair in Business & Sustainability at the Schulich School of Business, York University. He also worked for KPMG LLP and other public accounting firms for several years in auditing and taxation.
Cho is a shining example of someone who used his time in college wisely, became heavily involved around campus, and still managed to excel academically. Cho's diligence at UCF helped him jump start his career in accounting before he returned to academia to become a faculty member at a variety of reputable universities around the world.
As an alumnus, Cho remains engaged with UCF as a mentor to doctoral students and a new member of the UCF Millican Society, the University's giving organization for donors who have documented a planned gift. He has additionally funded an endowment, the Charles and Jane Cho Endowment Fund for Sustainability Research, which provides research support for doctoral students in the Kenneth G. Dixon School of Accounting.
Why did you choose to attend UCF?
In fact, it was first a coincidence! Let's say it was more for practical reasons as I needed to remain in Florida at that time. I had the choice to transfer to another university after a year or two, but did not pursue this option as I fell in love with UCF for the environment and spirit it had to offer. I also met my wife-to-be in Orlando! As it turns out, it was the best thing that ever happened to me in my life, education and experience in the U.S.
How has your UCF degree helped in your career?
I actually have three degrees from UCF – a Bachelor's, Master's and Ph.D. in Accounting. My undergraduate degree helped me land a job at one of the Big 4 (5 at that time) accounting firms, namely KPMG LLP (Orlando office). My Master's helped me complete my CPA license requirements and, importantly, get admitted to the Ph.D. program. My Ph.D. allowed me to become an academic faculty member at reputable universities in different countries. This terminal degree not only changed my entire career, it brought another dimension and gave me a different perspective on life.
What extracurricular activities were you involved in at UCF?
I was involved early on with the UCF Korean Student Association where I served as vice president when I was an undergraduate student, and eventually as president when I was a Ph.D. student. I also founded and presided the UCF Korean Alumni Association. In addition, I was the President of the College of Business Administration Ph.D. Student Association, an officer of Beta Alpha Psi and a member of the UCF President's Leadership Council for two years.
What is your favorite UCF memory?
The commencement ceremony of my Ph.D. degree in May 2007. I actually defended my dissertation in March 2007, but given that I was already in my academic faculty position out of the country and had attended commencement for both my bachelor's and master's degrees, I hesitated to come down to Orlando/UCF for the Ph.D. one. But my wife, Jane Cho '00, said this was not negotiable;  she had to see with her own eyes the outcome of 4.5 years of hard work and sacrifices we both made. My mother came all the way from Korea. It turns out that she attended all my graduation ceremonies! It was a purely magical moment full of happiness and emotions since it was also a big farewell to all our friends and family in Orlando. I also want to recognize here my Ph.D. supervisor Robin Roberts, who greatly helped me achieve this moment (and has become far beyond colleague, co-author or collaborator… we just naturally became lifelong best friends).
What advice would you give current students?
Work hard, play hard – or a wisely managed "Carpe Diem" motto! Life is short but long enough to eventually make a positive difference in your own but also in people's personal and professional lives, so keep exploring, learning, working, enjoying, loving and giving back.
Why do you give of your time, talent and/or treasure to UCF?
Because UCF gave so much to me. It not only gave me a remarkable education but also taught me about life values. So, I am grateful and naturally want to give back.
About Your Career
What do you do?
I am Professor of Accounting and the Erivan K. Haub Chair in Business & Sustainability at the Schulich School of Business, York University in Toronto, Canada. I teach and research in the area of Sustainability, Corporate Social Responsibility (CSR), Social and Environmental Accounting and Accounting for the Public Interest.
Why do you do what you do?
Because I believe in the power of research and education. I believe that I can contribute to making the planet more sustainable and society a better place by teaching and mentoring students at all levels from all backgrounds, and conducting research that has hopefully some kind of impact.
What do you like most about what you do?
I like the fact that as an academic, we have the opportunity (and luxury) to undertake various approaches to make a positive impact, change and/or contribution to the world.