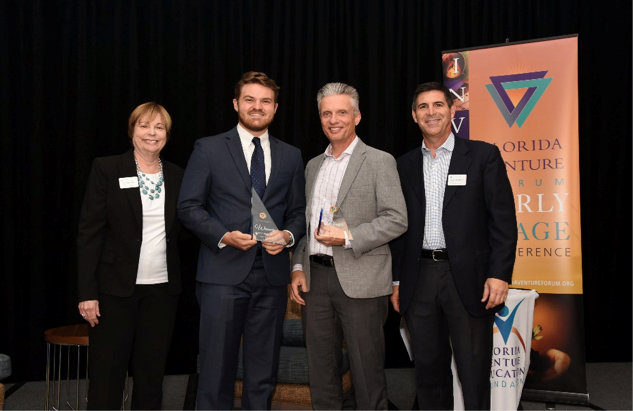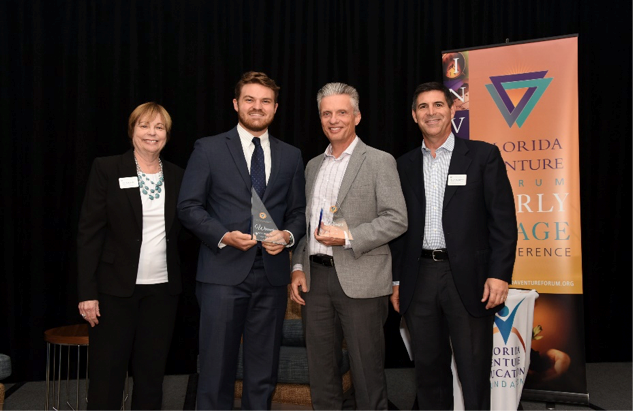 Orlando, Fla. (May 25, 2018) – While attending classes at UCF, engineering student Joe Sleppy co-founded Capacitech Energy and designed a technology called a Cable-Based-Capacitor (CBC), which was granted the $8,500 platinum cornerstone sponsorship from the Florida Venture Forum on May 18, 2018. His noteworthy pitch for commercializing CBC was the first place winner for the Statewide Collegiate Business Plan Competition.
The Florida Venture Forum is a member-based, private equity and venture capital organization in Florida. The forum connects entrepreneurs and capital sources to foster a thriving innovation economy. A total of 11 universities from a cross section of Florida brought their top students to compete at the 2018 Collegiate Business Plan Competition and Joe Sleppy, in representation of UCF, won the top prize.
Sleppy's company, Capacitech, is focused on powered electronics manufacturing companies in the Information Technology industry. The CBC will be able to reduce the amount of wasted space on a circuit board, adding design flexibility and reducing lead time for the end user. Sleppy is confident the CBC will dramatically impact the process of manufacturing electronics by simplifying circuit boards used in most electronic devices. This could one day make household electronics such as computers and cell phones more affordable.
Capacitors usually come in a variety of shapes and sizes and can be very costly. However, Capacitech has created a one size fits all capacitor, the CBC, which can be easily customized by cutting the wire at different lengths. Using the CBC would reduce inventory spending, save time and cut costs for manufacturers.
About UCF College of Business
Established in 1968, the UCF College of Business offers degrees at the bachelor's, master's, doctoral and executive levels. All programs, as well as the Kenneth G. Dixon School of Accounting are accredited by AACSB International – the Association to Advance Collegiate Schools of Business. The college provides high-quality academic programs designed to give students a competitive advantage in the world of business now and in the future. The college promotes a unique culture of engagement, risk-taking, cross-disciplinary collaboration and data driven decision making in an effort to ensure students are well prepared to enter a dynamic marketplace. Learn more at business.ucf.edu.