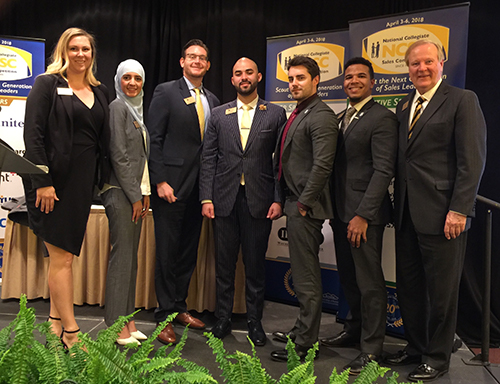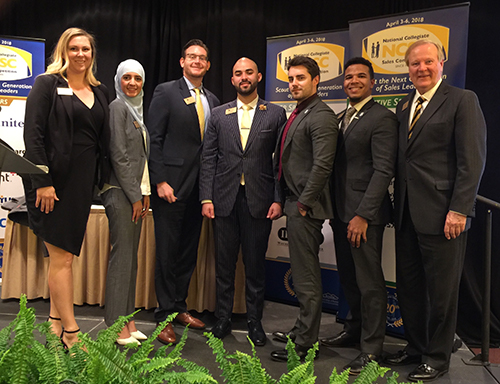 KENNESAW, Ga. – Team members with the University of Central Florida Professional Selling Program (PSP) placed fourth among 72 of the best university sales programs at the 2018 National Collegiate Sales Competition (NCSC) on Friday at Kennesaw State University. The achievement is the PSP's fifth consecutive top five finish in national sales competitions over the past 12 months.
Presenting team members included students Jesse Crumbley and Omar Nasser, along with T.J. Letson, Ranna Okab, Chelsea Rugg and Ryan Williams, who assisted with preparation efforts.
Student Omar Nassaer finished fourth in the individual competition, becoming the first PSP student to earn a spot in the final four at the NCSC. Jesse Crumbley earned significant team points in the first two rounds, which enabled UCF to be in the race for the top spot. The team was coached by Dr. Bill Steiger, Associate Marketing Instructor.
Founded in 1999, the NCSC is the longest running university sales role-play competition in existence. The event offers students the opportunity to enhance their selling skills on a national stage, interact with corporate sponsors and network with professors and sales executives from across the country. The NCSC has shared ideas and materials with many other university sales competitions around North America and Europe.
About UCF College of Business
Established in 1968, the UCF College of Business offers degrees at the bachelor's, master's, doctoral and executive levels. All programs, as well as the Kenneth G. Dixon School of Accounting are accredited by AACSB International – the Association to Advance Collegiate Schools of Business. The college provides high-quality academic programs designed to give students a competitive advantage in the world of business now and in the future. The college promotes a unique culture of engagement, risk-taking, cross-disciplinary collaboration and data driven decision making in an effort to ensure students are well prepared to enter a dynamic marketplace. Learn more at business.ucf.edu.