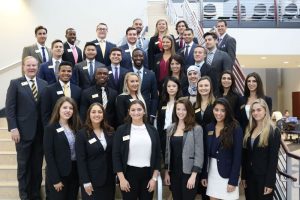 ORLANDO, Fla. (March 22, 2018) – After clearing a rigorous application process, the University of Central Florida Professional Selling Program (PSP) has been accepted as an Associate Member of the University Sales Center Alliance. The USCA is a consortium of universities who are dedicated to advancing the sales profession through teaching, research and outreach.
By becoming a member of the USCA, UCF joins 46 universities from the U.S. and Europe dedicated to preparing students for success in professional sales roles.  USCA sales centers offer students a combination of specialized sales courses, mentors, internships and other forms of sales experience to help students learn, develop and sharpen their sales skills. Associate Marketing Instructor and PSP coordinator Dr. Bill Steiger said the partnership will provide students with an unrivaled network of support.
"The UCF Professional Selling Program is honored to have been accepted as a member of the USCA," Steiger said, "This exceptional group of university sales programs is leading the effort to produce the next generation of sales professionals."
Students successfully completing USCA programs have shorter time to market periods and out-produce those without any specialized preparation. In his 2017 Welcome Message, Dr. Jimmy Peltier, USCA President, noted that, "Member schools earning certification signal to others that their sales programs have met rigorous standards for success."
To learn more about the University Sales Center Alliance visit universitysalescenteralliance.org.
About the Professional Selling Program
The Professional Selling Track is a prestigious, specialized program offered by the Department of Marketing in the UCF College of Business. The competitive program accepts no more than 35 exceptional students each year that show potential and promise in the field of sales. One of only approximately 120 specialized sales undergraduate programs in the nation, the Professional Selling Track is at the forefront in preparing students for successful careers in the competitive job market of today. Admitted students will partake in rigorous sales training and preparation during the program's one-year duration. The track requires no additional time at UCF; students simply tailor their class schedules to incorporate the required sales courses, offered only to those admitted into the program.