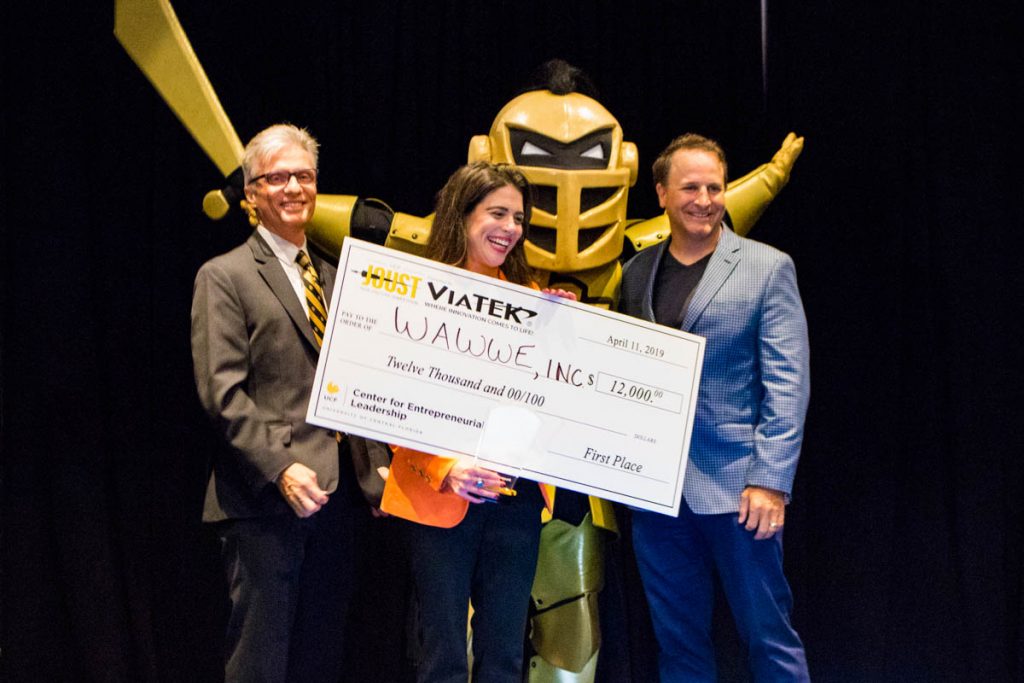 Since Rafaela Frota won the UCF Joust New Venture Competition in 2019, her nutrition-assistance app Wawwe (We Are What We Eat), secured a major investment deal, earned a contract with the nation's largest hospital network and recently completed the Blackstone LaunchPad & Techstars Fellowship program. The fellowship gave Frota access to workshops, support and mentorship opportunities with seasoned entrepreneurs. As a graduate of the program, she now has access to a network of experts and advisors to help her company achieve scalability with the Wawwe mobile application.
"My experience with the fellowship was wonderfully transformative," said Frota, Founder and CEO of Wawwe. "Within the LaunchPad and Techstars network, there is an omnipresent 'outside of the box' thinking that is almost palpable."
At just 14 years old, Frota founded Wawwe to achieve her dream of raising nutritional awareness and improving the health of patients diagnosed with chronic illnesses. Over the course of ten years, Wawwe has participated in startup weekends, a cohort sponsored by the National Science Foundation, shark-tank styled competitions, a Kickstarter campaign, TechCruch workshops and a handful of accelerator programs. A six-month, 500-patient pilot study contract with AdventHealth helped Frota earn buy-in from key investors.
"Scaling Wawwe from ideation to a viable business capable of attracting high-level investment deals and clientele has exposed me to the multifaceted world of entrepreneurship," said Frota. "It's also helped me develop key business practices that have greatly contributed to my professional and academic success."
Each semester, college students and graduates accepted into the Blackstone LaunchPad & Techstars Fellowship program are given access to resources, support and mentorship to help them advance their startup ideas. The program is structured around LaunchPad Campus Director coaching sessions, weekly entrepreneurial workshops and mentoring from Blackstone Campus Ambassadors and Techstars entrepreneurs and advisors during a 'LaunchPad Mentor Week'. Students also hear first-hand from social impact entrepreneurs from organizations like TalkingPoint, Cloztalk & Imerman Angels, All Star Code, and River Health.
Graduating this month with a bachelors in Photonic Science and Engineering and a minor in Technological Entrepreneurship from UCF, Frota will begin work at IBM as an Optical Engineer while continuing her efforts to bring Wawwe's vision to life.
"Throughout this fellowship, it was clear that everyone cares, everyone is experienced and everyone knows what they are talking about," said Frota. "So many of my mentor meetings led to 'aha' moments when I just knew that my business model would be forever changed because of my experience."
Blackstone Charitable Foundation is a campus-based program, accessible by more than 500,000 students globally on 20 campuses. The foundation works to make entrepreneurship a more viable career path for college students by directing the firm's resources and expertise to colleges throughout the world to catalyze the growth of successful businesses, industries, and communities. Using the Techstars Worldwide Entrepreneur Network, founders connect with other entrepreneurs, mentors, alumni, community leaders, investors, experts, and corporations to grow their companies.
About the UCF Center for Entrepreneurial Leadership
The UCF Center for Entrepreneurial Leadership was founded to make entrepreneurship an essential part of the UCF experience. Our curriculum options, Blackstone LaunchPad coaching program, and startup events, showcases and competitions offer UCF students from all disciplines opportunities to explore entrepreneurship as a career path.