While students, faculty and most staff are away from campus, the Office of Professional Development at UCF College of Business continues to offer academic advising, career coaching and other essential services to students through virtual means.
Business students seeking advice related to schedule planning, graduation, internships, job interview tactics, resume reviews or other career-related questions can email or video chat with staff members to receive personalized guidance. The transition to remote advising and career coaching is an unprecedented move for the College of Business, but staff are fully equipped to support students from afar.
"We have more than 8,500 students in the College, a couple thousand of whom will graduate this semester and still need to find a job," says Paul Jarley, Dean of UCF College of Business. "Our students may not be able to come to campus, but we are still providing the resources they need to be successful starting their careers."
In addition to facilitating appointments and advising sessions, the Office of Professional Development offers online career resources, links to academic policies and frequently asked questions. Students can also access Knightline – an online community designed to connect business students with the employers they want to work for.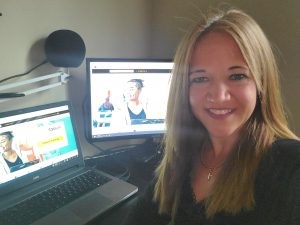 "These students still need our services and we want them to be prepared to continue their career journey once we are able to resume normal operations," says Denise McFadden, Associate Director of Student Success and Employer Outreach. "In business, change is inevitable, and we are adapting. Adjusting our services to meet the needs of our students is 'Business 101' in my book."
Despite the cancellation of all face-to-face appointments in Spring 2020, Career Coaches and Employer Relations Team members are conducting advising appointments and offering resume review sessions via email, phone and Skype.
"Our students are grateful that we are still able to support them," says Angela Cotto, Manager of Academics & Retention. "Many have already emailed us to say how much they appreciate our team being there during this unforeseen transition. The ability to provide academic services remotely is very important to our staff."
The move to remote learning means students will need to transition to remote internships or co-op experiences to finish out the semester. Staff members are helping students navigate the shift and find solutions that also work for their employers.
"We are working through the kinks and anomalies as they show up," says Sylecia Groover, Career Coach/Internship Coordinator. "Because I handle internships in my role, I am working with students as some internships are unfortunately canceled. These students will be given virtual assignments to substitute for the work."
Career Coaches focus on professional development and work with students to help them formulate a plan for building a successful career. Each major within the College of Business has an assigned coach to provide a tailored consultation to each student. Similarly, the college's Employer Relations Team develops relationships with local employers to help students build a strong network in the business community and connect with employers for internships and jobs.
"Our team is working hard to provide the right resources and environment to ensure our seniors will have jobs when they graduate," says Jarley.