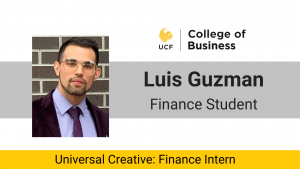 Luis Guzman had his mind made since the first day he walked onto UCF's campus. Becoming a leader, getting involved and setting himself up for success was something Guzman had already hoped to achieve. Guzman is an international student from Mexico City, and by leaving his family and life behind, he knew he was taking a big risk. More importantly, he acknowledged the fact that he only has one shot to make the most of his time in college.
Luis is a current senior in the College of Business and a double major in both finance and marketing. Luis is an active member of the Association of Latino Professionals in Finance and Accounting, where he holds an executive committee position. Along with his involvement on campus, Guzman was selected by Universal Creative to be a Finance Intern.
What is your role with Universal?
I am currently interning for Universal Creative. I am a Finance Intern under the supervision of Chris Laber, Senior Project Analyst, and we specialize in attraction development. Our job is to accurately forecast future expenditures for different scopes of our projects. Our department also does account reconciliation from SAP reports managing costs and expenditures.
How did you find this internship? Have you gone to any networking events?
I attended the career expo and spoke to a recruiter. Then, I connected with her on LinkedIn and followed up via email.
What steps did you take in preparing for this internship?
I talked to my mentor about it and he recommended me the "Harvard Press book 'High Potential's Advantage" there I found great advice on how to excel in your professional career.
What is one thing you've taken away from being an intern?
Don't be afraid to ask questions; be curious and allow yourself to step back to find new ways of improving things.
Can you share one piece of advice for other students looking for internships?
Networking is key. Find your dream company and talk to people that have the role you desire. Interview about 10-15 of them and then start reaching out to the HR people of the company. Ask to get a cup of coffee and build rapport with them. Hopefully they'll offer to critique your resume or pass it along to the right person.