San Antonio Spurs GM, CCG Executive and uBreakiFix CEO/co-founder Inducted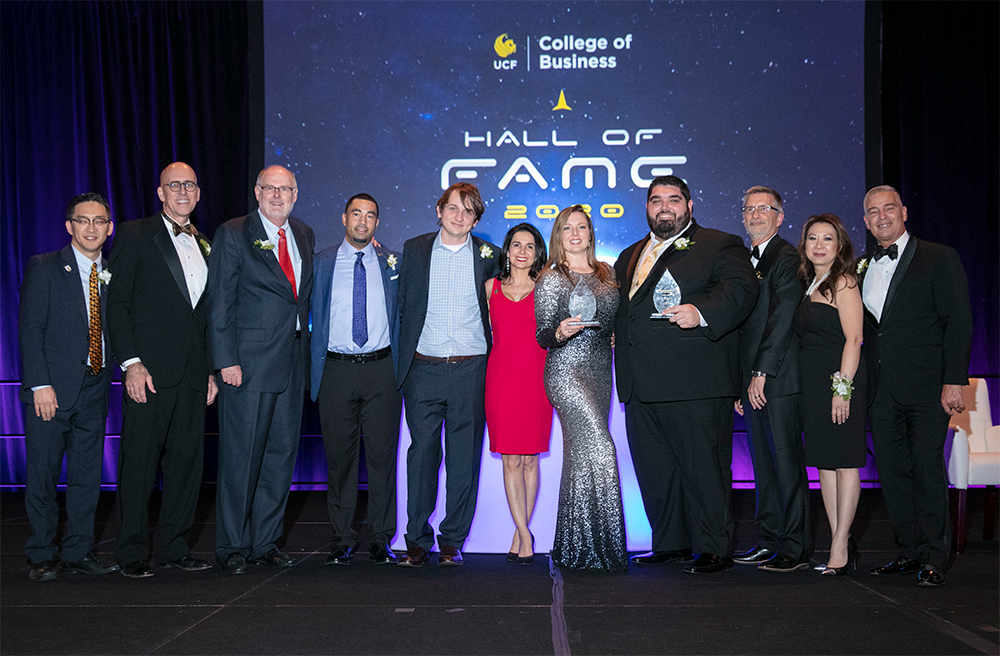 ORLANDO, Fla. (Feb. 13, 2020) – The UCF College of Business inducted San Antonio Spurs General Manager Brian Wright, '06, CCG Executive Vice President of strategic partnerships Woody Walker, '92 '94 MBA, and uBreakiFix CEO/co-founder Justin Wetherill, '07, at the college's 21st Hall of Fame celebration Thursday at Rosen Shingle Creek.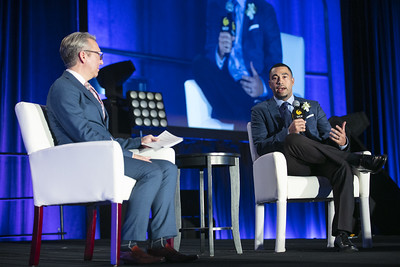 "After 21 years, you'd think we might be running short on accomplished alumni to induct into the Hall of Fame – well, that couldn't be further from the truth," said Dean Paul Jarley, Ph.D. 
The event's emcee Tom Hope, '09, Deputy Chief of Staff for Strategic Initiatives at UCF, conducted on-stage interviews with each inductee to learn about their career journeys and asked them to offer advice for current business students in the audience
More than 800 students, alumni, faculty, corporate partners and community members joined Jarley and UCF Interim President Thad Seymour Jr., at the space-themed event that recognizes the college's most distinguished partners and alumni. 
Holiday Inn Club Vacations Organizational Development Manager and UCF alumna Amy Pagano, '15, accepted a Partnership Award on behalf of the award-winning timeshare resort. The college also presented Withum partner Russell Goldberg, '89, with a Partnership Award for the firm's establishment of the Withum Learning Lab in the Kenneth G. Dixon School of Accounting.
UCF alum and 2005 Hall of Fame inductee Kenneth G. Dixon, '75, Founder & CEO, Leland Enterprises, Inc., was honored with the first Legendary Knight Award for his support to the university and role as a member of the Dean's Advisory Board.
"Ken Dixon is a model philanthropist who serves as a member and director of numerous charitable groups. Ken established his legacy at UCF through two generous gifts to create the Kenneth G. Dixon School of Accounting and the Kenneth G. Dixon Athletics Village," Jarley said. "As a 1975 accounting graduate of our college, no one person seemed more appropriate than Ken to receive the inaugural Legendary Knight Award."
Earlier in the day, UCF Athletic Director Danny White joined Jarley in presenting Dixon with a helmet from the 2019 UCF Space Game as a token of appreciation for Dixon's contributions to the university.
The college presented the Entrepreneurial Alumni Awards, which honor UCF business alumni who exemplify commitment, vision, calculated risk-taking and growth potential, to Scott Saunders, '88, President & CEO, Fury Water Adventures, and Jesse Wolfe, '15, Founder & CEO of O'Dang Hummus. Also recognized were Honorable Knights Todd Bryant, '07, Financial Planner, Signature Wealth Advisors, LLC; Charles H. Cho, Ph.D., CPA, '99, '02, '07, Professor of Accounting Erivan K. Haub Chair in Business & Sustainability, Schulich School of Business York University; Linh Dang, '93, Chief Development Officer, Addition Financial Credit Union; and Notable Knights Daniel Botero, '12, Founder, Author, Host, Mastering College to Career; Caroline Castille, '15, Managing Director, Clickable Impact; and Cameron Marsh, '13, Managing Partner, BottomLine Clarity.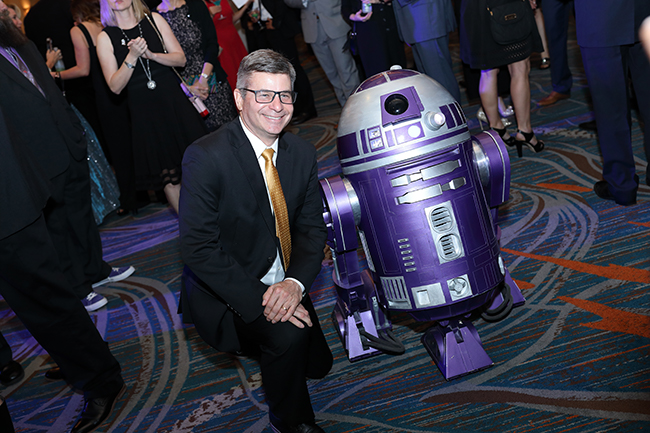 As popular characters from another galaxy roamed the gala, the college's Student Ambassadors hosted a UCF and space themed trivia competition with guests joining Team Knightro or Team Citronaut, a nod to UCF's earliest, unofficial mascot. The night also included an onstage interview with Harper Cheyenne, a UCF student majoring in finance, marketing and astrophysics, who dreams of working in the space industry and becoming an astronaut. Closing out the event was a parody of the 1998 hit film Armageddon, featuring Dean Jarley and members of the UCF Business faculty and staff that culminated in a rocket launch to symbolize the college's plans to blast off into the future.