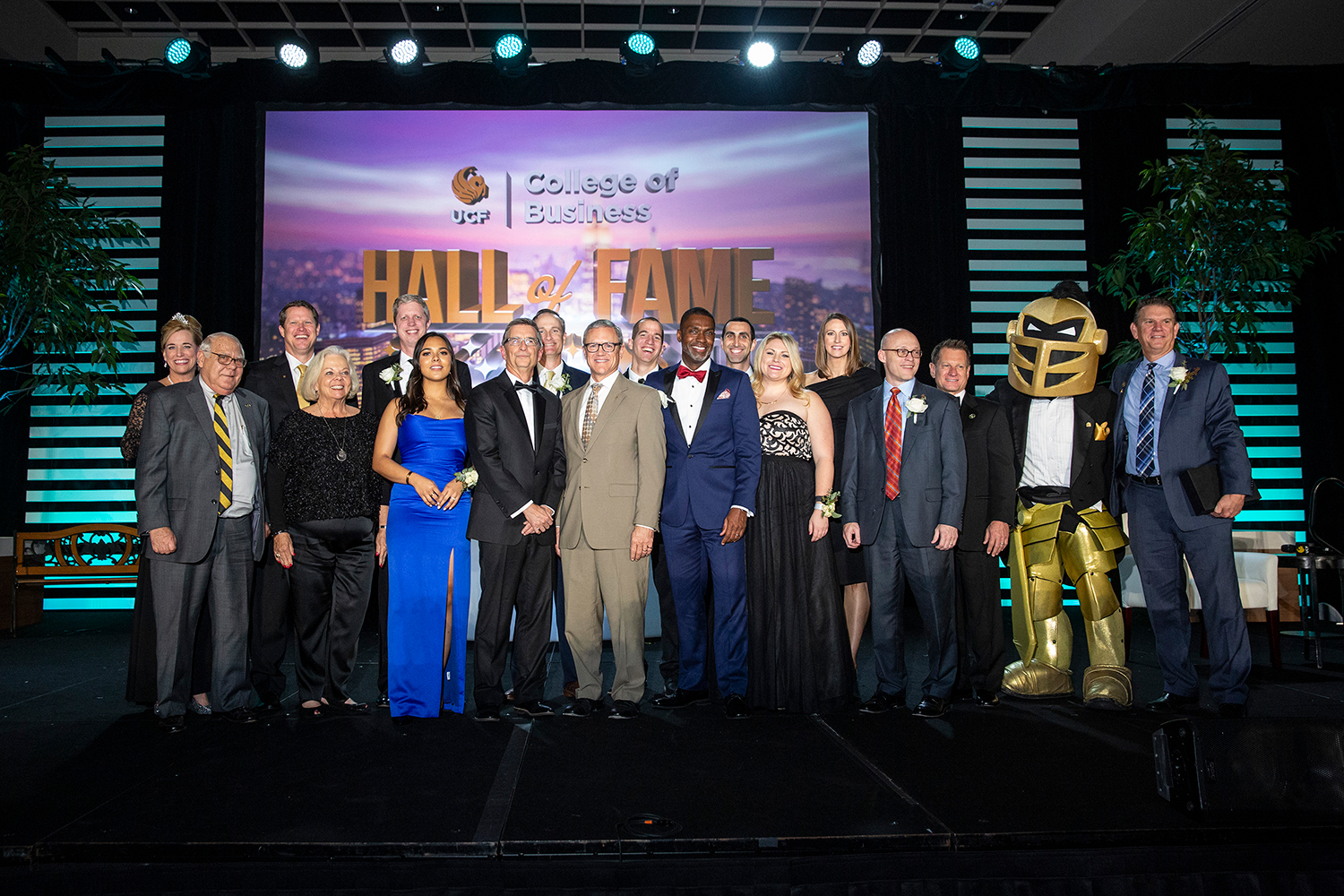 ORLANDO, Fla. (Feb. 14, 2019) – The UCF College of Business inducted Darden Restaurants CFO Rick Cardenas, '92, OUC—The Reliable One General Manager and CEO Clint Bullock, '95, and former Deloitte Vice Chairman and board member Jessica Blume, '80, at the college's 20th Hall of Fame celebration Tuesday at Rosen Shingle Creek.
"Each year the Hall of Fame gives us the opportunity to celebrate the outstanding accomplishments of our most successful alums – it truly reminds us all why we do what we do," said Paul Jarley, Ph.D., Dean.
More than 850 students, alumni, faculty, corporate partners and community members joined Dean Jarley at the Breakfast at Tiffany's themed event that recognizes the college's most distinguished partners and alumni.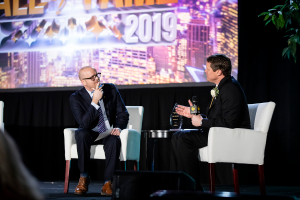 CLA Managing Partner-Orlando Les Eiserman, a two-time UCF alum and Hall of Famer in his own right, accepted a Partnership Award on behalf of CLA, and UCF alum Andy Muench accepted a Partnership Award for Gartner.
UCF charter class graduate Robert B. Case, '70, President, Demetree Global and former Executive Director of UCF's Executive Development Center, was honored with a Lifetime Achievement Award for his nearly 50 years of involvement with the college.
The college also presented the Entrepreneurial Alumni Awards, which honor UCF business alumni who exemplify commitment, vision, calculated risk-taking and growth potential, to Natalie Alzate, '16, YouTube star and CEO, Natalie's Outlet, Inc., and Socrate Exantus, '00, CEO of four All County Property Management franchise offices. Also recognized were Honorable Knights Brian Nichols, '86, VP of Enterprise Project Risk Management, NBCUniversal; R. David Patton, '93, VP of Business Strategy and General Counsel, Mohawk Industries, Inc.; Shelly Wilkes, '02, '04, Team President, Lakeland Magic; and Notable Knights Margo Beard, '09, '12, Operations Program Manager, Apple; Brian Charif, '13, VP of Sales Learning and Development, Gartner; and Matt Stiefeld, '10, Director of Asset Management, Demetree Global.
The college's Chief Operations Officer Tiffany Hughes kicked off the night by welcoming guests from the stage before handing over the reins to emcee Grant Heston, '13, Chief of Staff and Vice President, Communications & Marketing, UCF. The event featured performances by student dancers from the college and singer Christine Brandt, who ended the night with a rousing rendition of Frank Sinatra's famous "New York, New York."
Check out photos from the night.