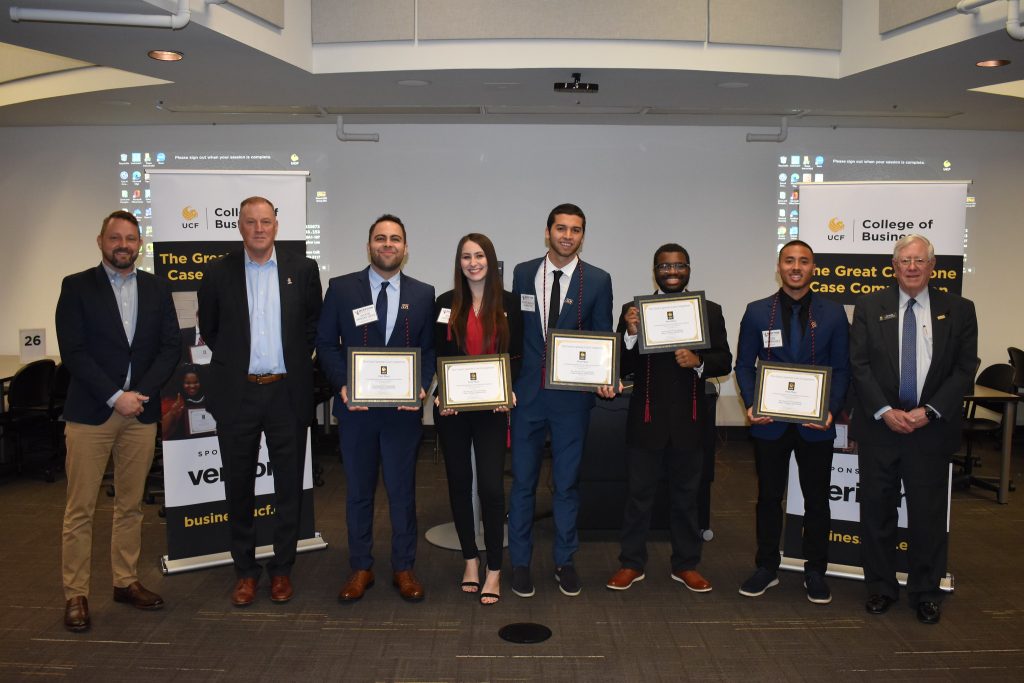 Top 3 Finishers Take Home Scholarship Prizes from Sponsor Verizon
By BRENT MESKE
Five College of Business students teamed up to win the 2023 Great Capstone Case Competition with their plan for longtime competition sponsor Verizon to launch an experiential marketing program called "Verizon's Green Horizon." Ryan Adams, Diego Baduy Aumaitre, Victor Vargas Ortiz, Jose Rodriguez and Paige Vodopich, who made up Team Inception, beat out a field of 12 semi-finalists on April 29 with their idea for Verizon to establish a meaningful relationship with its customers and educate potential customers about the company's green initiatives. Each member of Team Inception earned $250 in scholarship funding, thanks to Verizon.
"It was so fun to combine all of our personal experiences, ideas and fields of study to create a product that is uniquely ours, and then getting to experience this once-in-a-lifetime competition with them is something I will keep with me forever," said Team Inception spokeswoman Vodopich who will graduate with a degree in management this spring. "Our experiential marketing campaign utilizes Biz-Box activations designed to leverage Verizon's sustainability efforts by targeting the sustainable marketing demographic. It is unique and takes something Verizon does very well, other than providing premium service, and brings awareness to it to strengthen Verizon's brand reputation and customer loyalty."
The Great Capstone Case Competition challenges business students to develop strategic recommendations for real-world business issues as part of their final coursework. The panel of judges included Bob Wheatley, Director of Internal Audit for Verizon, and Jason Beaty, Senior Manager of Enterprise Risk Management for Verizon, as well as Paul Gregg, UCF Finance Executive in Residence and longtime Capstone judge.
"We always enjoy this competition every year. I think we've been doing this for five or six years now," Wheatley told the semifinalists before the final three teams were announced. "I'm always amazingly impressed by the poise that you have as students. When I was your age, I was nowhere near as poised as you all are today."
Team JAVLN (Alexey Akopov, Victor Almanza, Juan Ballesteros, Nathaniel Beardslee and Lucien Lagrange) finished second, earning $150 each. Mamba Mentality (Joel Andrade, Matthew Denning, Christopher Forges and Amy Le) finished third with each student taking home $100.
"The Great Capstone Case Competition is made up of the top six percent of a class that has over 750 graduating College of Business seniors," said Christopher Leo, associate lecturer of the Strategic Management course. "These future business leaders showcased their skills to create innovative solutions for our client, Verizon Wireless, and delivered those strategic recommendations in a Shark Tank-style competition. It's always a great privilege for me and our team of amazing faculty to see our students apply what they've learned throughout the semester and to defend their analysis with data, research and passion."
The winning team was also presented the Nichols Cup, named in honor of longtime Capstone instructor Gary Nichols '87. The team's lab instructor, Dr. Erna Herzfeldt, will keep the trophy until the next competition.