Helpful Information for UCF College of Business Students & Family
Everything You Need to Get Your Student Ready for College.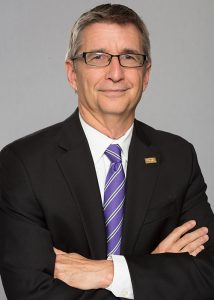 The resources provided in this module will help you and your student prepare for an exciting journey at UCF and the College of Business. Whether your student is an incoming freshman or transfer student considering majoring in business, we have a variety of tools and resources to help them chart their academic path. Our faculty and staff look forward to welcoming your student and helping them navigate the college's core curriculum, majors and engagement opportunities. We offer a wide range of opportunities and activities for students looking to engage with fellow students, faculty business leaders, entrepreneurs, industry experts and alumni in their field. From registered student organizations and career coaches to exclusive job boards and career fairs just for business students, you'll find all of that and more in this guide.
Go Knights, Charge On!

Paul Jarley, Ph.D.
Dean, UCF College of Business
Key Topics
Additional Resources
Ready to Register for Classes?
Setting up your class schedule through myUCF is easy and straightforward.
Already registered? Be sure to log in to double check your schedule.