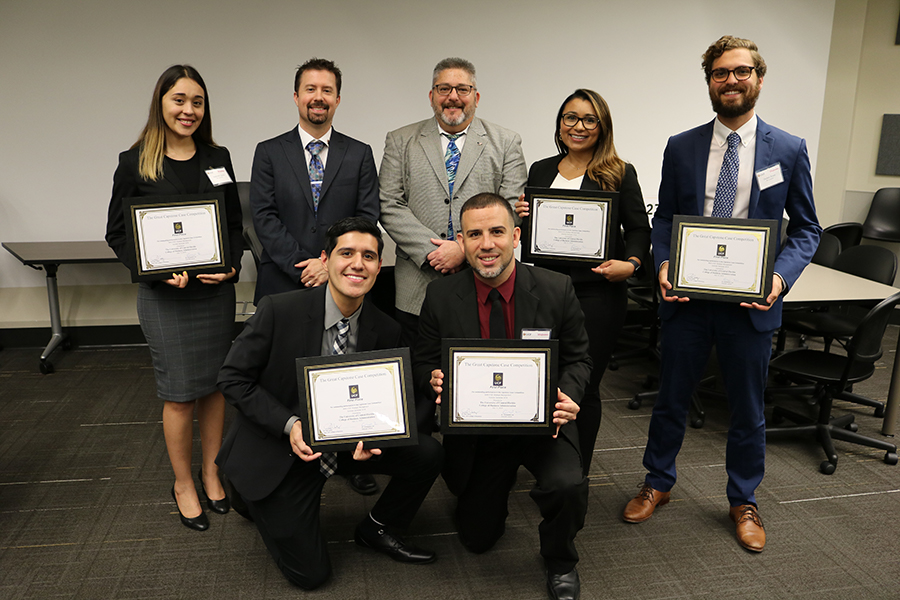 After trading in their summer vacations for eight weeks of research and fine-tuning a strategic business plan, five students won first place at the Summer 2019 Great Capstone Case Competition. Business students Javier Castillo, Alexis Escobar, Stephanie Garcia, Zachary Rosen and Jason Sanchez of team "IB Consultin'" impressed the judges with their recommendation for Walgreens to create a monthly subscription service for top-selling vitamins and supplements.
IB Consultin' presented a comprehensive plan for Walgreens' first foray into the subscription over-the-counter product market. Their proposal outlined an effort to hire additional marketing and warehouse staff, renovate a distribution center and implement digital marketing and e-commerce strategies. The winning plan triumphed over a field of nine semi-finalist teams comprising 42 students. Management Instructor Gary Nichols spent his summer coaching the team through the development process.
"IB Consultin' did a great job of taking feedback and applying it to their project," Nichols said. "As we worked to apply concepts learned in the classroom to their final projects, this team always sought input to stay on the right track."
The Great Capstone Case Competition challenges business students to develop strategic recommendations for real-world business issues as part of their coursework. Throughout the semester, students are given the opportunity to work as a team, strengthen their analytic, communication and teamwork skills and present a plan to faculty members who select the teams that will compete in the competition.
Lynn Hadley, Kelleyann Iversen, Russell Morrow, Justine Volmidor and Christine Williams of "Strata-Data" earned second place. "Team 'Murica" of Tracy Dudley, Dule Lombardo, Phillip Nguyen, Brendan Rimer and Jason Thompson placed third. In addition to teaching the winning team, Instructor Nichols also coached the team who won third place.
"I am equally proud of Team 'Murica and their accomplishment," Nichols said. "I challenge every team to try to win and honestly believe that once these students experience the Case Competition, they will remember it for the rest of their lives."
Due to the shortened length of the summer semester, the coursework is compressed into an eight-week course. Integrated Business Associate Lecturer Christopher Leo, D.B.A. coordinated the competition and commented on the students' ambition.
"This event is really designed to help business students strengthen their analytic, communication, presentation and teamwork skills by having them develop financially sound strategic recommendations for real business clients," Leo said. "Across the board, these students were well prepared and I'm so proud of their progress throughout the semester."