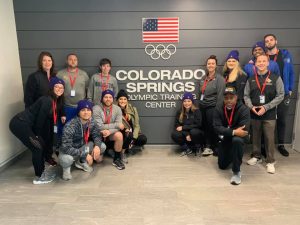 When students are looking to expand their knowledge on the role that business plays in the sports world, they turn to UCF's Sport Business Club. This collegiate organization is dedicated to enriching the student experience by providing learning and networking opportunities with professionals in the sports business industry. Learn more about how the Sport Business Club can make you a national champion.
Getting to Know the Sport Business Club
What is the vision of the Sport Business Club?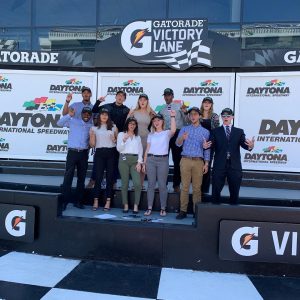 The Sport Business Club is built upon the "Scholar Baller" initiative, a program founded by UCF College of Business professor, Dr. Harrison. "Scholar Baller's" mission is to inspire youth and young adults to develop leadership skills and to excel in education and life through their cultural interests in sport and entertainment. Our club and minor program values the mindsets of hard work, dedication, ambition, and the drive to succeed. The more effort you put into getting involved in volunteering, coursework and networking, the exponential benefits and additional opportunities will become available!
How does being in the Sport Business Club enhance your UCF experience?
The Sport Business Club can alter your entire experience at UCF in so many positive ways! You will undoubtedly form lifelong friendships through being a part of the club and minor, you will be able to discover and pinpoint specific interests within the sports industry through volunteering opportunities such as the Under-Armour All American Football game, ProBowl football week, and AdvoCare basketball tournament and you will also be able to learn from, as well as work alongside, some of the most treasured and phenomenal professors at UCF.
What is something unique that the Sport Business Club offers to students?
The Sport Business Club and Sport Business minor offer its members the opportunity to attend "Late (K)night" speaker sessions, where industry professionals engage with students through specified themes and Q&A sessions. Members are also given exclusive access to volunteering opportunities, sport internships and the chance to be selected to travel to industry conferences throughout the semester.
What opportunities, events, and activities does the Sport Business Club provide?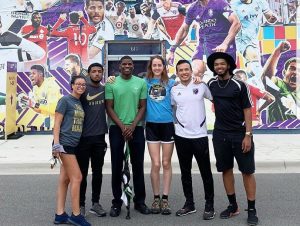 Past volunteering opportunities that have been available to minor students and club members include participation in the ProBowl, AdvoCare Invitational, Under Armour All-American Football game and much more. The club sponsors students to attend nearly 50 volunteer events per semester. The club has also sent students to conferences in cities such as Miami, Tampa and Daytona to learn from and network with panels of professionals that represent their respective disciplines within professional sports. In March 2018, a team of four students was sponsored on a trip to Colorado Springs and the Olympic Training Center to participate in a case study competition where we placed first!
What companies are affiliated with the Sport Business Club? What guest speakers has the Sport Business Club had or will be bringing in for students?
Past and current volunteer affiliations include:
ESPN
AdvoCare Invitational
NCAA
Gatorade
Under Armour (All-American)
NFL (Pro Bowl)
USTA
Beach N' Boards Ron Jon
Orlando Sports Foundation
Florida Citrus Sports
NASCAR
Past notable speakers include:
Naz Perez (TV Host, producer and podcaster)
Jamele Hill (Sports journalist)
Orin Mayer (Personal manager of Ray Allen)
Joe Cuomo (Equipment manager for the Brooklyn Nets)
Jean Boyd (Athletic Director for Arizona State University)
Michael Huyghue (Sports lawyer and former NFL Executive)
Reggie Saunders (Senior Director of Entertainment Marketing for Jordan brand)
Noah Croom (Assistant GM for the Minnesota Timberwolves)
Connect with the Sports Business Club
Email: sportbusinessclubatucf@gmail.com
Instagram: @sportbusinessclubatucf
Facebook: Sport Business Club at UCF
Twitter: SportBusinessClubUCF
To view a full list of all UCF College of Business Registered Student Organizations, click here.