Podcast: Play in new window | Download
Subscribe: Apple Podcasts | Google Podcasts | Spotify | Stitcher | TuneIn | RSS | More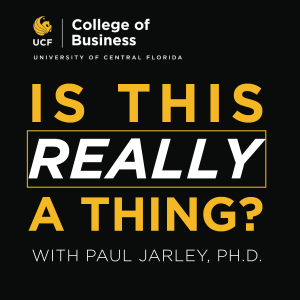 "Is This Really a Thing?" is an all new podcast created and hosted by Paul Jarley, dean of the College of Business at the University of Central Florida. With the help of local experts, enthusiasts and all-around interesting people, Paul takes a look at up-and-coming concepts and ideas that have the potential to reshape the business landscape.
How do you separate fly-by-night management tactics or money pits from legitimate innovations? What will students need to learn about to be successful over the next decade? Is Bitcoin a thing? How about eSports?
Paul decided to chase down the answers to these questions that keep him up at night and pose the question… Is This Really a Thing?
Coming to your favorite podcast app in mid-September.