Andy Smith has been defying the odds his entire life and continues doing so at UCF. The current DeVos Cohort Class President and Graduate Assistant is pursuing a dual Master's Degree in Business Administration and Sports Business Management at UCF. This summer, Smith participated in the Pathways Internship through the United States Golf Association (USGA) and has previously served as a Programming Intern with RISE and Social Media Coordinator with FairWays to Leadership along with many other positions.
The following is an interview with Andy about his time and experiences at UCF.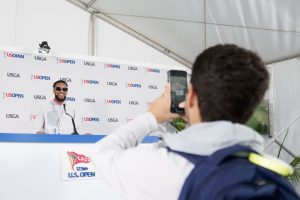 What drew you to UCF and the DeVos Sport Business Management Program?
I love the aspect that the DeVos program is more than just going to school and getting a degree. They're doing work in the social justice space and trying to make sports more equal. That's really big to me.
One of my sayings I live life by is "Defy the odds." I always want to do things people don't think are possible or be in spaces people don't believe I can make it in. DeVos has the same mantra. It's a privilege to be in the program and we must use that to try and change the sports industry around us. The community aspect was also a driving point. If you just have your degree and you're not doing anything with it, it doesn't really matter. Having those strong pillars that Dr. Lapchick instills is definitely part of the draw to the program.
I went to undergrad at Florida Atlantic University, about 25 minutes from home. But I like to always challenge myself, so for grad school, I wanted to go a bit further. It just so happened that UCF has one of the best sport management graduate programs in the country. I always said DeVos was my No. 1 option. As soon as I got the acceptance letter, it was clear where I was going to go.
How would you describe experience working in sports?
It's been an amazing experience. All the opportunities I've been able to get in the sports world is all due to UCF and the DeVos Sport Business Management program. I currently serve as President of my Cohort and am also a graduate assistant for The Institute for Diversity & Ethics in Sport (TIDES). I edit the report and create charts to show data. We aim to profile the good and the bad of race and gender in sports.
What are your duties as Cohort President?
I wear a lot of different hats all at once. I've been focused on helping the new class coming in to have the best experience as possible. In my role, I'm the glue for everyone and I'm always trying to uplift others. I'm not the only leader in the classroom, everyone is, so I try to bring up everyone around me so it's a culture of "we" instead of myself.
What are you up to now?
My latest internship with RISE, a non-profit that aims to help end systemic racism through programs and partnerships, Dr. Lapchick played a big role in helping me get that. I'm a programming intern and work with the facilitation of different universities and professional teams to end racism through partnerships and programming. Recently, we went to Detroit and did a program with three southeast Detroit high school soccer teams. We did our Privilege Module where kids learn about the privileges they do and don't have and how to use theirs to lift up others who may not have those privileges.
Being part of this internship has been eye opening to hear all the different perspectives of race and social justice. At RISE we try to educate and empower those who play or work in the sports industry and help them realize that because of your race, social economic status or gender, there are privileges that do exist. It's about accepting them and using them to pull up those around you. Our focus is equity and making sure everyone has a chance.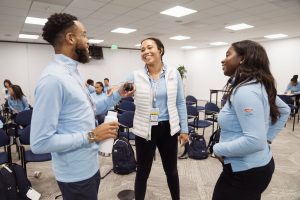 How can you describe working with Dr. Richard Lapchick, the current Vice President and CEO of the Institute for Sport & Social Justice and the Founder of the DeVos Sport Business Management program?
All the knowledge he has and all the things he has been through in his life and fight for social justice and racial issues is truly inspiring. Working for TIDES has been eye-opening for me. Being able to see the discrepancies that still exist at the higher levels of sports, it needs to be improved. TIDES does a great job highlighting these discrepancies and helping show leagues that real change needs to happen. Dr. Lapchick is at the forefront of that mission. He's humble and always kind.
What are some of the odds you've defied so far?
I was born to two immigrant parents. That alone puts you behind the eight ball a lot of times. I set a goal for myself to graduate undergrad early. Advisors told me it wouldn't be possible. I had a middle school professor tell me I would be bagging at Publix and that's all I would ever be. I've always carried that with me my whole life. It's been a blessing that I've been able to prove that wrong and prove to myself I can defy the odds. I can graduate undergrad at 20 years old. I can start a Master's program at 20. I can be part of a USGA internship, less than a six percent chance of getting it, and being able to be in that space. And even just being a black man in America who is part of a golf internship, a space not usually occupied by a lot of black people. I just want to continue defying the odds and doing things people don't think is possible.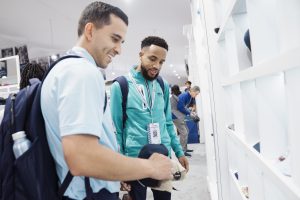 What was your experience like with Fairways to Leadership, and how did it help lead you to the USGA internship?
Coming into the DeVos program, I wasn't interested in golf at all. During orientation, I met Dr. Eric Boyd, who has the non-profit organization Fairways to Leadership, where he emphasizes the importance of professionals being on the golf course. I served as a Social Media Coordinator for six weeks with Fairways to Leadership and familiarized myself with the game of golf and understood it better. After this, Dr. Boyd invited me to the golf course a few times. One day in January, he invited the class to the annual PGA Show that happens in Orlando. I reached out to an alumnus who works for the PGA and said I wanted to meet and connect, and he said yes. We connected and he invited me to a DEI workshop after the class had left. I always bet on myself, so I stayed for it. It just so happened that at the workshop, I met Morris Thomas, Joe Jackson and Camille Ramos from the USGA, those three were the deciding factors for the USGA internship. I was fortunate enough to get the internship. Only 20 people were part of it and 314 people applied. That's part of my always trying to defy the odds.
Being around those 20 people, who all come from different backgrounds and hearing about different perspectives and journeys was so great. We met with partners from Deloitte and Century, toured SoFi Stadium and got to look at all the different departments that the USGA offers: player services, merchandising, partnerships. It was a memorable experience being around such great, uplifting people. It truly gave me lifelong friends.
Is there anything else you want to say about your experiences so far?
I want to put all the shine on my classmates. They're the reason I can do my job. The way they always have my back and are quick to be there for me. They make it fun in my position. There are hard days with a lot to do, and it can be overwhelming, but I can always reach out to them, and they always have a word of encouragement. They're all going to do so great in the sports world after we graduate in December. I'm thankful for that group.