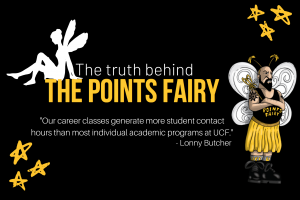 In a recent LinkedIn article, Lonny Butcher, instructor at UCF College of Business, reported some of the key activities that his students had participated in that led to many of them receiving job offers after college.
Lonny Butcher teaches a series of career and professional development courses at the University of Central Florida, with an annual enrollment of roughly 10,000 students. These courses aim to guide students to learn and research various career paths, select one that best fits their skill set and aspirations and ultimately lead them to receiving a job offer following graduation.
"With almost 9,000 undergraduate students, the college IS unique in the scale it has to do these things and the approach it takes to deliver career development education," Butcher said. "Our large size means overwhelmed or intimidated students are already inclined to check out, so we can't have that. Checking out is NOT a strategy for success."
To achieve this goal, Butcher has incorporated a similar project for students throughout each course he teaches: the Career To-DO List assignment. Named after the course's subject ID, students earn "GEB points" as part of this assignment for completing certain activities. And who better to award these points than a middle-aged man dressed up in a fairy costume?
"To give the assignment a persona, I came up with the GEB Points Fairy," Butcher said. "Like the tooth fairy who rewards children for losing teeth, thus softening the blow of what can be a scary experience, the Points Fairy rewards students for completing activities, softening the blow of a student stepping out of their comfort zone to do something outside of the classroom."
From attending career and internship fairs to networking with industry professionals, students earn GEB points for these activities to help them "Get to the One," a common mission statement within the College of Business that encourages students to be the one who gets the job, starts a business, makes the sale, makes a contribution and mentors others.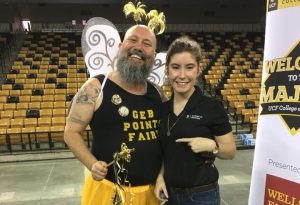 Every year, Butcher conducts a survey of more than 1,000 participants to measure the effectiveness of these activities and how they contribute towards students being able to Get to the One. From his survey, here were some of the results he found:
41% of students selected activities that helped them build a network and had a job

63% felt they were a much better than average networker and networked much more than average, as well as having a job

55% knew more than 3 professionals and met with 5 or more professionals in their career field, as well as having a job

35% of the final class received a new job, promotion, started a business or were accepted into graduate school.
The real key among these statistics is the effectiveness of networking in helping students land that job offer. Butcher specifically noted students who felt confident in their networking skills and were able to personally network with individuals in their future career field were much more successful in finding job opportunities.
"Networking is how they build the critical interpersonal skills needed to present their qualifications and tell a compelling story," Butcher said. "Students who network get more job offers, accept more job offers, work more internships and get more out of their internship experiences."
As Paul Jarley, Ph.D., dean of the UCF College of Business, has stated, "Figuring out what you want to do with the rest of your life and getting a job doing it doesn't just happen on Tuesday." Students should be working toward that goal every day. For this reason, students who choose activities that incorporate networking for the Career To-DO List assignment tend to find more success in landing those job offers and are able to effectively "Get to the One."