Members Include C-Level Execs and Nationally, Globally Recognized Corporations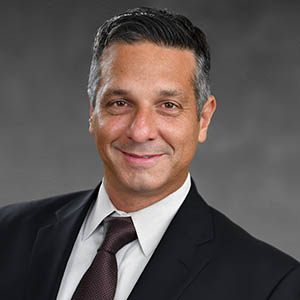 ORLANDO, Fla. – Ron Piccolo, Ph.D., Chair and Galloway Professor of Management, Department of Management at UCF College of Business was recently named to the executive board of directors for the Hispanic Chamber of Commerce of Metro Orlando (HCCMO). Piccolo joins a talented group of leading Orlando and national executives that includes:
Chair: John de Armas, CEO, Profitland Partners
Vice-Chair: Jan Aspuru, COO, Orlando Utilities Commission
Vice-Chair-Elect: Jeff Villanueva, CEO, East Orange Market at AdventHealth
Treasurer: Oscar Cristancho Mercado, Assistant VP of Budgets & Analysis, Valencia College
Legal Advisor: Roberto Santoni, Managing Partner, Florida In-House Counsel Law Group
Secretary: Elisha Gonzalez Bonnewitz, Vice President, Government Affairs and Community Relations, FAIRWINDS Credit Union and Executive Director, FAIRWINDS Foundation
Director-at-Large: Humberto Hormaza, Senior VP & General Manager, Entravision Communications Orlando
Other board members include Gaby Ortigoni, HCCMO president and CEO, and 18 directors, including Piccolo:
Nicholas Abrahams, VP, Corporate Engagement, Orlando Economic Partnership
Janice Abrew-Coriano, Communications, Events and Community Affairs Manager, Rosen Hotels & Resorts
Wilmer Alvarez, VP, Orlando Health Foundation</li>
Janet Balanoff, Associate VP for Equity and Diversity, Seminole State College
Dick Batchelor, President and Founder, Dick Batchelor Management Group, Inc.
Michael Brown, CEO, Travel + Leisure</li>
Margarita Calo, Manager Asset Management, Maintenance and Strategy, Central Zones, Duke Energy</li>
Belinda Kirkegard, Economic Development Director, City of Kissimmee (Immediate Past Chair)</li>
Angela Lagos, Assistant Director of Diversity & Inclusion, Universal Parks & Resorts</li>
Mario Mendolaro, Principal Counsel, Walt Disney World
Madeline Otero, VP & Corporate Controller, Tupperware Brands
Juliana Peña, Manager, Air Service and Business Development, Orlando International Airport
Todd Piorkowski, President, Perk Business Solutions, LLC
Juan C. Quiroga, CEO, JCQ Investments/JCQ Services
Conrad Santiago, Private Wealth Advisor, The Trentham Santiago Group, Ameriprise Financial Services
Karen Skyer, Attorney at Law, Skyers Law, P.A.
Shelly Wilkes, Sr. VP, Marketing & Social Responsibility, Orlando Magic
The composition of the Board reflects the important role that the Chamber and Hispanic businesses play in the Central Florida community, as well as the value that this economic development organization places on diversity and inclusion. The Board boasts strong representation of prominent Hispanic-owned businesses that are industry leaders in the Central Florida region and state.
"Our Chamber has been advocating for the business growth of the over one million Hispanics in Central Florida for 28 years," Ortigoni said. "We are proud to have a board that demonstrates the importance of large corporations and Hispanic-owned businesses working together to strengthen our region's economy."
de Armas, a C-level executive with an exceptional global track record of disrupting and revolutionizing organizations and leading the journey of creating customer-centric and highly profitable enterprises, is the new Chairman of the board. Under his leadership, the board will guide and promote HCCMO programs and events under the Chamber's new focus pillars: Commerce Opportunities, Coaching and Community Building, providing an array of services, tools and opportunities for both small business and professional members to increase exposure and profits.
"We're entering a new era at the Hispanic Chamber," said de Armas. "We're placing an intentional focus on helping members 'scale up' their businesses. Providing value for our members will be at the epicenter of every decision we make and everything we do."
For more information on member benefits or to become a member, visit HispanicChamberOrlando.com.