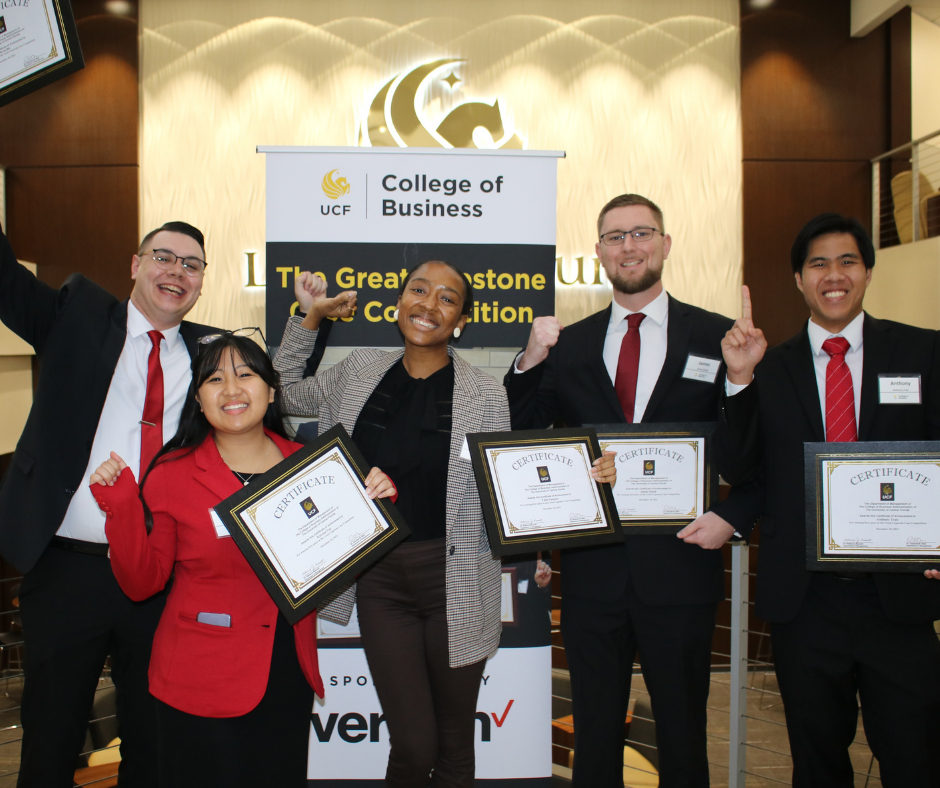 Five business seniors who dubbed themselves Team Senioritis earned $3,000 in scholarship funding and the top spot at this semester's Great Capstone Case Competition with their recommendation that competition sponsor Verizon utilize 5G network technology to improve airport security. Graduating seniors Ryan Bis, James Smith, Anthony Tran, Talia Vasquez and Katarina Vue pitched their plan to Verizon executives and a panel of judges Friday to best a field of 700 students, or 140 teams, to win the competition.
"We suggested Verizon implement its 5G UWB (Ultra Wideband) technology into airports with cameras for monitoring airport security," said James Smith. "We believe this technology would be the most efficient in its field while helping Verizon enhance government services." The team presented a SWOT analysis, financial and non-financial justification, implementation plan and a timeline for the project.
Each semester the competition challenges students to develop strategic recommendations for real-world business issues as part of their final coursework. This fall students had to "identify ways Verizon's high speed internet network can be used to enhance the services governments and public agencies provide to their constituents."
"We enjoy putting the business case together, it's something we do all the time," said Bob Wheatley, Director of Finance for Verizon. "But being able to work with the students and see the incredible talent coming out of the university is inspiring. And it's a good chance for us to interact with the students. We're always recruiting top talent, so we get a lot of value from it as an organization."
Each semester the Capstone course gives business students the opportunity to work as a team, strengthen their analytic, communication and teamwork skills and present a plan to faculty members who select the teams that will compete in the competition.
The JONSS (Sydney Holtzclaw, Swati Modha, Nusrat Jahan, Ole Tchabi, and Jonathan McKenzie) finished second, earning $2,000. The Humans (Samuel Reimer, Zachary Parker, Jazmina Hutchins, Kyle Komahcheet and Wenlan Lu) took home third place and $1,000.
Team H2-GO (Kali Bennett, Giorgio Dal Bon, Gabriel Llanes, Collin Smith and Gabriel Torres) picked up the Gary Nichols Excellence Award in honor of the late Gary Nichols '87. The longtime management professor regularly taught the strategic management capstone course and was known for his passion for teaching and for inspiring his students.
Out of 700 students, 70 made it to the semifinals and only five teams advanced to the finals.
"Nearly 700 students rose to the challenge and worked to create strategic recommendations for Verizon," said Dr. Amanda Main, Lecturer of Management, who hosted the competition. "I think the topic of ESG investing really got everyone excited to participate in a way for businesses to do well and do good. This made it very difficult to choose who would advance to the competition. But even those students who didn't make it to the semi-finals have developed an industry and strategic analysis for a major organization, and that is something they can take with them on the job market which gives them a competitive advantage over many other graduates around the country."
About the UCF College of Business
Established in 1968, the UCF College of Business offers degrees at the bachelor's, master's, doctoral and executive levels. All programs, as well as the Kenneth G. Dixon School of Accounting are accredited by AACSB International – the Association to Advance Collegiate Schools of Business. The college provides high-quality academic programs designed to give students a competitive advantage in the world of business now and in the future.