BY JOSH MIRANDA | DECEMBER 14, 2020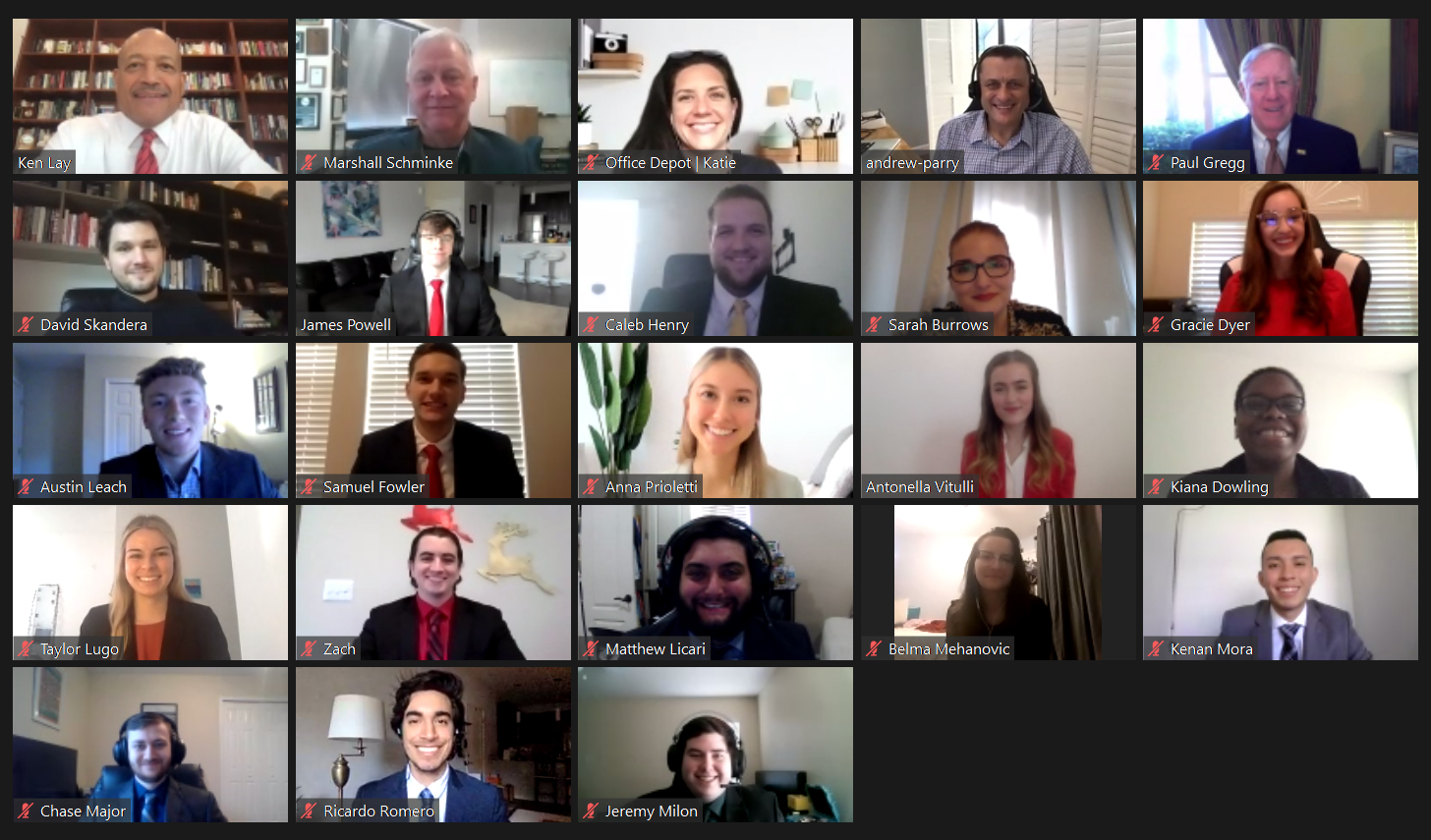 When five UCF business students pitched Office Depot an idea for a business-to-business matchmaking platform, the proposal proved salient enough to impress the judges and win the Fall 2020 Great Capstone Case Competition. Not only did competitors Gracie Dyer, Samuel Fowler, James Powell, Zachary Roch and Antonella Vitulli of team "In the Money" receive top honors in the contest, but also earned a nod from a Vice President at Office Depot.
"I've got a meeting with our Chief Technology Officer coming up and this is exactly the kind of idea I would bring back to him," said Andrew Parry, Vice President of IT Application Development. "The team's strategy really fits with our culture and how we're thinking about selling services and products both to and from companies."
Along with a financial evaluation, SWOT analysis and market research, the team's strategic recommendation included a specific plan to establish a subscription-based B2B matching service for small-to-medium businesses to find like-minded partners. Accounting and finance student Antonella Vitulli called the Capstone competition the most challenging and rewarding experience of her academic career.
"The course pulled from every aspect of the College of Business curriculum," said Vitulli. "I not only learned from the course instructors, the client, the judges and my teammates, but I was also able to reach out to former professors who were so supportive and proud."

Of the 594 students enrolled in the Capstone course, only 35 advanced to the semifinals and 16 to the final round. Competitors delivered their pitches to a panel of judges via Zoom video conference breakout rooms. Despite the lack of in-person presentations, the judges commented on the students' professionalism and unique ideas. Kenneth Lay, Adjunct Instructor in the Department of Management, taught this semester's Capstone course and guided students during the development of their presentations.
"I'm so proud of what these students have been able to achieve in a very tough semester under very unique circumstances," said Lay. "It was a tough competition, and all the student presentations were quite detailed, well thought out and well researched."
The Great Capstone Case Competition challenges business students to develop strategic recommendations for real-world business issues as part of their coursework. Throughout the semester, students are given the opportunity to work as a team, strengthen their analytic, communication and teamwork skills and present a plan to faculty members who select the teams that will advance to the semifinals of the competition.
Student Austin Leach and teammates Taylor Lugo, Kenan Mora, Anna Prioletti and Ricardo Romero of "Quaran-Team" took second place. Team "Citronaut Consulting" of Caleb Henry, Belma Mehanovic, Chase Major, Jeremy Milon, Kiana Dowling and Matthew Licari placed third.
"It's been a challenging semester and we're so thankful we've been able to execute on this competition," said Ron Piccolo, Ph.D., Chair of the College of Business Department of Management. "The Great Capstone Case Competition is the signature experience for our graduating business students and is truly the culmination of their years of study."
About the UCF College of Business
Established in 1968, the UCF College of Business offers degrees at the bachelor's, master's, doctoral and executive levels. All programs, as well as the Kenneth G. Dixon School of Accounting are accredited by AACSB International – the Association to Advance Collegiate Schools of Business. The college provides high-quality academic programs designed to give students a competitive advantage in the world of business now and in the future. Learn more at business.ucf.edu.