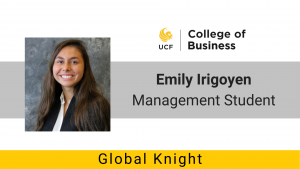 Always looking for new opportunities and challenges, Emily Irigoyen is a UCF Burnett Honors business student studying Management with a concentration in International Business and Human Resources.
Emily is a current member of the CWEP program with Lockheed Martin and plans to graduate in the Spring of 2022. During her coursework at UCF, Emily has had the opportunity to study abroad and make a global impact!
Where did you travel and what did you learn?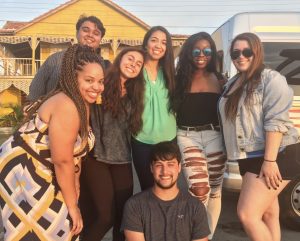 I have traveled to Cuba with the Department of Modern Languages and Literatures as well as Chiapas, Mexico with the Burnett Honors College. Through the UCF in Cuba program, I was able to learn more about foreign language and culture, particularly pertaining to Cuban history and its international relations. Through the Viva Mexico program, I was able to volunteer abroad and experience an in-depth service-learning program with the BHC as well as students from the host university in Mexico (UNACH).
How did you learn about the study abroad program?
I found out about the short-term UCF in Cuba program through the UCF Abroad Instagram account, and the Burnett Honors College promoted the Viva Mexico trip in many of my honors classes.
How did you prepare for this study abroad experience?
Both programs had an in-class component where I was enrolled in courses during the Spring semester to prepare for the actual trips. For the UCF in Cuba program, I enrolled in LAS3930 (Cuba: A Collective Portrait), which was taught by the two professors who led our trip abroad. We met weekly in preparation for our trip that took place over Spring Break. For the Viva Mexico program, we met twice weekly to develop English lesson plans for our time spent teaching in Mexico as well as research and study specific aspects of the country itself.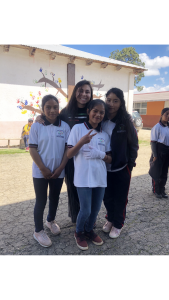 What was one thing that you've taken away from studying abroad?
Every time I have traveled abroad I have learned more about myself and what I want to achieve in my future professional career. I have formed lasting relationships with the other UCF students that I traveled with as well as the people I have met abroad, and I am incredibly grateful for the opportunity to participate in these programs. Given that I am pursuing an international business minor, I believe that my experiences abroad have strengthened my cross-cultural communication skills and have also exposed me to a variety of cultures and lifestyles.
Do you have any advice for students looking to study abroad?
Studying abroad is possibly one of the most impactful experiences you can have during your college career. Do not hesitate to reach out to an adviser for more program-specific information or scholarship opportunities. I was very fortunate to receive multiple scholarships to fund my study abroad experiences, all of which I was able to apply for directly through UCF. If you are considering studying abroad, definitely talk to a fellow student who has studied abroad in the past. I am more than certain that they would be willing to share their experiences and encourage you to study abroad yourself.