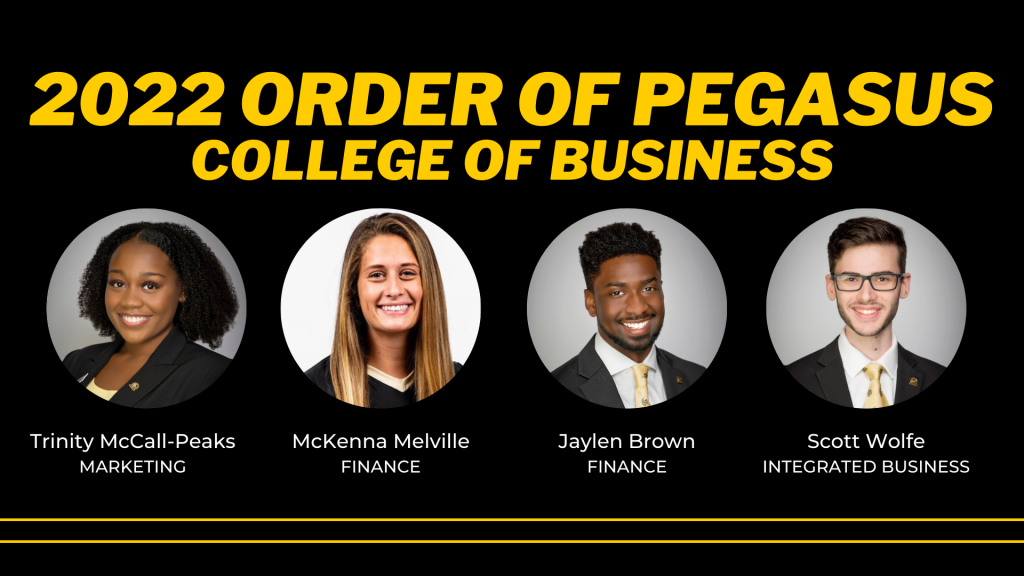 Four College of Business students have been named as 2021-22 recipients of the Order of Pegasus, UCF's most prestigious student award for those who display incredible academic achievement, university involvement, leadership and community service.
During their time at UCF, Trinity McCall-Peaks, McKenna Melville, Jaylen Brown and Scott Wolfe coached and mentored other students, won athletics championships, taught as teaching assistants and advised university leadership. They worked to develop their own leadership skills within honor societies, the President's Leadership Council (PLC), Student Government, the Professional Selling Program, the Student Ambassador Program and a variety of other organizations.
The words "driven," "dedicated," "leader," "passionate" and "humble" are frequently used to describe each of them.
"It is a great honor to be placed amongst the distinguished ranks of the past and present honorees, all of whom have made important contributions to UCF and its surrounding community," said Trinity McCall-Peaks, a Marketing major who is heavily involved in the Professional Sales Program and was crowned UCF Homecoming Royalty in 2021. "As a College of Business student, and especially as an underrepresented African American woman, it is with pride that I can display how my passions have found purpose and allowed me to tap into my greatest potential. I will forever be grateful to the University of Central Florida for my valuable experience and for bestowing me with this prestigious award."
The awardees are among UCF's brightest students — with a collective GPA of 3.82 — and they are also some of our most compassionate. In addition to their roles and impact on our campuses, they have volunteered extensively within our community and beyond.
They graduate UCF with plans for continued impact and with the desire to make their communities and our world better.
"I could not be more grateful for the College of Business' endless support and for providing countless opportunities to make a significant impact. However, receiving this award is a personal testament that my impact stretched far beyond just the College of Business, but to the university as a whole," said Brown, who will graduate this spring with a degree in Finance. "UCF has truly inspired me to 'reach for the stars,' and now I'm motivated to inspire others to do the same."
In addition to serving on PLC, Brown served as chair of the College of Business Student Ambassadors from 2020-2021 and was a member of the UCF Marching Knights.
Other recipients include Scott Wolfe, an Integrated Business major who served on both the College of Business Student Ambassador leadership team and the Professional Selling Program; and McKenna Melville, a Finance major who earned American Volleyball of the Year for two years in a row. Melville is also a national leader in volleyball points and kills, and she earned the CoSIDA Academic All-American award.
The students and their families will be honored during the Order of Pegasus induction ceremony, taking place during the Student Honors Convocation on April 6 in the Pegasus Ballroom of the UCF Student Union. Inductees receive commemorative medals and scholarships from Student Government. Their names also will be added to the Order of Pegasus wall in the Student Union.