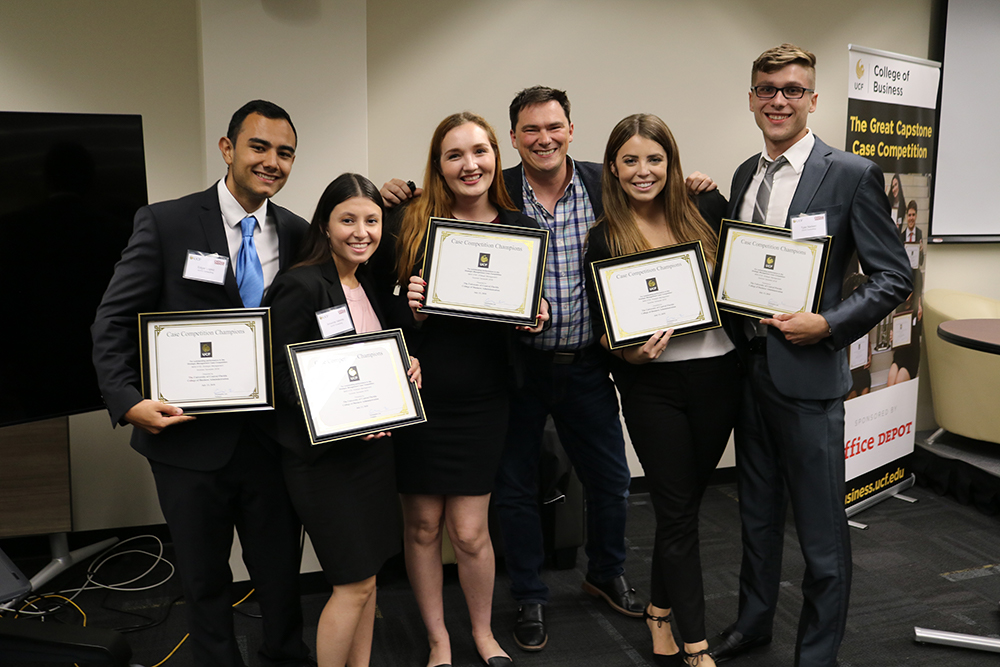 ORLANDO, Fla. – Five business students and their team "Kate Consulting" brought home the grand prize Friday at the Great Capstone Case Competition for their plan to more effectively utilize retail space at sponsor Office Depot's nationwide stores. The team's presentation impressed the judges, including Office Depot Senior Vice President and Chief Retail Officer Kevin Moffitt, with an idea to create an in-store Business Incubator tied to a complementary E-Commerce platform.
"The boldness of the winning team's concepts really struck us," Moffitt said. "They managed to bring together our E-Commerce capabilities and the physical store into one solution that was innovative for both the retail space and the overall Office Depot experience."
The Great Capstone Case Competition challenges business students to develop strategic recommendations for real-world business issues as part of their final coursework. Throughout the semester, students are given the opportunity to work as a team, strengthen their analytic, communication and teamwork skills and present a plan to faculty members who select the teams that will compete in the competition. Each semester, students work toward more than just a grade; competitors battle for $8,000 in scholarship funding provided by sponsor Office Depot.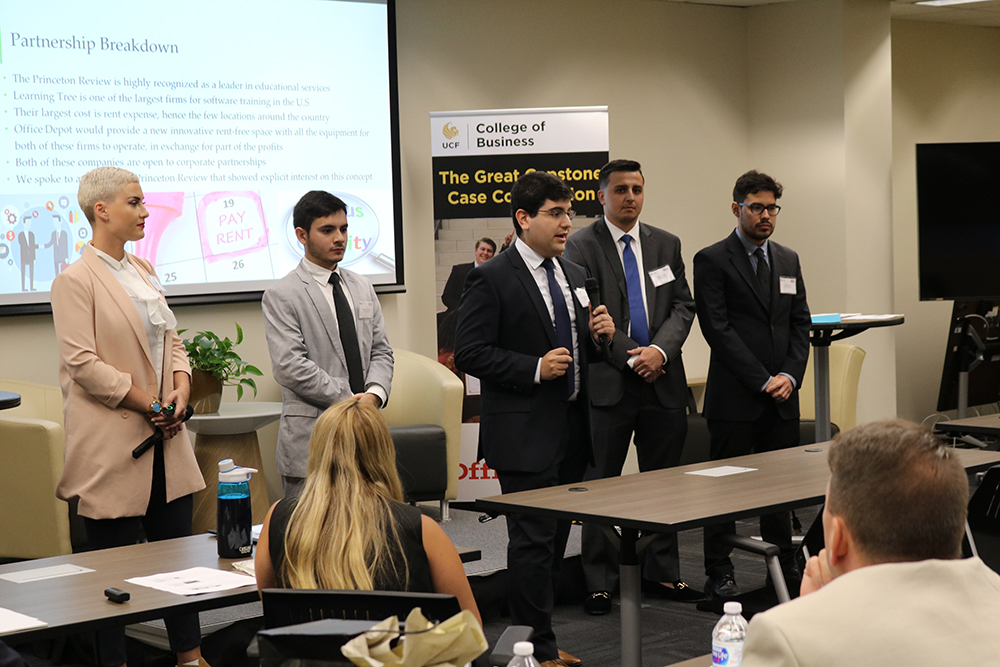 Students Edgar Lopez, Catherine Jauch, Kendall Bell, Amanda Valiente, and Tyler Nielsen of "Kate Consulting" earned $2,500 and a first-place victory. Nicole Morin, Ada Stival, Kevin Ortiz, Abraham Vasconez, and Dane White of team "Diamonds Formed Under Pressure" took second place and $1,750. The "JJSDI International" team of Dawid Kudla, Santiago Bueno, Juan Barrera, Ilviya Dovbnyak, and Julian Becerra won third for $1,250.
Tyler Nielsen of "Kate Consulting" attributes the team's victory to their ability to create a new Office Depot retail experience that is both viable and groundbreaking.
"The idea was to reshape the value that the company already brings to the table." Nielsen said. "We didn't just try to take a new project and add it to their existing sales, we tried to redefine what an Office Depot store could be."
Kendall Bell found working with her teammates to be a rewarding experience that wholly challenged her understanding of the material she learned in the classroom.
"I can't tell you how much work our whole team put into this," Bell said. "This is the class that I think most utilized the experiences and skills I've gained from the College of Business."
Dr. Christopher Leo, Lead Faculty member for the College of Business Integrated Business program, said the full roster of competitors delivered informed and impressive presentations, calling the competition fierce.
"The Great Capstone Case Competition truly demonstrates the strategic tools our students learn from the Strategic Management course, which provides the opportunity for students to learn and apply the same skills that professional consultants use." Leo said. "Our winning team had a very creative and feasible recommendation, strong presentation skills and detailed financial analysis."