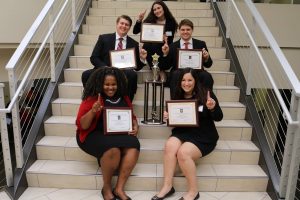 ORLANDO, Fla. – With a healthy dose of innovation and a punny team name, five business students and their team "Rizon Up" took home the grand prize Friday at the Great Capstone Case Competition for their plan to overhaul sponsor Verizon's online customer support system. The team wholly impressed the judges, including Verizon Senior Vice President of Finance Monty Garrett, with their idea to create an artificial intelligence-powered chat bot to respond to customer service inquiries.
"Rizon Up's idea incorporated all the technological aspects that we made part of this challenge," Garrett said. "They chained together machine learning, artificial intelligence and cognitive processing to create something innovative. They also linked it back well to our business, customer satisfaction and the overall experience."
The Great Capstone Case Competition challenges business students to develop strategic recommendations for real-world business issues as part of their final coursework. Throughout the semester, students are given the opportunity to work as a team, strengthen their analytic, communication and teamwork skills and present a plan to faculty members who select the teams that will compete in the competition. Each year, students work toward more than just a grade; competitors battle for $5,000 in scholarship funding provided by sponsor Verizon.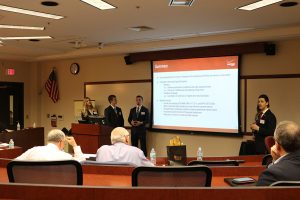 Students Joseph Cofrancesco, Matthew Harders, Victoria Madrazo, Melissa Martinez and Latisha Miller of "Rizon Up" earned $2,500 and a first-place victory. Matthew Avecilla, Maximillian Mirra, Samuel Johnson, Justin Lee and Matthew Mashburn of team "Allen & Associates" took second place and $1,500. The "Over the Verizon" team of Rachel Bates, Mitch Elkouri, Corey Gross, Kelsie Nehrboss and Jason Nowik won third for $1,000.
Latisha Miller knew her team was capable of winning the competition from day one.
"I was the only person on the team who thought 'yeah, we can do it; it's possible,'" Miller said. "My teammates told me to be realistic and that we are here to get this done and hope for the best. But we got the best, so it worked out!"
The team's management instructor Dr. Carl Blencke, who also guided "Over the Verizon" to their third-place victory, commended the winning team for their outstanding enthusiasm.
"Rizon Up had a strong presentation but they took it a step further by integrating their strategy with a comprehensive implementation plan that would justify the expenditure," Blencke said. "They put in the work and their efforts were rewarded. They were truly in it to win it."