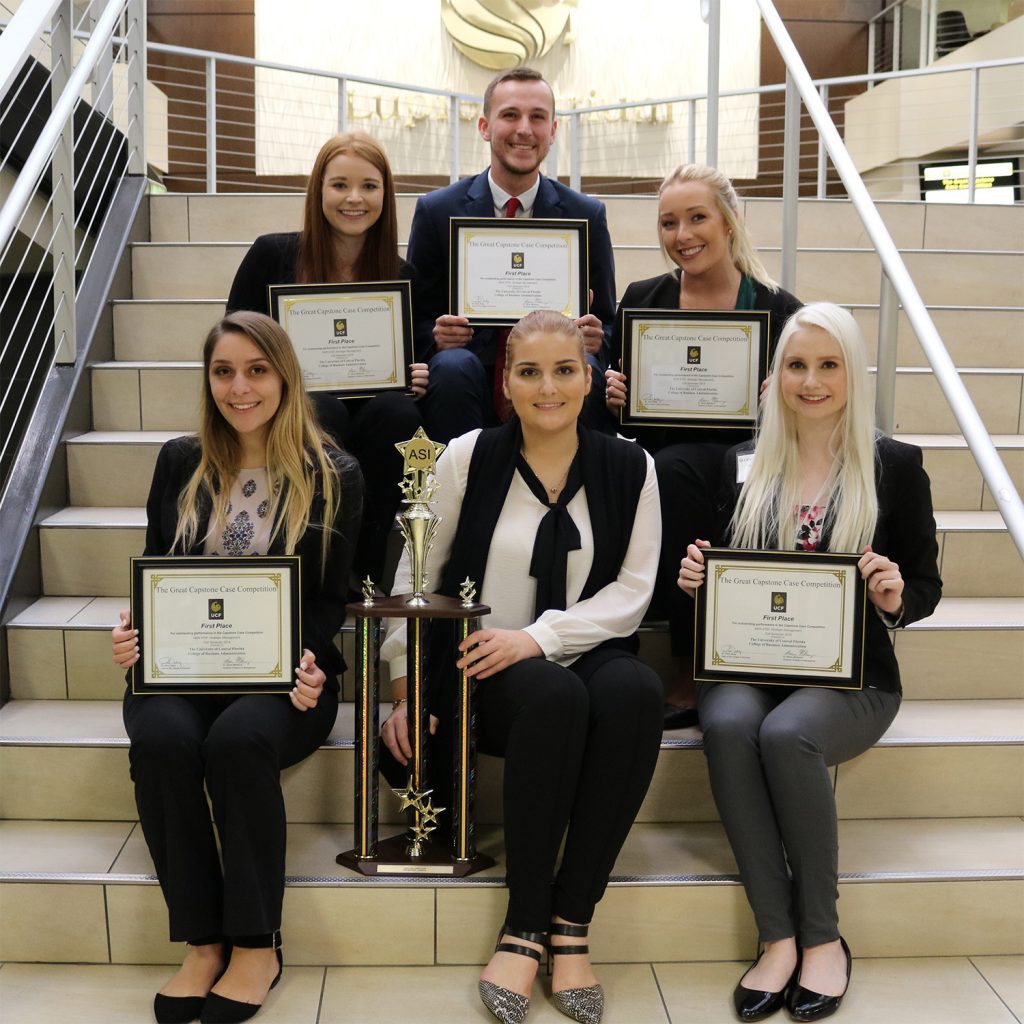 ORLANDO, Fla. (Dec. 13, 2018) – A multimillion-dollar company run by UCF College of Business alumnus Justin Wetherill, '07 is taking student ideas back to the boardroom after five students won top honors and $2,500 at the Fall 2018 Great Capstone Case Competition. More than 600 students in 120 teams accepted the challenge of proving at-home gadget repairs would be profitable for tech repair company uBreakiFix. The competition's panel of expert judges, featuring uBreakiFix staff members, UCF College of Business faculty and alumni, voted in favor of team "BA Agency" and their plan to utilize a network of vans to launch a mobile repair service in five U.S. metro areas.
"We put a good bit of effort into running different scenario analyses for the repair service, but also focused on a strong marketing plan," team member and accounting student Summer Plesko said. "We had our base scenario and costs outlined, but our team also provided outcomes for variable amounts of repairs, changing gas prices and technician availability; I think that resonated well with the judges."
The Great Capstone Case Competition challenges business students to develop strategic recommendations for real-world business issues as part of their coursework. Throughout the semester, students are given the opportunity to work as a team, strengthen their analytic, communication and teamwork skills, and present a plan to faculty members who select the teams that will compete in the competition. During the semester, students work toward more than just a grade – competitors battle for $8,000 in scholarship funding provided by sponsor uBreakiFix.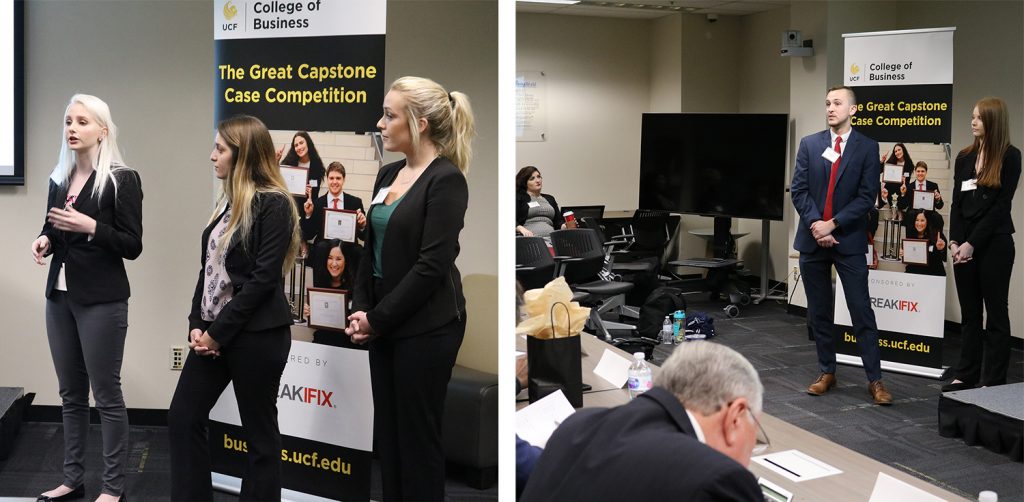 Plesko and her teammates Ashlea Al-Bahou (finance), Allison Guiley (marketing), Kelly Addelman (marketing) and Jacob Ellwanger (marketing) of "BA Agency" earned $2,500 with their first-place victory. Jennifer Danuff, Delaney Banner, Kaila Menard, Joshua Davey and Ashley Atwell of "Team 8" took second place and $1,750. The "Unidentified Business" team of Amanda Davis, Justin Davis, Jordan Less, Luis Lorenzo and Jane Tarasionak placed third and took home $1,250.
The members of "BA Agency" credited their victory to the expertise of their lab instructor Sarah Burrows; however, Burrows said the team's wholehearted commitment to the competition was the real key to its success.
"I think the main factor that set them apart from the other teams was teamwork," said Burrows, a doctoral student studying management at UCF College of Business. "Throughout the entire semester, I saw them work really well together and demonstrate a high level of collegiality that is needed to succeed."