Associate Chair, Department of Finance; Lecturer, International Business
Dr. Resch is a world traveler who is well prepared to lead his International Business classes thanks to his travels that have taken him to 55 countries, so far! Find out more about Peter below.
How long have you been a Knight? I've been teaching at UCF since 2015.
What is your area of study? I teach courses in International Business at the undergraduate, graduate, and executive levels.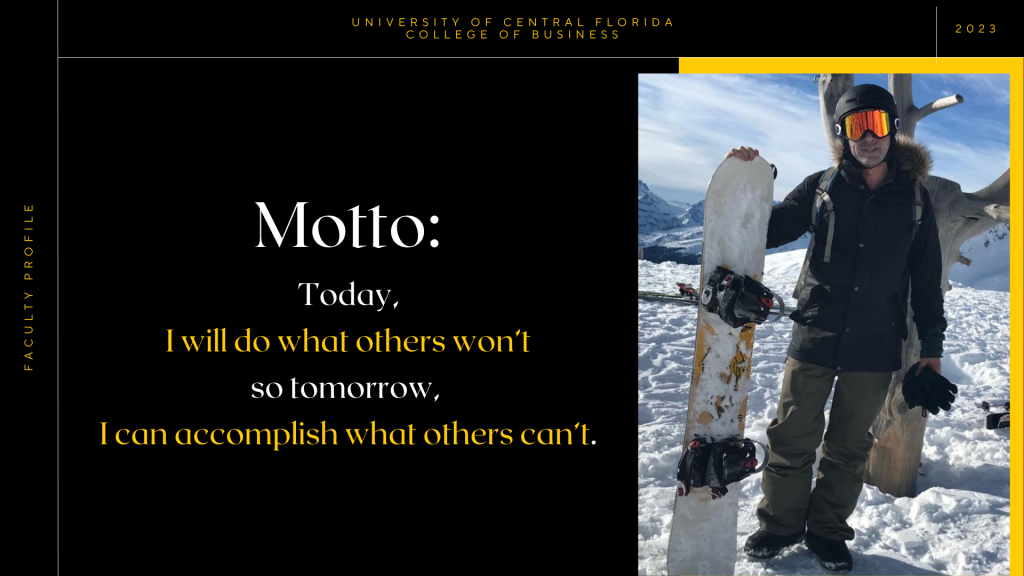 What do you love about what you do at UCF? To teach courses in International Business at UCF has been a rewarding experience. Business today is conducted internationally and having an international perspective opens many opportunities for firms of all industries. At the same time, International Business is very important for the state of Florida, being home to the second-largest number of exporting companies int he country while attracting significant amounts of foreign direct investment from all around the world.
When you're not in the classroom, where can you be found? I'm a global citizen. I've traveled and worked in 12 countries around the world and speak three languages fluently. I've been to 55 countries and have many more destinations to visit on my bucket list.
What are some of your hobbies? Traveling, photography, rowing, mountain biking, and snowboarding.
What is your advice for Business Knights? Differentiate yourself and start gaining international experience. Participate in a UCF study abroad program, do an internship abroad, or simply travel. As future managers, to have a global perspective is invaluable to yourself and your organization. A great motto to have is: "Today, I will do what others won't, so tomorrow, I can accomplish what others can't."