Program Director, Blackstone LaunchPad; Instructor, Management Department
From her days attending the College of Business as a student to her current roles as the Program Director of the Blackstone LaunchPad and an instructor in the Management Department, Cassi is a lifelong Knight! In between stints at UCF, she has served as an entertainment lawyer to the stars, including Taylor Swift. Now back at UCF she's passionately showcasing options and opportunities for students through the LaunchPad and is actively involved in her community. Find out more about Cassi below!
How long have you been a Knight? As a student, three amazing years. As a LaunchPad coach/speaker, this will be year three or four. As an educator, I am in my first year at UCF.
What is your area of research at UCF? Although not "research" per se, my focus is on expanding the reach and impact of our Blackstone LaunchPad to help students expand their career opportunities through learning and applying entrepreneurial mindsets and skillsets.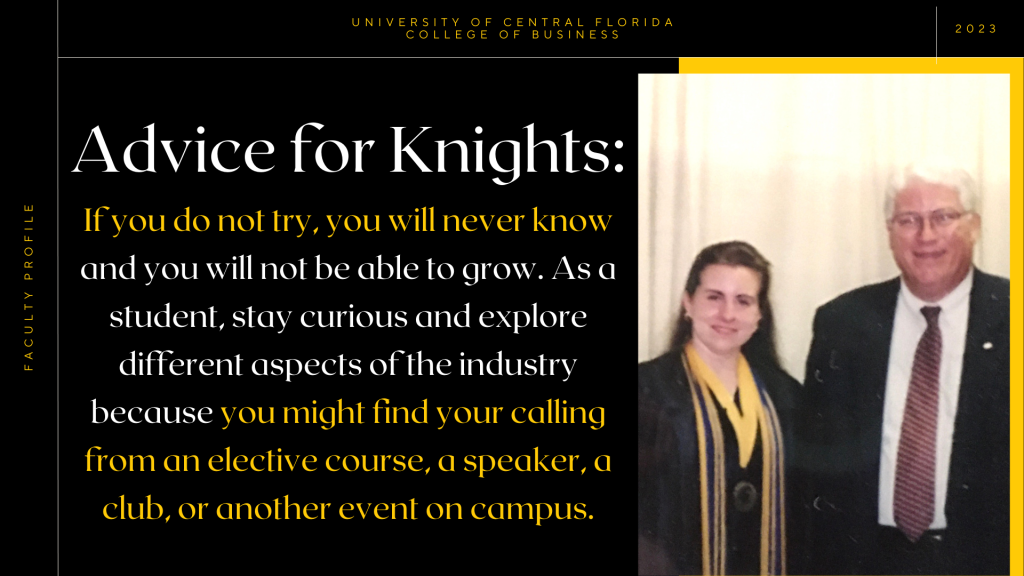 What awards or honors are you most proud of? I served twice as the Chair of the Entertainment, Art & Sports Law Section of The Florida Bar and was recognized by the "Orlando Business Journal" as one of their Women Who Mean Business. I was honored to be a speaker at TEDxOrlando and also was named the PROPS Graduate Educator of the Year while at Full Sail University.
What do you love about what you do? I have the opportunity to showcase different options and opportunities that exist as career options for students. My entire career trajectory changed when, as a UCF student, I got involved on campus, changed my major, and met an amazing guest speaker, who became my first boss in the field of entertainment law.
What do you find most exciting and rewarding about your field of study? Entrepreneurship, entertainment, and education are constantly evolving. It is amazing to see how much innovation has occurred in recent years and the broad opportunities to create unique career paths exist for today's students. There are so many ways to get engaged and learn what you love, learn what you do not like as much, and meet new people to help keep you on course and possibly open some doors to next moves in the future.
When you're not in the LaunchPad, what can we find you doing? I am active in the local community and serve on a number of nonprofit boards. I also enjoy spending time exploring everything cool in Central Florida and, of course, cheering for our UCF Knights!
What is something most people don't know about you? I was a charter class member of LEAD Scholars and a Founders Day Award and Rising Star winner for the College of Business at UCF.
What is your best advice for Business Knights? Instead of asking why, ask yourself why not! If you do not try, you will never know and you will not be able to grow. As a student, stay curious and explore different aspects of the industry because you might find your calling from an elective course, a speaker, a club, or another event on campus.